About the Library
Welcome to the Downs-Jones Library!
The Downs-Jones Library is the central study space on campus, located between the Davage-Durden Student Union and Evans Hall, and across from Jackson-Moody. It was remodeled in 2013, and is open to all students, faculty, and staff. As the location of one of the campus Wi-Fi ("AirRam") hotspots, it has reliable high-speed internet and is a popular area for students to relax between classes, do research, play a game, check out a novel, or work on projects.
Professional librarians are available to assist students with exploring, using, and citing the library's print and online resources, as well as providing media equipment and technology to the campus community. The University Archives contain university documents, artwork, photographs, articles, proclamations, and other relics of Huston-Tillotson's history.
The Downs-Jones Library has two levels and is an ADA-compliant building.
We Are Here: 900 Chicon St. Austin, TX 78702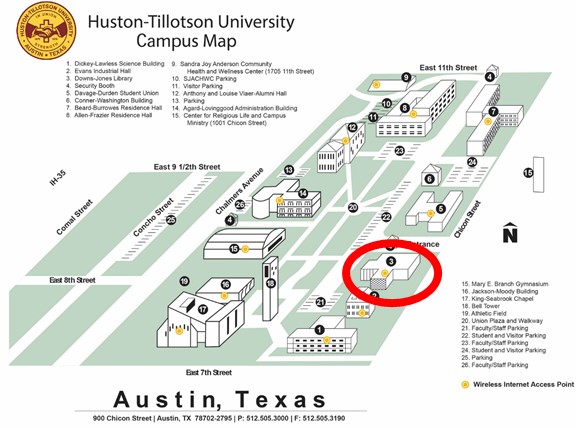 Find us on Facebook, Twitter, and Instagram
Got a question? Check out our Library FAQ page or Chat with a Librarian
Go to Home Page