Department of Natural Sciences
Sustainability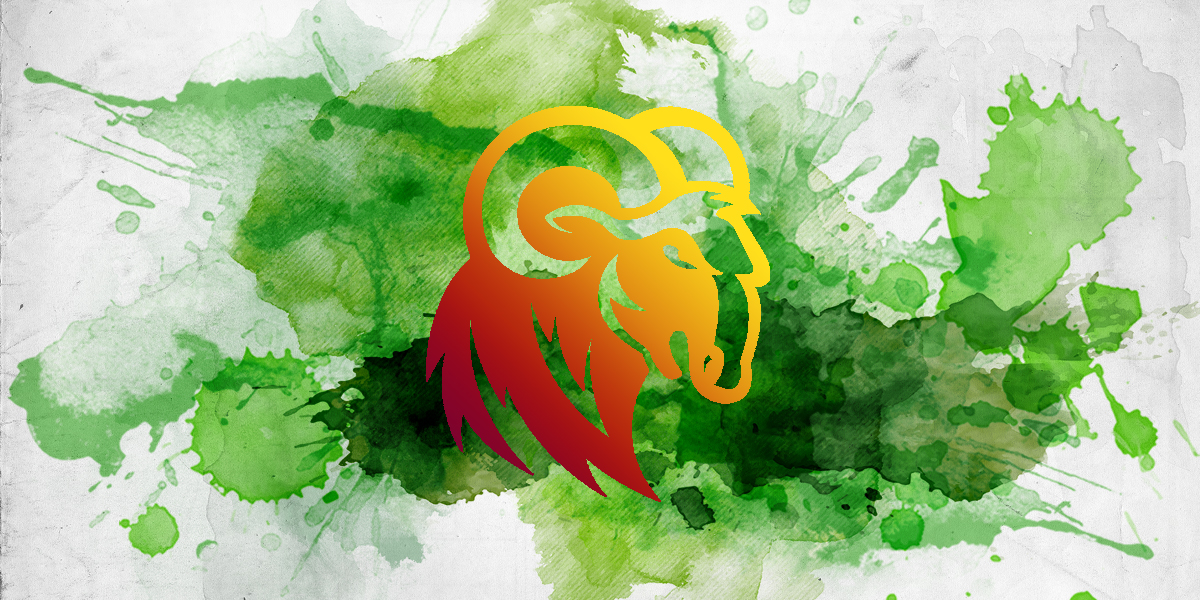 Center for Sustainability and Environmental Justice
Sustainability expresses our desire for a positive future – for people, for the planet, for the university. We are building this future at Huston-Tillotson from a broad array of perspectives and tactics including education, health, justice, resource awareness, student involvement and career preparation, and community engagement. The efforts are led out of the Center for Sustainability and Environmental Justice, helping the university stake a claim for these values and include outreach and engagement, development, education and research, as well as operations.
The Center addresses the environment and environmental impact as a way to support and highlight the wide variety of efforts currently on-going on campus, as well as develop new initiatives that will enhance the university's academic mission and prepare HT students into leaders prepared for a global future. With a combination of academic, outreach, and operational initiatives, we have the capability to provide relevant educational experiences to the students as well as leading by example with a university campus that is constantly innovating to address changing conditions.
Areas of Work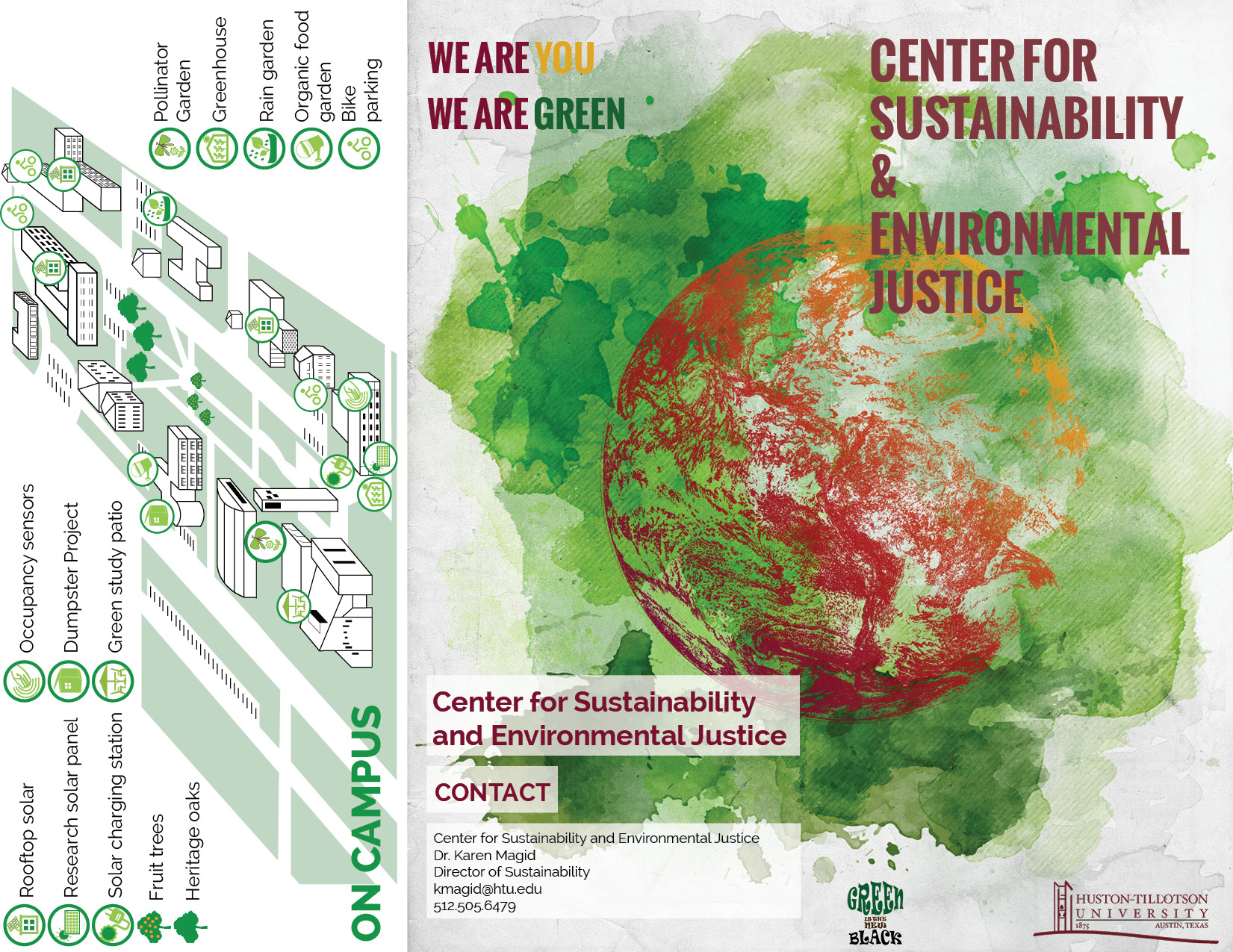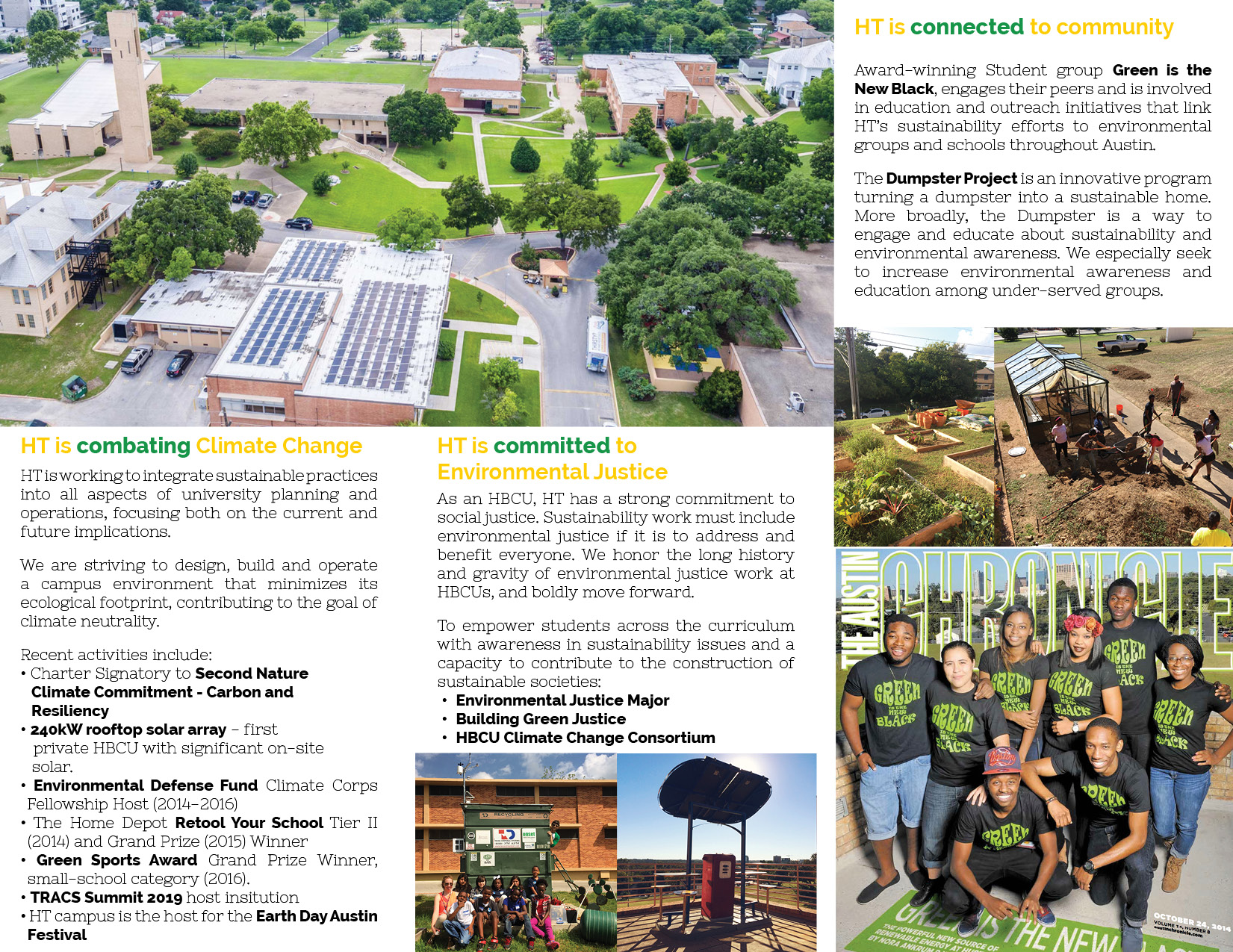 Download HT Sustainability brochure here.
| Solar | Efficiency | Gardening | Green is the New Black |
| --- | --- | --- | --- |
| 240 kW of rooftop solar installed on 3 buildings on campus (Library and Residence Halls) in 2015. Solar Charging station with seating and workstations allowing charging of small electrical devices. | Working to optimize university operations to save energy, water, reduce waste, and increase recycling. | The HT campus features an organic campus food garden, research greenhouse, and rain garden | Student group focusing on fostering new shades of green with peer engagement and education. |
| Transportation | Dumpster Project | Environmental Justice |  Waste Reduction |
| Bicycling initiatives including additional bike parking on campus, bike share, and lending library. | Partner project to transform a used trash dumpster into a home as a platform for environmental education. | Assisting the College of Arts and Sciences in the development of an Environmental Justice major. |  Working to achieve reduction in landfill output, reduction in food waste, and increasing recycling across campus. |
Prior Events
2021 Building Green Justice Forum, Oct. 12, 2021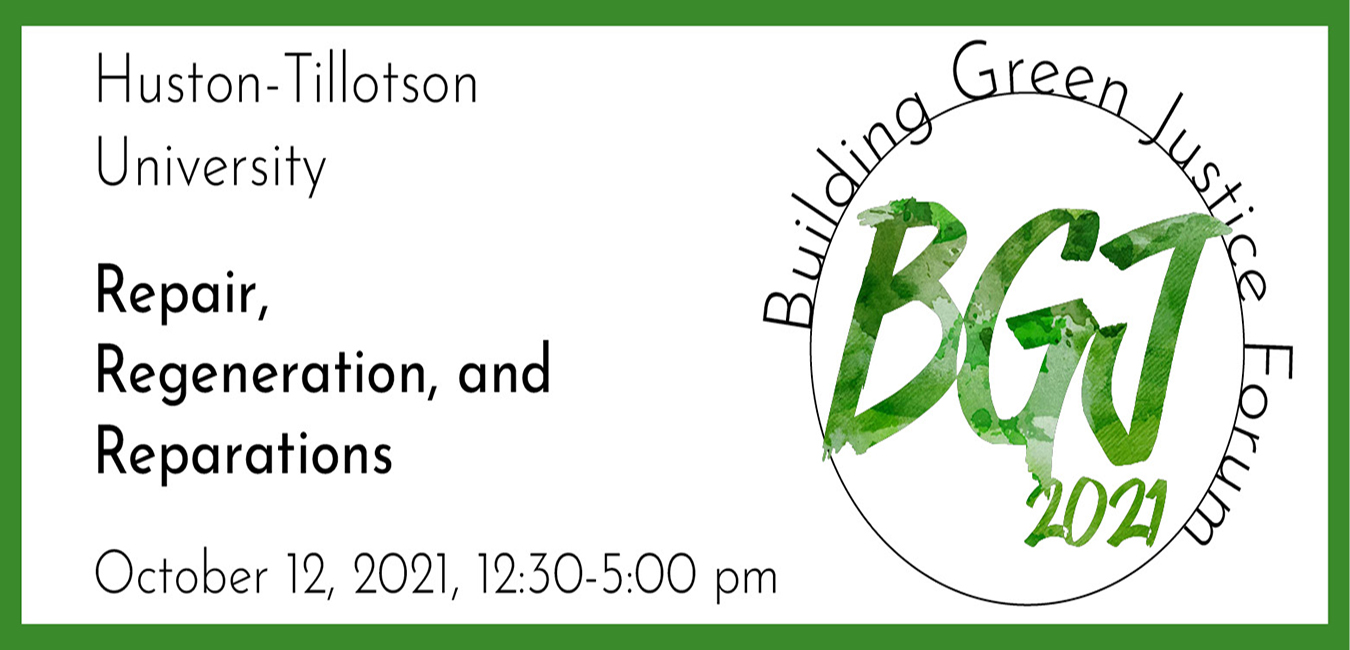 2020 Building Green Justice Forum, Jan. 5, 2021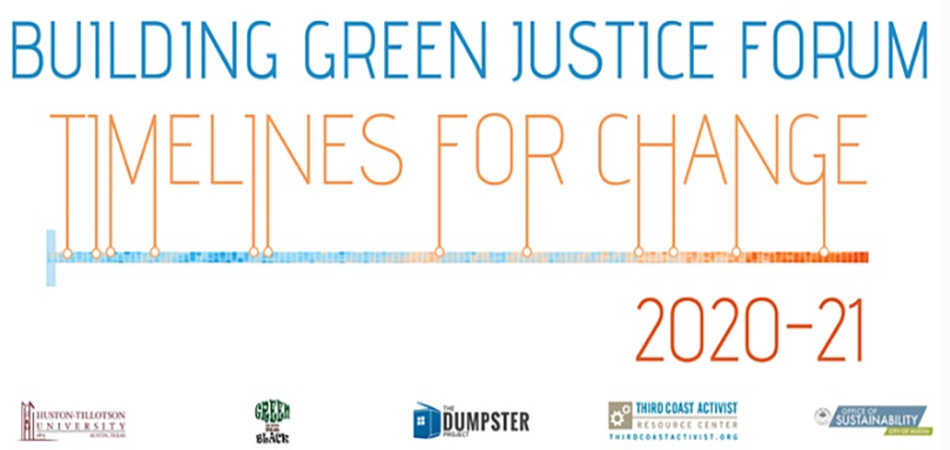 2019 Building Green Justice Forum, Oct. 15, 2019

Our 6th annual Building Green Justice Forum was held on October 15th. The 2019 conference was our largest ever, with over 215 attendees, including students, HT faculty and staff, community members, local government, organizers, activists, and researchers engaged with our presenters and each other about environmental justice.
2019 TRACS Summit, Feb. 17-19, 2019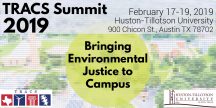 Huston-Tillotson hosted the 2019 Summit for the Texas Regional Alliance for Campus Sustainability (TRACS). Summit information found here.
Explore Sustainability on the Huston-Tillotson University campus