Library Events Calendar
Summer and Fall 2023 Closures
Memorial Day: Monday, May 29, 2023
Juneteenth/Proclamation Day: Monday, June 19, 2023
Independence Day: Tuesday, July 4, 2023
Labor Day: Monday, August 28, 2023
Thanksgiving Break: Wednesday, November 22, 2023 – Sunday, November 26, 2023
Winter Break: Monday, December 18, 2023 – Monday, January 1, 2024
Please see the full calendar on our Hours and Contact Information page for non-holiday closures.
Online resources are continuously available. Chat with a Librarian reference services are suspended for these dates, and the library building is closed.
---
Fall 2023 Library Events & Exhibits
"Harlem Renaissance Meets Huston-Tillotson University" Exhibit: Summer and Fall 2023 in the Downs-Jones Library
In Fall 2022, the Downs-Jones Library partnered with the Library of Congress to offer an Artists-in-Residence Program, giving HT undergraduates a chance to use their creative skills to produce and showcase their work in public and digital spaces with the support of the Downs-Jones Library staff. The objectives of the program were to emphasize the ongoing legacies of African American culture and education in the United States, and to empower HT students to freely recreate literature, art, dance, and/or fashion inspired by influential figures recognized from the decades of the arts, music, and entertainment known as the Harlem Renaissance. These artworks are now being presented in the library to the campus and local community, as well as in an online exhibit at thehtrenaissance.com – visit the website or the library to explore their work!
"Black Classicists in Texas: A Local History of Latin and Greek in Black Education, 1880 to the Present Day" Exhibit: Summer and Fall 2023 in the Downs-Jones Library
Presented in partnership with the LILIAS Benson Latin American Studies and Collections, the Department of Classics at the University of Texas, and others, this exhibit celebrates African American teachers of Latin and Greek in Central Texas. Spotlighting figures from HT history such as R.S. Lovinggood, classicist and first president of Samuel Huston College, and featuring items from the Library's University Archives, the exhibition tells the story of pioneering members of the Black community. Visit the full virtual exhibit by going to bcatx.org or explore the three linked displays in person at the Downs-Jones Library, the Benson Latin American Collection at UT-Austin, and the George Washington Carver Museum and Cultural Center.
Watch this space for more events!
---
Past Events
"A New Spain, 1521-1821" Exhibit: Fall 2022 in the Downs-Jones Library
Visitors to the library were invited to explore the cultural, social, and political evolution of the Viceroyalty of New Spain, which included Mexico, Central America, Cuba, Santo Domingo, Puerto Rico, Florida, and beyond, from the fall of Moctezuma's Tenochtitlán to the rise of Iturbide's Mexican Empire, through the artwork, blueprints, and documents produced by the people who lived there. Attendees were able to walk through 18 displays reproduced from the Nettie Lee Benson Latin American Collection at the University of Texas at Austin, organized and arranged by Dr. Albert A. Palacios, PhD, and can still visit the full exhibition online from any device.
"A New Spain, 1521-1821" Curator's Tour: Monday, September 19, 2022 – 5:30 PM – 6:30 PM.
Dr. Albert A. Palacios, PhD, Digital Scholarship Coordinator at LLILAS Benson Latin American Studies and Collections, led a tour through the exhibit on display in the Downs-Jones Library, exploring the materials in more depth and answering questions from attendees. 
Environmental Literature Book Club & Author Visit: Thursday, November 3, 2022 – 7:30 PM
Mr. Keenan Norris, author of The Confession of Copeland Cane, this semester's Environmental Literature read, visited Huston-Tillotson to read, discuss, and sign his book! Students and attendees were invited to enjoy this "defining novel of the era at the intersection between Black Lives Matter and COVID-19" and "one of Publishers Weekly's Best Novels of the Summer".
September 15 – October 15, 2021: Reading Hispanic Heritage Month
Read along with the Downs-Jones Library and explore our recommended reading list to discover a world of Hispanic, Latinx, and Indigenous authors in both English and Spanish! Some of the books on this list are available in the library for checkout; others are eBooks or audiobooks available for download through OverDrive or the EBSCO eBook Collection. All books are free to read (or listen). Don't see a book or author that should be here? Let us know at library@htu.edu or recommend a title in OverDrive. View this PDF to see the full list (opens in new tab). Titles of eBooks are clickable and link to the download page for each book. Library username and password sign-in required.
Celebrate Afro-Latinidad & Panamanian Roots at HT: A Conversation with Javier Wallace, Founder and Guide of Black Austin Tours
Join us online to learn more about how Latinx students have been a vital part of HT's diverse history! The livestream was September 23, 2020, at 3:30 PM – 4:30 PM. The recorded talk is now available on our YouTube channel!
Hispanic Heritage Month Reading Challenge – September 15 – October 15, 2020
Check out these books by Latinx authors available FREE on OverDrive, our eBooks & Audiobooks platform! Reading Latinx Voices (click for PDF) Brushing up on your Spanish? Our Spanish LibGuide is here to help with free language learning resources.
Check out the many book clubs and read-ins that have brought the Huston-Tillotson community together with a shared love of reading by visiting the Campus Book Clubs page!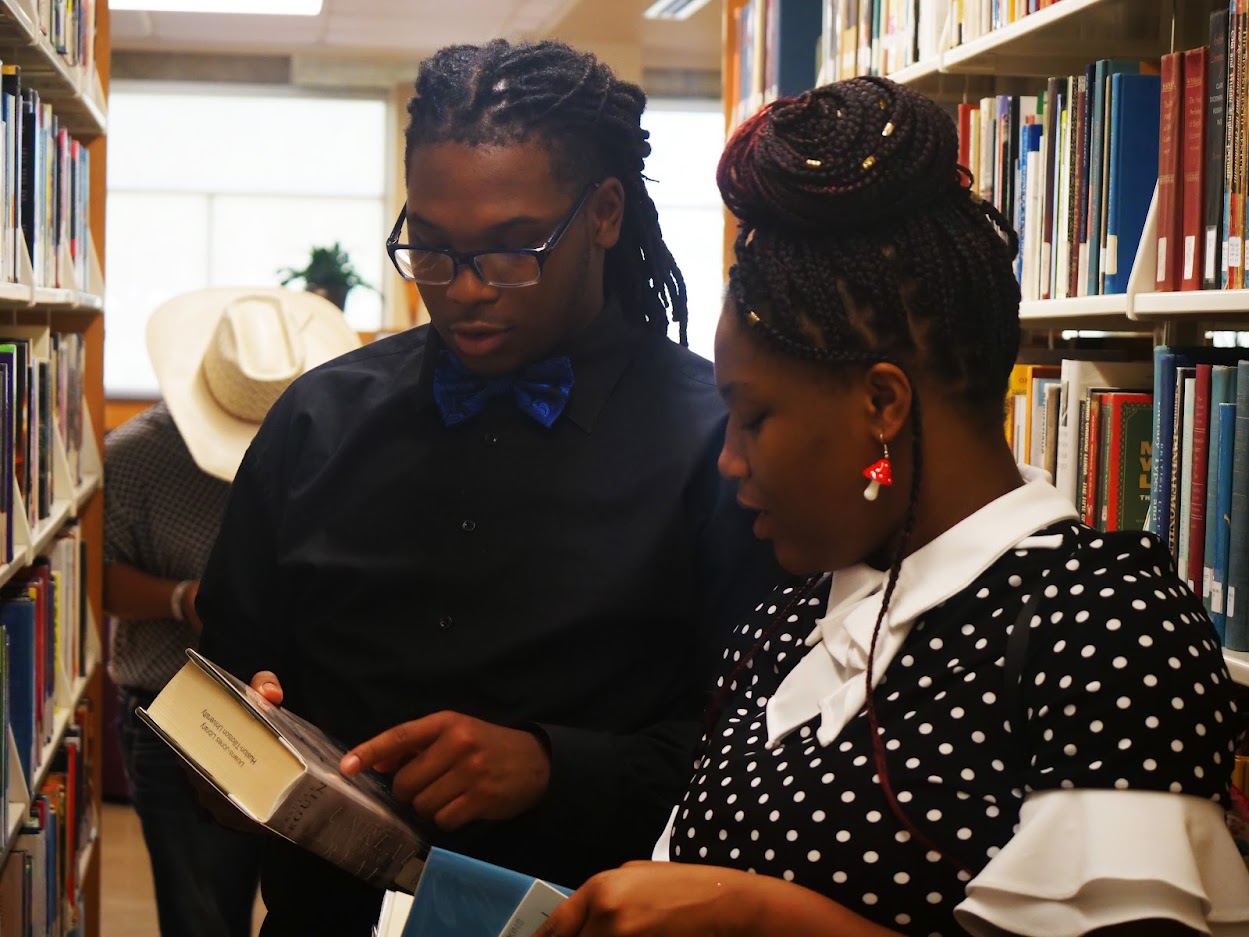 Go to Home Page