College of Arts and Sciences
Department of Humanities and Fine Arts
Communication, Foreign Languages, Religion & Philosophy, History and Music comprise the Department of Humanities and Fine Arts. HFA offers three majors–Communication, History, and Music–and minors–Communication, History, Music, African American Studies and Religious Studies.
HFA sponsors an array of student organizations and activities, in and out of the classroom, including Choir and Jazz Ensemble,  a vibrant schedule of musical performances, and an ongoing foreign language, history and cultural arts gallery in the lobby of Jackson-Moody.
Faculty in the Department of Humanities and Fine Arts are scholars, artists, teachers and researchers who bring expansive and diverse fields of knowledge and experience in the humanities and fine arts.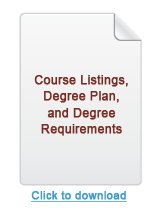 Student Activities
Jazz Ensemble Program
Two music majors represented HT in the African-American Jazz Caucus's All-Star Big Band in New York City. Philip Adair, piano and Willie Noel, trombone competed in a taped national competition among the HBCU jazz programs. The 2009 AAJC/HBCU All-Star Big Band rehearsed and performed a Sunday concert at the Schomburg Center for Research in Black Culture of the New York Public Library System located in New York City, NY, January 28, 2009-February 1, 2009.
Jazz ensembles have a long and successful history at Huston-Tillotson University. Both music majors and non-majors at the University are strongly encouraged to participate in the performing groups, as well as classes and applied lessons offered in the music curriculum.
Jazz ensembles provide an opportunity for students to enhance their improvisational skills in a small group setting. Combos range in size from four to ten members. Previous jazz experience is required to join a jazz combo.
The Jazz Ensemble program is essential in the music curriculum because of the concentration on the art of jazz improvisation. All instrumentalists and vocalists are invited to enroll in the groups. Admission is by audition only. Auditions are held during the first three days of classes each semester.
Check out the HT Jazz Ensemble on YouTube:  Inner Urge and Bye, Bye Blackbird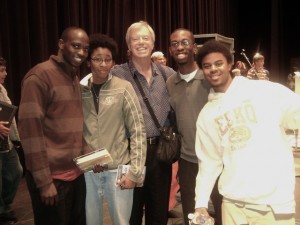 Pictured with the United States Airmen of Note
(Premiere jazz ensemble of the United States Air Force) are HT Jazz musicians Butch Miles, Drummer of the Count Basie Orchestra. Pictured from left to right: Matthew Bet, Tameika Hanna, Butch Miles, Martin McCain and Philip Adair.
And below, Philip Adair, Tameika Hanna, US Airman of Note, Martin McCain and Matthew Bet.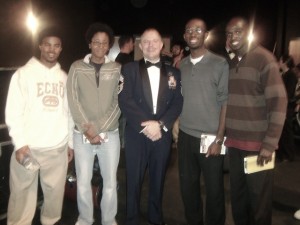 Faculty
| Page | First | Last | Role | Telephone | Email | Office |
| --- | --- | --- | --- | --- | --- | --- |
| Link | Dr. Alaine | Hutson | Associate Professor of History | 512.505.6435 | ashutson@htu.edu | J-M 202 |
| Link | Dr. Gloria | Quinlan | Professor of Music | 512.505.3121 | glquinlan@htu.edu | J-M 220 |
| Link | Dr. James | Kraft | Associate Professor of Philosophy and Religion | 512.505.6441 | jjkraft@htu.edu | J-M 212 |
| Link | Dr. Stephen | Burnaman | Department Chair of Humanities & Fine Arts/Professor of Music/University Organist | 512.505.6444 | spburnaman@htu.edu | J-M 221 |