Department of Natural Sciences
Biology
The Biology Department helps students to appreciate the significance of the biological sciences and gain proficiency in the scientific method, problem solving, and laboratory-based inquiry. Biology majors are prepared for graduate work and careers in a range of scientific and multidisciplinary fields. The program offers Bachelor of Arts (BA), Bachelor of Science (BS), and minors in Biology. Areas of concentration within the BA and BS degrees allow students to focus their educational and post-baccalaureate goals:
General Biology

– for students interested in general scientific research, academic careers, technology development, or graduate study in biochemistry, cellular biology, genetics, physiology, and related fields.
Environmental Biology Concentration

– for students interested in conservation, environmental technology, public policy, or wildlife preservation.  Also prepares students for graduate study in ecology or environmental science.
Human Biology Concentration

– for students pursuing admissions into allied health programs and related careers (nursing, physical therapy, medical technology, physician assistant, and public health).
Pre-Medical Concentration

– for students seeking admission into dental, medical, pharmacy, or veterinary programs.
Biology Educator Concentration

– for students pursuing a teaching career in biology.
The Minor in Biology provides an area of secondary expertise for a variety of careers, including journalism, public policy, computer science, consulting, chemistry, and business.
Download the Biology Program Information below for more details on coursework and degree plans.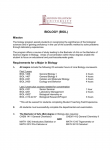 Special Programs and Activities
STEM Research Scholars Program: The STEM Research Scholars Program allows HT students to conduct hands-on scientific research projects with faculty mentors at HT and with collaborating partner institutions. You will develop the skills you need for a STEM career or graduate study as you research relevant scientific questions. Scholars receive stipends, mentorship, and the opportunity to travel to scientific conferences and external research labs. Current projects include research in cardiovascular health disparities (with Merck), urban coyotes (with Texas Parks and Wildlife Department), protein evolution and bioinformatics (with the University of Texas), the indoor microbiome, and affordable housing. Contact Program Director Amanda Masino for more information.
Environmental Justice:  HT now offers an interdisciplinary Environmental Studies degree program for students interested in environmental public policy, conservation, environmental advocacy, multidisciplinary research, and education. The program focuses on environmental justice, the theory and practice of placing equity in the center of environmental studies, ensuring that all sectors benefit from a healthy environment and no sectors are adversely affected.
Joint Admissions Medical Program (JAMP):  JAMP provides early admission to a Texas medical school for qualified HT students. HT students apply to the program between May of their freshman year and October of their sophomore year. Successful applicants are provided with MCAT preparation, summer research internships, and pre-admission counseling to ensure a successful medical school experience. Read more about program criteria and components at the JAMP website.