Department of Educator Preparation
African American Male Teacher Initiative
     
African-American Male Teacher Initiative
Impacting Education Through Diversity Empowerment
Overview
The Apple Pre-Ed Scholars Program, housed within Huston-Tillotson University's 100 African American Male Teacher Initiative funded by Apple Inc., provides one year of scholarship support to high-achieving HT freshmen who intend to pursue a career in Education.  Teaching career fields include the following majors:  English, History, Kinesiology, Mathematics, Music and Science with an Education minor.  Scholars are selected on the basis of financial need, academic performance, demonstration of leadership, commitment to service, and dedication to pursuing a career in the Education field. Total award will cover all tuition, fees, room and board for an academic year. Scholarships are eligible for max three-year renewal, dependent on meeting scholarship requirements, persistence towards graduation, demonstrated financial need, and availability of funding.
Huston-Tillotson University's African American Male Teacher Initiative is one of the many wonderful programs supported within our Apple Community Education Initiatives partnership.
Executive Summary
Huston-Tillotson University has recently been awarded a Certificate of Commendation from the Texas Education Agency (TEA) for Exemplary Performance in; Preparing the Educators Texas Needs –Percentage of prepared teachers who identify as Teachers of color, for the past academic year 2018-2019. This commendation from the Texas Education Agency highlights specifically the work the university has done related to preparing African American teacher candidates. The university is now setting its goals on growing the number of African American males. The goal is to certify 25 African American males as classroom teachers by the year 2025.  This project's goal is to increase the number of African American male educators in the teaching field. Currently African American males make up less than 2% of all educators. The state of Texas currently requires a student to earn 60semester credit hours prior to being accepted into an Educator Preparation Program.  Huston-Tillotson University has created a unique Pre-Education Program leading to teacher certification for African American males.
Anticipated Outcomes
1. Provide 25 full scholarships to Pre-Ed African American males (awardees will be named Apple Pre-Ed Scholars)
2.  Provide each member of the cohort of Apple Pre-Ed Scholars the opportunity to become actively involved in service-learning activities e.g. volunteer teacher assistant positions etc.
3.  Provide Apple Pre-Ed Scholars training in leadership, civic responsibility and the education system through classroom activities, mentoring and service learning
4.  Apple Pre-Ed Scholars provided the opportunity to become certified Apple Teachers and master the SWIFT programming language, thus incorporating digital literacy into K-12 classrooms post-graduation.
5.  Program designed to assign each Apple Pre-Ed Scholar adult mentors currently serving as a teacher of record in the local independent school district or charter school.
Who can apply?
To be eligible to apply, applicants must:
– Be a citizen, legal permanent resident, or national of the United States
– Identify ethnically as African American, or Black
– Identify as male
– Classified as a Freshman
– Be currently enrolled and in good standing at Huston-Tillotson University
– Minimum 2.8 GPA on an unweighted 4.0 scale
– ACT Composite Score of 18, or greater; or SAT score 900, or greater (Combined Evidence Based Reading and Writing, and Math)
– Program of study in Education (Teaching career fields include the following majors:  English, History, Kinesiology, Mathematics, Music and Science with an Education minor)
– Demonstrate a strong academic record and evidence of persistence
– Exemplify leadership and demonstrate a passion for improving representation of underrepresented groups in the field of Education
– Have demonstrated financial and unmet need as measured by the university
Application process
Complete the Pre-Ed Scholars Program Application

 

Submit a letter of recommendation from:

A Community Leader or Mentor Recommendation Form and should also include the following:

Complete a university scholarship application for 2023-24 academic year

Academic transcripts from your high school sent to Admissions and received before March 1st
Application availability:  December 2022
Application Early Priority Deadline:  February 17, 2023
Application Closing Deadline:  March 3 2023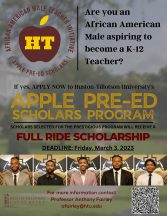 For questions, contact:
Mr. Anthony Fairley, Education Faculty & AAMTI Director  afairley@htu.edu | 512.505.3047
Dr. Sarah Santillanes, Department Chair, Education Preparation  slsantillanes@htu.edu