Library
Chat unavailable.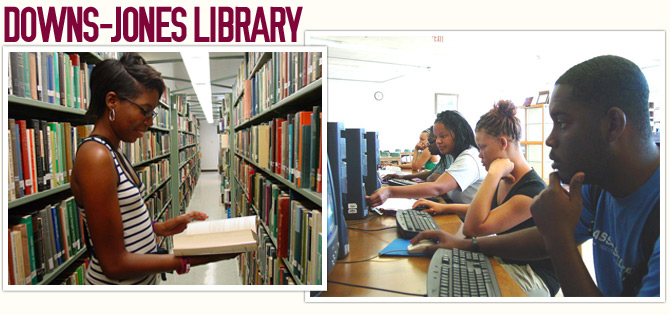 This is the primary location for doing research at Huston-Tillotson University. With its rich history, the library serves as the center for a wide variety of resources such as books, periodicals, media, electronic databases, and eBooks.
The mission of the Library is to support the curricular offerings of the University by providing materials that supplement the instructional program and meet the needs of the entire University. This is done through the implementation of the following objectives:
To acquire, organize, and make accessible a dynamic and growing collection of materials, including background and transitional works for both the lower-division and the upper-division.
To provide adequate physical facilities and equipment for maximum use of available resources.
To adapt to changes in modes of classroom instruction by acquiring and/or producing materials in various formats of print and non-print media.
To encourage students to read beyond source assignment for their own enlightenment, enjoyment, and satisfaction, thereby developing skills and habits for lifelong learning.
To support, in part, research by faculty and administrators by acquiring, each year, selected basic and current works for that purpose.
History
Reading rooms and libraries were established at Tillotson College and Samuel Huston College shortly after their founding in the mid-1870s. "A foundation for a good library has been laid," said the Tillotson Bulletin of 1881-82; "an earnest appeal is made to all interested in that department to furnish means, money, or books to complete what is so greatly needed by the students." The Tillotson campus' first library was housed in Allen Hall near the present site on the hill overlooking East 7th Street.
Said the Samuel Huston Bulletin of 1900-1901 of that campus collection: "There are 900 choice books… and 20 of the best papers and magazines in the Reading Room, which is open to the students every day."
At each college, the library was later located in the campus' administration building. The colleges merged in 1952, but library services were continued on both campuses for three more years.
In 1955, the two libraries were combined on the former Tillotson campus, and the collections' first permanent structure was built in 1960. College Librarian Olive Durden Brown contributed much to its planning, and the Texas Society of Architects chose the building as one of the best architectural designs of that decade.
Following the merged College's tradition of hyphenated names, Downs-Jones is named for two former presidents of the parent schools: Karl E. Downs, Samuel Huston College, 1943-48, and William H. Jones, Tillotson College, 1944-52.
The concern for the individual student and his or her interests that distinguishes Huston-Tillotson University generally is to be found in abundance at the Downs-Jones Library. From the Online Catalog to the computers that are available for student use, Downs-Jones anticipates your library needs and arranges to meet them.
Staff