Career & Graduate Development
Virtual Services Listed Below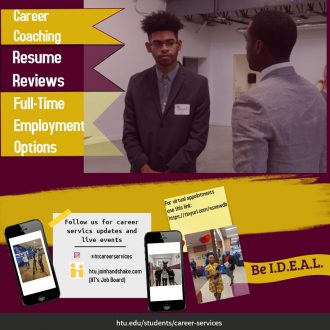 Students and Employers Book a time to speak with our office today!
Log-in to HT's Job Board (Handshake)
Students/Alumni:
Click the "HT's Job Board (Student/Alumni portal)" link to register/login to view and apply for part-time, full-time, internship and Work-Study employment opportunities. 
Recruiters:
Click here "Recruiters Login" to register and/or login to post employment, graduate/professional school opportunities or to register for career events via Handshake.
Work-Study Process: 
Before you can apply for listed Work-Study opportunities you must first fill out the following Work-Study documents 1, O
nce you have completed the document send to htfinancialaid@htu.edu.
 Note: no hard copies will be accepted. After confirmed and approved you are then free to apply to active work-study opportunities via the HT's Job Board (Student/Alumni portal). 
The Career and Graduate Developnt Center provides present and former students with the following services and resources:
Employment
Part-time and Full-time Jobs
On-Campus and Work Study Employment
Internships
Career Employment
Services
Assessments for Career Exploration
Career & Graduate School Advising
Career and Graduate Fairs
Classroom & Community Outreach
Interviewing Preparedness
Graduate and Professional School Essay, Letter of Interest and Personal Statement Writing
Job Postings
Job Search Workshops
Mentoring Program
On-Campus Interviews
Resume & Cover Letter Writing
Resume Referrals
Salary Negotiation
Resources
Career & Graduate School Library
Career & Job Search Video Tapes and CD's
Employer Profiles
Internet Career Guide
Salary Surveys
Mission

The Career and Graduate Development Center is committed to supporting the educational mission of Huston-Tillotson University by providing comprehensive lifelong holistic career development assistance to 
present and former students in all majors in the areas of self-assessment, career exploration and decision-making, leading to personal success in work-study and part-time jobs, internships, higher education and/or full-time career employment.
The Career and Graduate Development Center accomplishes this mission by:
Providing holistic career advising, assessment tools and resources.
Serving as a liaison between students and employers representing business, education, government and public service that seek to fulfill their employment needs.
Disseminating information and instruction about lifelong career development issues and services to the HT and Austin area community.
Guiding HT alumni and former students through career transition experiences.
Conducting lifelong career development research.