Library Events Calendar
Spring and Summer 2023 Closures
Martin Luther King, Jr. Day: Monday, January 16, 2023
Spring Break: Thursday, March 16 – Friday, March 17, 2023
Good Friday: Friday, April 7, 2023
Memorial Day: Monday, May 29, 2023
Juneteenth/Proclamation Day: Monday, June 19, 2023
Online resources are continuously available. Chat with a Librarian reference services are suspended for these dates, and the library building is closed.
---
Spring 2023 Library Events
Coming soon! Watch this space for more information.
---
Past Events
"A New Spain, 1521-1821" Exhibit: Fall 2022 in the Downs-Jones Library
Visitors to the library were invited to explore the cultural, social, and political evolution of the Viceroyalty of New Spain, which included Mexico, Central America, Cuba, Santo Domingo, Puerto Rico, Florida, and beyond, from the fall of Moctezuma's Tenochtitlán to the rise of Iturbide's Mexican Empire, through the artwork, blueprints, and documents produced by the people who lived there. Attendees were able to walk through 18 displays reproduced from the Nettie Lee Benson Latin American Collection at the University of Texas at Austin, organized and arranged by Dr. Albert A. Palacios, PhD, and can still visit the full exhibition online from any device.
"A New Spain, 1521-1821" Curator's Tour: Monday, September 19, 2022 – 5:30 PM – 6:30 PM.
Dr. Albert A. Palacios, PhD, Digital Scholarship Coordinator at LLILAS Benson Latin American Studies and Collections, led a tour through the exhibit on display in the Downs-Jones Library, exploring the materials in more depth and answering questions from attendees. 
Environmental Literature Book Club & Author Visit: Thursday, November 3, 2022 – 7:30 PM
Mr. Keenan Norris, author of The Confession of Copeland Cane, this semester's Environmental Literature read, visited Huston-Tillotson to read, discuss, and sign his book! Students and attendees were invited to enjoy this "defining novel of the era at the intersection between Black Lives Matter and COVID-19" and "one of Publishers Weekly's Best Novels of the Summer".
September 15 – October 15, 2021: Reading Hispanic Heritage Month
Read along with the Downs-Jones Library and explore our recommended reading list to discover a world of Hispanic, Latinx, and Indigenous authors in both English and Spanish! Some of the books on this list are available in the library for checkout; others are eBooks or audiobooks available for download through OverDrive or the EBSCO eBook Collection. All books are free to read (or listen). Don't see a book or author that should be here? Let us know at library@htu.edu or recommend a title in OverDrive. View this PDF to see the full list (opens in new tab). Titles of eBooks are clickable and link to the download page for each book. Library username and password sign-in required.
Celebrate Afro-Latinidad & Panamanian Roots at HT: A Conversation with Javier Wallace, Founder and Guide of Black Austin Tours
Join us online to learn more about how Latinx students have been a vital part of HT's diverse history! The livestream was September 23, 2020, at 3:30 PM – 4:30 PM. The recorded talk is now available on our YouTube channel!
Hispanic Heritage Month Reading Challenge – September 15 – October 15, 2020
Check out these books by Latinx authors available FREE on OverDrive, our eBooks & Audiobooks platform! Reading Latinx Voices (click for PDF) Brushing up on your Spanish? Our Spanish LibGuide is here to help with free language learning resources.
Check out the many book clubs and read-ins that have brought the Huston-Tillotson community together with a shared love of reading by visiting the Campus Book Clubs page!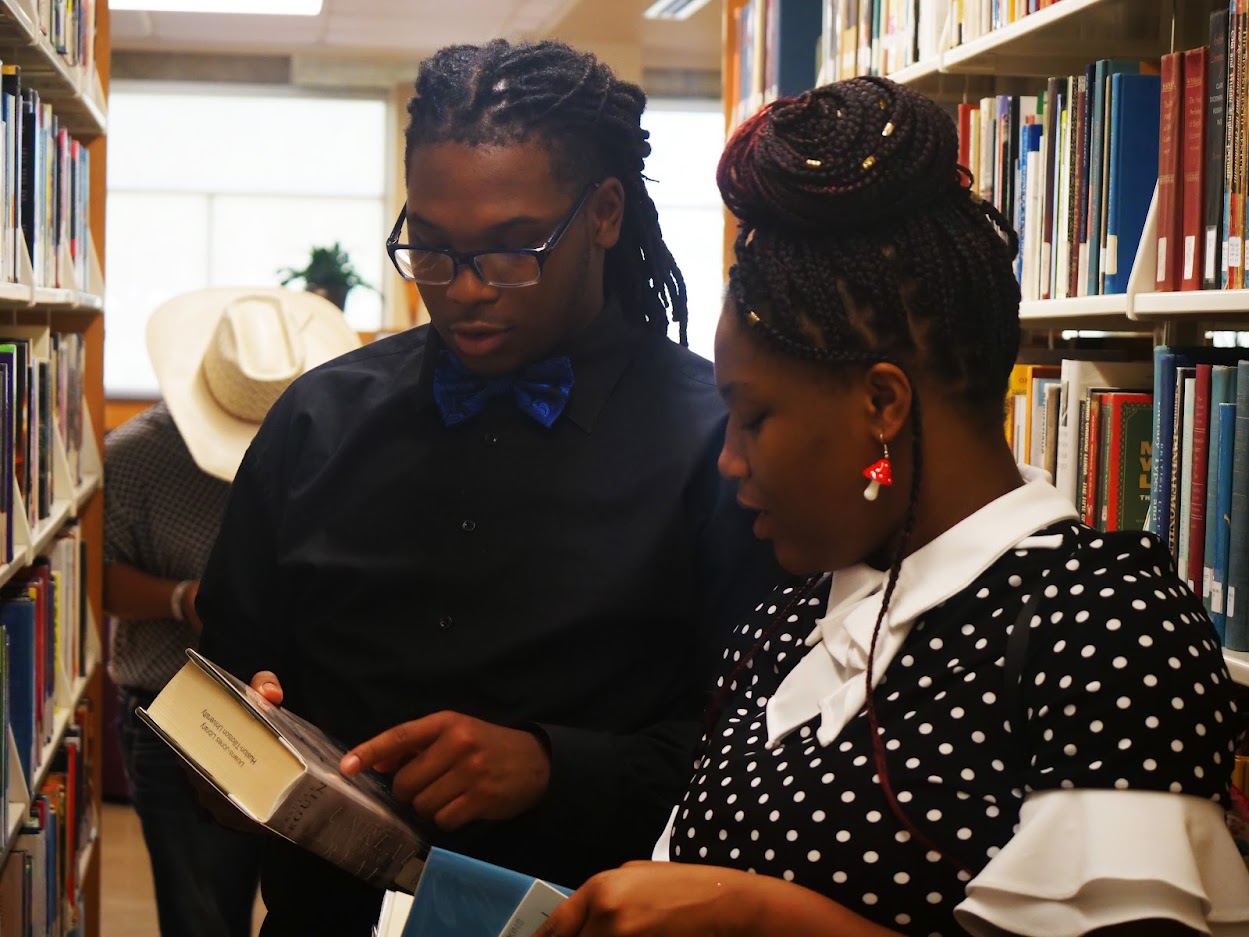 Go to Home Page