Center for Academic Innovation and Transformation
Apple Programs

Community Education Initiatives
Huston-Tillotson University is proud to partner with Apple Inc. Community Education Initiative for cutting-edge academic and innovative opportunities!  The following Apple-sponsored programs help impact diversity and inclusion efforts, while transforming Central Austin culturally, through technology and workforce advancements.
---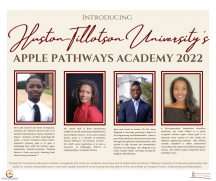 Apple Pathways Academy
The Apple Pathways Academy is a community of learning and discovery targeting high-performing Black, Hispanic/Latinx, and Indigenous sophomores majoring in computer science and engineering.
Academy participants or "Pathfinders" receive the following:
Renewable scholarship support ($15,000 per year, up to three years)
Intensive project-based learning opportunities with Apple experts
All-expense paid participation in an annual development conference
Virtual chats, panels, workshops and trainings with Apple employees
Apple products to increase digital literacy and enhance success in the classroom
The 2023-24 application period is February 6, 2023 to May 19, 2023
---

HT Golden Apple Teachers
Robust enrichment program that helps to enhance the research, professional development, and innovative performance of forward-thinking students
Developed through the Community Education Initiative partnership with Apple Inc., the Golden Apple Teacher Program is designed to inspire and support innovations in teaching and learning, through incorporation of Apple Teacher™ resources that impact instructional technology, research, service and improvements in student engagement. Program tenants center around Apple Teacher Resources, Teaching Innovation, Service, Research and Engagement.  Approved proposals allow faculty to plan, execute and report the incorporation of Apple resources into traditional and online curriculum.
HT Golden Apple Teacher Program Overview
Cohort 3 Proposal Application Deadline – January 31, 2023
---

Pre-Ed Scholars Program
African-American Male Teacher Initiative:  Impacting Education Through Diversity Empowerment
Overview
The Apple Pre-Ed Scholars Program, housed within Huston-Tillotson University's 100 African American Male Teacher Initiative funded by Apple Inc., provides one year of scholarship support to high-achieving HT freshmen who intend to pursue a career in Education. Teaching career fields include the following majors:  English, History, Kinesiology, Mathematics, Music and Science with an Education minor.  Scholars are selected on the basis of financial need, academic performance, demonstration of leadership, commitment to service, and dedication to pursuing a career in the Education field. Total award will cover all tuition, fees, room and board for an academic year. Scholarships are eligible for max three-year renewal, dependent on meeting scholarship requirements, persistence towards graduation, demonstrated financial need, and availability of funding.
Who can apply?
To be eligible to apply, applicants must:
– Be a citizen, legal permanent resident, or national of the United States
– Identify ethnically as African American, or Black
– Identify as male
– Classified as a Freshman
– Be currently enrolled and in good standing at Huston-Tillotson University
– Minimum 2.8 GPA on an unweighted 4.0 scale
– ACT Composite Score of 18, or greater; or SAT score 900, or greater (Combined Evidence Based Reading and Writing, and Math)
– Program of study in Education (Teaching career fields include the following majors:  English, History, Kinesiology, Mathematics, Music and Science with an Education minor)
– Demonstrate a strong academic record and evidence of persistence
– Exemplify leadership and demonstrate a passion for improving representation of underrepresented groups in the field of Education
– Have demonstrated financial and unmet need as measured by the university
Application process
Complete the Pre-Ed Scholars Program Application

 

Submit a letter of recommendation from:

A Community Leader or Mentor Recommendation Form and should also include the following:

Complete a university scholarship application for 2023-24 academic year

Academic transcripts from your high school sent to Admissions and received before March 1st
Application availability:  December 2022
Application Early Priority Deadline:  February 17, 2023
Application Closing Deadline:  March 3 2023
For questions on these Community Education Initiatives, contact Dr. Jennifer Miles, Apple Programs & CAIT Director
cait@htu.edu | 512.505.6460