CAIT2 Coding Academy Community App Showcase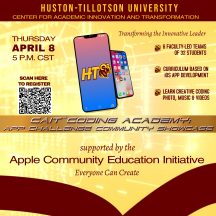 CAIT2 Coding Academy:  Community App Showcase
5:00pm CST |  Thursday April 8, 2021
HUSTON-TILLOTSON UNIVERSITY KICKS-OFF BEING NAMED A NEW HBCU C2 CODING CENTER BY HOSTING THE
CAIT2 CODING ACADEMY:  COMMUNITY APP SHOWCASE!!!
Huston-Tillotson's CAIT2 Coding Academy is a collaborative project supported by the Apple Community Education Initiative. The goal of the initiative is to help prepare faculty to bring coding, creativity and community connected learning experiences to Huston-Tillotson University. Through training academies, selected educators will receive support to guide a small student-group to develop and implement a plan to integrate coding into their programs using Everyone Can Create and Everyone Can Code, and build curriculum based on iOS Intro to App Development and iOS App development with SWIFT.  Academy started July 2020 and will conclude April 2021.
Every year we challenge students to create and submit their original app prototype for a chance to win scholarships. Each challenge is specific to helping solve a real-world issue.
Learn more about Apple's Everyone Can Code – Everyone Can Create Programs™!!
MISSION
TO INSPIRE…  TO IDENTIFY…  TO INNOVATE
INSPIRE
To inspire Huston-Tillotson University students to explore STEM, coding and computer science through hands-on practice rooted across interdisciplinary academic units
IDENTIFY
To actively include and engage Huston-Tillotson University students from communities that are traditionally underrepresented in an effort to build identify in the tech community
INNOVATE
To innovate Huston-Tillotson University faculty and students through robust teaching and learning by-way of new and emerging technologies, Apple's Everyone Can Create/Everyone Can Code Initiative™ and through personal interactions with peers
FACULTY TEAM LEADS
Prof. Dayron Bowers

Business

Dr. Carlos Cervantes

Kinesiology

Dr. Farzana Hussain

Mathematics

Dr. Amanda Masino

Natural Science

Dr. Samuel Rowley

Music

Prof. Shawanda Stewart

English
STUDENT TEAMS
Team Prof. Bowers
Sahimelique Roebuck                                                  Ndiaga Fiop
Noemi Vega (Apple Scholar)
Team Dr. Cervantes
Kalijah Belardo
Raven Carter
Kourtney Hudson
Team Dr. Hussain
Olalekan Adisa
Hannah Clayton
Tony Lucas (Apple Scholar)
Christopher Nguyen
Jarrett Washington
Team Dr. Masino
Jackie Gonzales
Neftali Mercado
Anthony Rios
Team Dr. Rowley
Tavian McGee
Samuel Peters
Sametria Richardson
Tyra Smith
Team Dr. Rowley (Apple Pre-Ed Scholars)
Micaiah Berry
Xavier Linton
Michael Lamerson
Hillary-Rhys Richard III
Prof. Stewart
Tay Harding (Apple Scholar)
Colton Griffin
Dymon Moore
                  
ENTERTAINMENT
To help kick-off this fun & festive event, Austin's very own DJ Hella Yella will spin the virtual hits that EVERYONE loves!!!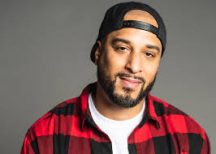 Program Director:  Dr. Jennifer Miles
Questions:  contact Dr. Miles at cait@htu.edu | 512.505.6460
CAIT2 Coding Academy:  Community App Showcase
5:00pm CST |  Thursday April 8, 2021
–
Stay Connected
Follow us on Instagram @HT__CAIT
Follow us on Twitter @HT__CAIT
and join the conversation using
#HTCAIT2Codes  #HTCodingAcademy  #HTHBCUC2  #EveryoneCanCode & #EveryoneCanCreate