Huston-Tillotson University Becomes a Community Center for Coding and Creativity, in Collaboration with Apple and Tennessee State University.
Friday Dec, 11 2020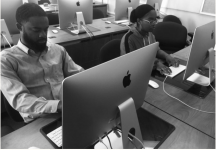 Huston-Tillotson University becomes a community center for Coding and Creativity, in Collaboration with Apple and Tennessee State University. Huston-Tillotson University, Austin's oldest institution of higher learning and only Historical Black College and University, will help bring workforce development opportunities to students and the broader Central Texas community.
Today, in celebration of Computer Science Education Week, Huston-Tillotson University announced it will become a community center for Coding and Creativity as part of Apple's Community Education Initiative and Tennessee State University's HBCU C2 initiative designed to bring coding and creativity experiences to historically black colleges and universities (HBCUs) and their communities.
"HBCU C2 (which stands for Coding and Creativity), affords Huston-Tillotson University the opportunity to empower both our students and community with a 22nd Century technological-based vision to experiential learning," said Dr. Colette Pierce Burnette, President and CEO of Huston-Tillotson University. "Powerful initiatives, such as our HBCU C2 Coding Center, help remove barriers, common amongst underserved communities, and create pipelines of educational equity and sustainable futures. HT is the intellectual heartbeat of East Austin. Having the opportunity to teach Apple's SWIFT programming language in a manner that promotes our community's rich history, will not only contribute to a strong in-demand workforce, but cultivate a perpetual legacy of student and community leaders, as well."
Faculty leaders from Huston-Tillotson University will participate in Apple's ongoing Community Education Initiative Learning Series to learn about coding and app development. As part of that ongoing professional development, educators will explore innovative ways to engage with learners using Apple's comprehensive curriculum, which utilizes its easy-to-learn Swift programming language.
As part of its Community Education Initiative, Apple is supporting Huston-Tillotson University with equipment and professional development to help the university become the pre-eminent HBCU C2 community center to bring coding and creativity to Central Texas.