Center for Academic Innovation and Transformation
Apple Programs

Community Education Initiative
Huston-Tillotson University is proud to partner with Apple Inc. for cutting-edge academic and innovative opportunities!  Managed by the Center for Academic Innovation and Transformation, the following Apple-sponsored programs help impact diversity and inclusion efforts, while transforming Central Austin culturally, through technology and workforce advancements.
I.  D&I Scholars Program
III.   Green Apple Fellows 
D&I Scholars Program
Empowering the community through student aid for underrepresented groups in Math, Computer Science and Business career fields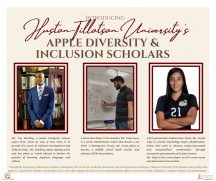 Overview
Formerly CBM, the HT Diversity and Inclusion (D&I) Apple Scholarship was established to empower students of color reach their career goals in Business, Computer Science, and Mathematics fields. This partnership with Apple Inc. is an inclusion and diversity initiative that directly supports student scholarships in these technical areas.  Selected students will receive up to $5,000 for the 2020-2021 school year. Scholarships will be awarded based on the strength of each candidate's impact on diversity, demonstrated leadership, financial need, and academic background. The program is open to qualified students who meet all the minimum qualifications and we strongly encourage people who identify as part of historically underrepresented groups, including Black/African American, Hispanic/Latinx, American Indian, or Native Hawaiian/Pacific Islander, to apply. As part of the scholarship, recipients may be invited to attend special Apple events, lead by the university's HT Golden Apple Teachers, that support this partnership.
Who can apply?
To be eligible to apply, applicants must:
Be a citizen, legal permanent resident, or national of the United States

Identify ethnically in an underrepresented group

Be currently enrolled and in good standing at Huston-Tillotson University

A rising junior or senior for the 2020-21 academic year

Have a cumulative GPA of 3.0 on an unweighted 4.0 scale

Program of study in a related technical field, including computer science/engineering, information sciences, business, mathematics, or a closely related technical field

Demonstrate a strong academic record

Exemplify leadership and demonstrate a passion for improving representation of underrepresented groups in computer science and technology

Have demonstrated financial and unmet need as measured by the student's college or university

Complete an university scholarship application for 2020-21 academic year
Scholarships may be renewable for maximum two (2) total years awarded, contingent upon:
Financial Need

Maintenance of a 3.0 (out of 4.0) GPA

Continued full-time enrollment pursuing a degree in Business, Computer Science or Mathematics fields

Matriculation into senior year 

Availability of funding
Application process
Beginning December 2020, all interested applicants are asked to complete the HT Apple Scholarship Application that includes the following:
An university scholarship application for 2021-22 academic year

Resume

Academic transcripts from your current and prior institutions (if transferred into HT)

Two letters of references from 1) a full-time professor, and 2) academic advisor or internship supervisor

Responses to a short essay question
Recipients will be selected based on evident financial need, merit, the overall strength of their essays and application materials compared to the entire applicant pool or respective peers
IMPORTANT: Before starting the application, please have the following ready for upload:
PDF copy of your resume

PDF copy of your current transcript (unofficial is acceptable)

PDF copy of your short essay response
To begin the HT Apple Scholarship application, be sure to sign into your Webmail account for Microsoft Form
Application availability:  December 2020
Application deadline:  February 2021
HT Golden Apple Teachers
Robust enrichment program that helps to enhance the research, professional development, and innovative performance of forward-thinking students
Developed through the Community Education Initiative partnership with Apple Inc., the Golden Apple Teacher Program is designed to inspire and support innovations in teaching and learning, through incorporation of Apple Teacher™ resources that impact instructional technology, research, service and improvements in student engagement. Program tenants center around Apple Teacher Resources, Teaching Innovation, Service, Research and Engagement.  Approved proposals allow faculty to plan, execute and report the incorporation of Apple resources into traditional and online curriculum.
HT Golden Apple Teacher Program
Proposal Applications being accepted January 2021
---

Pre-Ed Scholars Program
African-American Male Teacher Initiative:  Impacting Education Through Diversity Empowerment
Overview
The Apple Pre-Ed Scholars Program, housed within Huston-Tillotson University's 100 African American Male Teacher Initiative funded by Apple Inc., provides one year of scholarship support to high-achieving HT freshmen who intend to pursue a career in Education. Scholars are selected on the basis of financial need, academic performance, demonstration of leadership, commitment to service, and dedication to pursuing a career in the Education field. Total award will cover all tuition, fees, room and board for an academic year. Scholarships are eligible for max three-year renewal, dependent on meeting scholarship requirements, persistence towards graduation, demonstrated financial need, and availability of funding.
Who can apply?
To be eligible to apply, applicants must:
– Be a citizen, legal permanent resident, or national of the United States
– Identify ethnically as African American, or Black
– Identify as male
– Classified as a Freshman
– Be currently enrolled and in good standing at Huston-Tillotson University
– Minimum 2.5 GPA on an unweighted 4.0 scale
– ACT Composite Score of 18, or greater; or SAT score 900, or greater (Combined Evidence Based Reading and Writing, and Math)
– Program of study in Education
– Demonstrate a strong academic record and evidence of persistence
– Exemplify leadership and demonstrate a passion for improving representation of underrepresented groups in the field of Education
– Have demonstrated financial and unmet need as measured by the university
Application process
All interested applicants are asked to complete the Pre-Ed Scholars Program that includes the following:
An university scholarship application for 2020-21 academic year

Academic transcripts from your high school

Two letters of references from a high school teacher, and an academic counselor/mentor or community leader

Responses to a short essay question
Pre-Ed Scholars Program Application
Application availability:  December 2020
Application deadline:  February 2021