Safe and Healthy Rams
Update Feb. 7th – New campus testing partner – Curative
—————————————————————————————————————————————-
Learn what Huston-Tillotson University is doing as we work to reactivate campus during the COVID-19 pandemic, and how you can help keep yourself, and your family and friends, safe and healthy.
We are taking a proactive, science-based approach to reactivating campus and curbing the spread of COVID-19. Together, we resolve to protect ourselves, our community, and the greater good.
The resumption of full operations at Huston-Tillotson facilities includes a combination of the use of appropriate face masks, physical distancing, hand hygiene, limited density in indoor spaces, improved indoor air quality, vaccination requirements and encouragement, testing, symptoms tracking, and contact tracing.
This information is evolving as we follow the science. Please check regularly for updates.
Campus Reactivation

Document is being updated for Fall 2022 semester. Please check back soon for our full Safe & Healthy Rams document, and check regularly for updates. Notifications and updates are also sent regularly via email and other formats.


COVID-19 Vaccine Information

#HTVaxUp – Information on COVID-19 vaccination and the Safe & Healthy Rams Vaccination Incentive Program.


HT Ram Check

Mobile app required for campus entry and participation in campus activities.

Download the app:
Apple Store
Google Play Store
Guiding Principles
Masks are optional for all in indoor common spaces

.

Masks are always recommended for unvaccinated individuals or those with conditions such as immunosuppression that may make vaccination less protective.
Vaccination or an approved exemption is required for all. Vaccination is highly encouraged for all students, faculty, and staff. We will have on-campus COVID-19 vaccination clinics that will be open to all HT faculty, staff, students, alumni and their family members. More information on vaccine availability in the Austin area can be found here.

 Student COVID-19 Reporting Requirement Spring 2022


All documentation must be sent to vaccinations@htu.edu. Additionally, all original notarized exemption forms must be submitted to the Office of Records and Registration by January 6th, 2022. Vaccination records and exemption forms that were submitted before the start of, or during, the Fall 2021 semester will remain valid, and do not need to be resubmitted.

We regularly update our Reactivation document. Please check regularly for updates.

Please contact our Safe & Healthy Rams office at safehealthyrams@htu.edu or 512.505.3019 with any questions.
COVID-19 testing is available on campus with our campus partners CommUnityCare and Curative.

Book a testing time with Curative at cur.tv/htu.
Safe and Healthy Rams Standards
Teaching & Learning

In addition to utilizing classroom spaces that allow for physical distancing, instructors will employ hybrid and/or blended models of instruction as needed to reduce the number of people meeting in-person at any one time. This means that courses may combine face-to-face instruction time and both synchronous and asynchronous online components. During instruction time, some students will be present in person while others are connected remotely via classroom technology that allows for teleconferencing. This model will also accommodate students who are isolated or in quarantine, or those who for health reasons may need to engage online.
Masks
The campus mask guidelines were developed and will modify in response to the Austin-Travis County Key Indicators for Staging and the overall campus vaccination rate.
Masks are always strongly recommended for unvaccinated individuals or those with conditions such as immunosuppression that may make vaccination less protective.
Outdoors
Mask use is no longer required outside. Physical distancing is still encouraged in outdoor settings, and masks are recommended when physical distancing is not possible.
Indoors
As of April 5th, masks will be optional in all common spaces on campus. Masks are always recommended for unvaccinated individuals or those with conditions such as immunosuppression that may make vaccination less protective.
Classroom mask use will be determined by individual faculty members. Faculty may decide to require masks or make masks optional based on faculty and student needs. Students may request masking in class by making a private request to the faculty member. No individual's private health information will be disclosed when the mask requirement is communicated to class.
Individual office mask use will be determined by the individual whose office is being entered. The individual entering may request that the occupant wear a mask when entering a private office space as well. Individuals should inquire proactively.
Additionally:
All individuals in the class (faculty and students and staff) must show a green pass on the daily health screening, HT Ram Check app. The green pass means that the individual is clear for campus access.

Social distancing will be maintained in classrooms as much as possible.

HEPA air purifiers are operating on the high setting in all occupied classrooms.
Everyone is advised to carry a mask with them on campus at all times. Back-up masks are available throughout campus as needed. Building Managers can contact university facilities for replenishment of mask supplies.
---
Mental Health and Wellness
Due to the rise in self-reported mental health issues including anxiety, sleeplessness, and difficulty focusing during the pandemic's isolation and forced inactivity, HT campus mental health services will proactively implement programs to support our campus community.
---
Campus Entry
Campus entry will be limited to the main entrance gate at 900 Chicon St and the west gate on Chalmers Ave. These will be the only gates used to enter and exit the campus until further notice. The north campus gate at 11th St will be closed until further notice.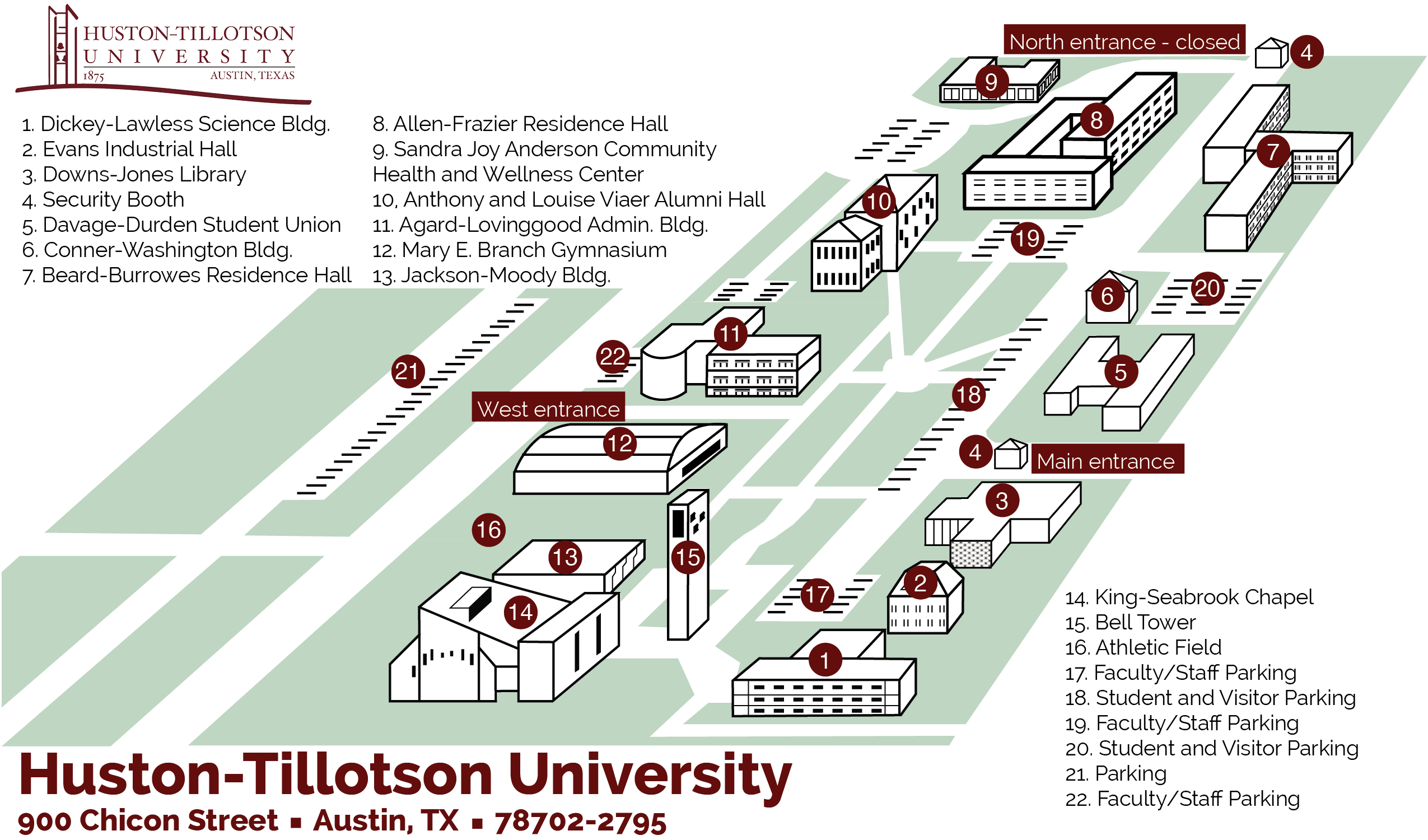 All visitors must register and obtain a visitor's pass and adhere to on-campus safety guidelines. This will allow an officer to identify visitors who have checked in with officers quickly.
---
Enforcement and Accountability

Any individual who fails to adhere to required University COVID-19 protocols, including, but not limited to, use of masks, physical distancing, routine testing, reporting of test results, proper use of facilities including ventilation practices and other COVID-related protocols shall be out of compliance and subject to disciplinary action leading up to and including separation from the University.
---
Living on Campus
I. Residential Housing Application
Residential housing will be open for Fall 2022. Students who desire to live on campus are encouraged to reach out to reslife@htu.edu.
In order to secure a room assignment, students must ensure the following steps are completed:
Pay $150 housing deposit if you are a new or transfer student.

Register for classes.

Submit your FAFSA.
Meet requirements for financial clearance (80% paid and a payment plan for the remaining balance). Once your FAFSA is completed, contact studentaccounts@htu.edu for a status on your account and next steps.
Submit any missing or expired vaccination records. To review HT's vaccination requirements, visit our website or email vaccinations@htu.edu. COVID-19 vaccination or an approved notarized exemption is required for all students.

Students who do not complete these steps will not be assigned a room and, therefore, could risk missing out on the residential experience as our capacity is limited. Do not delay!
If you have any questions, please contact our Residence Life team directly at ResLife@htu.edu.
---
Contract Tracing, Isolation, and Quarantine
When a member of our campus community (student, faculty, staff member) tests positive for the virus, it is critical that the university trace the contacts they have had with others to limit the spread of the virus.
If you or someone you are in contact with becomes symptomatic or concerned about COVID-19 exposure:
Stay home. Do not visit the campus or public places.

Get Screened: Call (do not visit) your healthcare provider to get screened:

Follow the instructions of campus or local health care provider.
Students, faculty and staff who are exposed to or have a confirmed case of COVID-19 will be required to be in isolation or quarantine as appropriate for the recommended number of days or until symptoms subside.
Isolation

separates and restricts the movement of those with a contagious disease from those who are not sick.
Quarantine

separates and restricts the movement of those who have been exposed to a contagious disease to see if they become sick.
---
Hygiene Practices, Cleaning/Disinfecting Protocols 
Your safety and building cleanliness are very important at HT. Custodial staff will follow enhanced cleaning and disinfection protocols as directed for all areas of the HT campus. Custodial staff will clean classrooms, core areas, and common spaces on a daily basis. During hours when classes and other events are being held, housekeeping staff will perform additional cleaning and disinfection as needed. Cleaning and disinfecting supplies will be provided throughout campus, and faculty, staff, and students are encouraged to disinfect their personal space within classrooms and teaching laboratories before and after use. Disinfection includes wiping down commonly touched surfaces with a disinfectant while wearing personal protective equipment recommended for the type of disinfectant used.
---
Athletics
Intercollegiate Athletics will continue in Fall 2022. As with all university operations, athletics will follow the university's guiding principles. Athletics strategies will address student-athletes returning to campus, navigating campus life, and best practices and required protocols for maintaining successful athletics seasons – including team travel and fan attendance. In addition to all campus policies and procedures, student-athletes may be subject to additional Red River Athletic Conference and NAIA policies.
---
Campus Dining
Campus dining will operate with modified service, including limited seating to facilitate physical distancing in the dining room, providing meals to-go, and extended hours to allow for service to accommodate the dining hall modifications. In addition to main service in the dining hall, the Ram's Café will take online orders for pick-up in addition to walk in to-go orders.
---
Events
Huston-Tillotson University is following the Centers for Disease and Control Prevention, State of Texas, Travis County, and City of Austin mandates and guidelines for on campus gatherings due to the COVID-19 pandemic.
The University safety protocols may include, but are not limited, to health checks, social distancing, masks, and hand sanitizing in indoor and outdoor spaces. Outside groups wishing to reserve space on campus for events will be required to submit documentation demonstrating compliance with university protocols.
Please contact events@htu.edu for more information.
---
Testing
Testing may be required throughout the Fall 2022 semester. This testing will help us identify COVID-19 cases early, quickly activate contract tracing, and isolate and quarantine individuals as needed to help prevent spread.
---
Vaccination
Vaccination plus booster shots are highly encouraged. We will have on-campus COVID-19 vaccination clinics that will be open to all HT faculty, staff, students, alumni and their family members. More information on vaccine availability in the Austin area can be found here.
View the recorded panel discussion on the pandemic vaccine rollout from February 2021.