Scholarships, Grants, Loans
SCHOLARSHIPS
Huston-Tillotson University Scholarship Highlights document

Scholarships offer students a great way to maximize your financial aid. Scholarships do not have to be repaid. A good rule of thumb for students is "apply early and apply often". For those that are "first in family" search for scholarship opportunities created specifically for "first in family" students.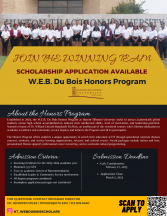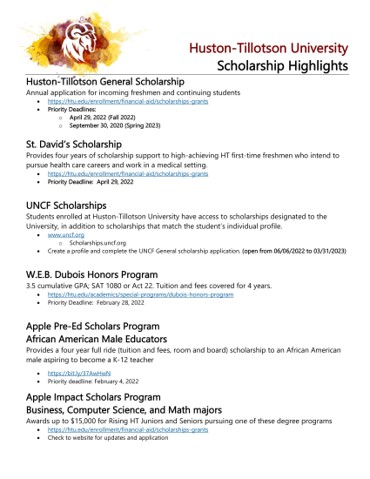 Apple Pre-Ed Scholars Program


African-American Male Educators

Application

Apple Pathways Academy
Business, Comp Sci, and Math majors

Application
===========================================================================
The HT Scholarship Application is a form that satisfies the criteria of our institutional scholarships and several external denominational scholarships. We encourage all HT students who meet the minimum requirements to complete the application along with the essay and submit it electronically.
THE  HT SCHOLARSHIP APPLICATION 
MINIMUM REQUIREMENTS:
Cumulative HT GPA 2.5

500 word essay – A well written essay of at least 500 words, appropriate to the topic that is well organized and utilizes accurate mechanics (grammar, punctuation, and spelling)

Save your essay (either Word or PDF) and upload it where indicated.

Should you receive an award, you must submit acknowledgement (Thank you)  letter(s) to Financial Aid to receive the award(s) which will be pending until the letter is accepted by Financial Aid.
PRIORITY DEADLINE FOR 2023-24 submissions is March 26, 2023 (Fall 2023)
PRIORITY DEADLINE FOR 2023-24 is September 26,2023 (Spring 2024).
The scholarship committee will match your profile with scholarship eligibility:
That information will be provided to the Scholarship Committee
The Committee will make the award decisions
Financial Aid will inform the recipients

Students are 

not

to contact the Scholarship Committee directly

Financial Aid will monitor participation and follow up as needed (for example, ensure acknowledgement letters are submitted appropriately and timely)

You may address questions to scholarships@htu.edu

      
__________________________________________________________________________
We have made the UNCF scholarship application process easy.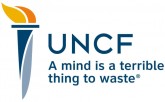 Use the UNCF.org online system to apply.
__________________________________________________________________________
 HT EXTERNAL SCHOLARSHIP RESOURCES
|||||||||||||||||||||||||||||||||||||||||||||||||||||||||||||||||||||||||||||||||||||||||||||||||
SCHOLARSHIP OFFERS RECEIVED VIA EMAIL
Check back for an updated list
__________________________________________________________________________
__________________________________________________________________________
ANNUAL SCHOLARSHIP OFFERINGS

General Board of Higher Education & Ministry Scholarships (GBHEM)
GBHEM's Office of Loans and Scholarships provides millions of dollars in scholarships to students every year. Finances should never be a barrier to answering your calling in life. GBHEM is here to help as you follow the educational path that's right for you.
Scholarship Application Opens: December 15th – March 24th
Explore the Scholarships page to find more information on:
List of available scholarships
Frequently asked scholarship questions

United Methodist Scholarship and Loan Program
The United Methodist Scholarship and Loan Programs are a church-wide educational service providing scholarships and loans to help supplement the financial needs of today's students. Funding for these scholarships and loans are provided through offerings, wills, annuities, and other designated gifts.
For applications & details visit:  www.UMHEF.ORG
ANNUAL DEADLINE: MARCH 1
Texas Association of Developing Colleges (TADC) Urban Scholarship Fund
NO ESSAY REQUIRED
The Urban Scholarship Fund is for graduating high school seniors, new and/or returning college students attending any accredited nonprofit public or independent two or four-year college/university or technical school. ANNUAL awards are $700 for community college, junior college and technical college; $1,000 for public four-year college/university; and $2,000 for independent (private) four-year college/university.
http://txadc.org/Scholarships.php
See link for a complete list of eligibility requirements.
Phi Beta Kappa Alumni Association of Greater Austin
The Association currently offers High School scholarships to graduating AISD high school seniors and Adult Baccalaureate scholarships to adult students pursuing a bachelor's degree in the liberal arts or sciences.
http://pbkaaga.wildapricot.org/page-1810381
Check back for 2022 deadlines
Karman Healthcare Scholarship Fund
Two $500 scholarships for students who have a mobility disability, the entry would require submitting an essay or poem.
http://www.karmanhealthcare.com/scholarships/
The next scholarship deadline is September 1st, 2023
INCOMING FRESHMAN/SOPHOMORES
The St. David's Scholar Program
This program, funded by the St. David's Foundation, provides four years of scholarship support to incoming HT first-time freshmen who intend to pursue health careers. There are a limited amount of spots for rising sophomores to enter the program.
Each scholar will receive $7500 per year for four years. Scholars must also participate in career-enrichment activities, including seminar and service learning, throughout their time at HT.
For application documents please contact scholarships@htu.edu. For program information please contact Drs. Amanda Masino (ammasino@htu.edu) or Carlos M. Cervantes (cmcervantes@htu.edu).
PRIORITY DEADLINE FOR 2022-23 St. David's submissions is April 1, 2022 (Fall 2022)

RESOURCES FOR HIGH SCHOOL AND MIDDLE SCHOOL STUDENTS
||||||||||||||||||||||||||||||||||||||||||||||||||||||||||||||||||||||||||||||||||||||||||||||||||||||||||||||||||||||||||||||||||||||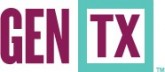 GenerationTX
Generation TX is a project of the Texas Higher Education Coordinating Board (THECB) with initial funding provided through a federal College Access Challenge Grant. Generation TX launched in October 2010 in San Antonio and Fort Worth and will be expanding across all of Texas.
It's starting. All over Texas, students are stepping up, finding their voices, and fueling the movement called Generation TX. Equal parts inspiration and information, Generation TX (spoken "Generation Texas") connects us to each other and clarifies the steps we need to take on the path to college and career education, from taking the right classes and tests, to applying to colleges, and then finding the money to pay for school.
Source: GenTX.org
||||||||||||||||||||||||||||||||||||||||||||||||||||||||||||||||||||||||||||||||||||||||||||||||||||||||||||||||||||||||||||||||||||||
 SCHOLARSHIP SEARCH ENGINES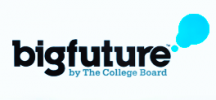 STUDE
NT
LOANS
If you apply for financial aid your award package may contain federal loans to help you meet the cost of attendance. A loan contains a promise to repay with interest (i.e. a promissory note). Be sure that you understand the terms and conditions associated with the loan. Federal loans offer lower interest rates and the most flexibility for students including in-school deferments as well as several repayment plans that meet a wide range of financial situations.
For more information visit and to apply visit:  www.studentaid.gov
Below are the steps to follow when applying for a federal loan:
Complete  Entrance Counseling
Complete  Direct Subsidized / Unsubsidized Loan Master Promissory Note (MPN)
Complete Exit Counseling (upon graduation, less than half-time, or withdrawal)
 Federal Stafford Loans – Loan Limits
Federal regulations place limits on the amount that students can borrow under the Federal Stafford Loan program. These limits are subject to the following:
Annual Maximum Loan Limit: Determines the maximum amount that may be borrowed through the Stafford Loan program during the academic year (fall, spring, and/or summer).

The combined total (Federal Stafford Subsidized and/or Unsubsidized Loans) cannot exceed your Cost of Attendance (COA) minus other financial aid or the maximum academic year amount allowable by law, whichever is less.

Aggregate Maximum Loan Limit: Determines the maximum amount that may be borrowed through the Stafford Loan program over a student's college career.
Please note: First-time undergraduate borrowers on or after July 1, 2013, have a limit on the period of time they may receive Subsidized Stafford loans. The time period is measured in academic years.
The maximum annual amount you can borrow in the form of a Federal Subsidized and/or Unsubsidized Loan(s) is determined by your class level and dependency status.
Annual Maximum Loan Limits

Dependent Student
Independent Student
Freshman:
0 – 29 credit hours
$5,500
(no more than $3,500 subsidized)
 $9,500
(no more than $3,500 subsidized)
Sophomore:
30 – 59 credit hours
$6,500
(no more than $4,500 subsidized)
$10,500
(no more than $4,500 subsidized)
Junior/Senior:
60+ credit hours
$7,500
(no more than $5,500 subsidized)
$12,500
(no more than $5,500 subsidized)
Graduate level
N/A
$20,500
(all unsubsidized beginning fall 2012)
Aggregate Maximum Loan Limits 

| | |
| --- | --- |
| | Amount |
| Dependent | $31,000 (No more than $23,000 subsidized) |
| Independent | $57,500 (No more than $23,000 subsidized) |
| Graduate | $138,000 (No more than $65,500 subsidized) |