AusPREP: Austin Pre-freshman Engineering Program

AusPREP Summer 2021 Program
2021 Enrolled Students
For enrolled students and parents/guardian, the Welcome Orientation information from the May 27th session can be downloaded here.
PROGRAM INFORMATION
Información en español abajo
AusPREP and the Pre-Algebra Institute will be held virtually for both summer 2021 programs. AusPREP will take place online over the weeks of June 21-July 30 and the Pre-Algebra program will take place online over the weeks of July 5-July 30.
| | |
| --- | --- |
| Program Dates | |
| AusPREP | June 21-July 30 |
| Pre-Algebra | July 5-July 30 |
The daily schedule has been sent to enrolled students, including the specific schedule for teacher-led (synchronous) sessions. Students have bee accepted by year – Pre-Algebra through Year 3. A parent/guardian informational session will be held in mid-May to provide details on the program and schedule.
APPLICATION
An application is incomplete without ALL required information and documents including the application form, grade report, and student written statement. Incomplete applications may delay processing of, or disqualify, your acceptance. For all participants: teacher/counselor/assistant principal recommendations have been waived for 2021.
DOCUMENTS
Grades for the 2020 fall semester must be included. Report cards must include conduct; and honors or AP/Pre-AP classes, if applicable. If you are not taking math or science or do not have official grades, please contact the program.
COMMUNICATIONS
Most program communication will take place via email and the online learning platform (Canvas). Please ensure email address(es) on application are valid and check emails regularly for program news and information, or indicate if alternate communication methods are needed.
FAQs for AusPREP 2021
Cost
There will be no charge for participation in AusPREP 2021. Enrollment in the program via the application will be required for participation.
Materials & Learning
The online program will be offered using our learning management platform, Canvas, and virtual classes will be held via Zoom. We are exploring ways to offer instructional materials for those who do not have sufficient internet access or devices at home as well.
Credit 
We are determining if we can offer high school elective credit for completion of the online program as is standard for the on-campus program. Updates will be shared as available.
How will this affect AusPREP 2022?
We intend to host AusPREP 2022 in the traditional format on campus. Based on the outcome of this 2021 summer, we will determine which program year students will enter in 2022. We will adjust the application requirements as needed for this year and 2022.
---
Información del Programa 2021
Información del Programa
AusPREP y el Instituto Pre-Álgebra se llevará a cabo virtualmente para ambos programas de verano del 2021. AusPREP se llevará a cabo en línea durante las semanas del 21 de junio al 30 de julio y el programa Pre-Álgebra se llevará a cabo en línea durante las semanas del 5 de julio al 30 de julio.
El horario diario se anunciará en mayo e incluirá una mezcla de sesiones de estudio dirigidas por profesores(sincrónicas) e independientes (asincrónicas). Los estudiantes serán aceptados por año – Pre-Álgebra hasta el año 3. A mediados de mayo se llevará a cabo una sesión informativa entre padres y tutores para proporcionar detalles sobre el programa y el horario.
Solicitud
Una solicitud está incompleta sin TODA la información y documentos requeridos, incluido el formulario de solicitud, el informe de calificaciones y la declaración escrita del estudiante. Las solicitudes incompletas pueden retrasar el procesamiento de su aceptación o ser descalificadas. Para todos los participantes: las recomendaciones del maestro/ consejero /asistente al director no son requeridas para el 2021.
Documentos
Las calificaciones para el semestre de otoño del 2020 deben incluirse. Las tarjetas de informe deben incluir conducta; y honores o clases AP/Pre-AP, si corresponde. Si no está tomando matemáticas o ciencias o no tiene calificaciones oficiales, póngase en contacto con el programa.
Comunicación
La mayor parte de la comunicación del programa se llevará a cabo por correo electrónico y la plataforma de aprendizaje en línea (Canvas). Asegúrese de que las direcciones de correo electrónico en la aplicación sean válidas y revise los correos electrónicos regularmente para obtener noticias e información del programa, o indique si se necesitan métodos de comunicación alternativos.
La fecha límite de solicitud es el 30 de abril de 2021 10 de junio de 2021. Toda la información enviada por correo debe tener el sello de o antes de esta fecha o no se aceptará la solicitud. Línea de información de la aplicación: ausprep@htu.edu; 512.505.6479
Preguntas frecuentes
Comunicación
Todos los que actualmente reciben este mensaje seguirán recibiendo mensajes sobre el programa. Por favor, comparta este boletín informativo y las personas pueden unirse a la lista de correo aquí.
Costo
No habrá ningún cargo por participar en AusPREP 2021. La inscripción en el programa a través de la solicitud será necesaria para la participación.
Fechas y hora
El AusPREP se llevará a cabo del 21 de junio al 30 de julio. Pre-Álgebra se llevará a cabo del 5 de julio al 30 de julio. Los horarios diarios se presentarán durante una sesión informativa para padres/guardián a mediados de mayo.
Materiales y aprendizaje
El programa en línea se ofrecerá utilizando nuestra plataforma de gestión de aprendizaje, Canvas, y Zoom. Estamos explorando maneras de ofrecer materiales instructivos para aquellos que no tienen suficiente acceso a Internet o si también no tienen dispositivos en casa.
Crédito
Estamos determinando si podemos ofrecer crédito electivo de la escuela secundaria para la finalización del programa en línea como es estándar para el programa en la universidad. Las actualizaciones se compartirán según disponibilidad.
¿Cómo afectará esto a AusPREP 2022?
Tenemos la intención de ofrecer AusPREP 2022 en el formato tradicional en la universidad. Según el resultado de este verano 2021, determinaremos en qué año del programa entrarán los estudiantes en 2022. Ajustaremos los requisitos de solicitud según sea necesario para este año y el 2022.
---
AusPREP Newsletters
---
Prior Year Information

Thank you for your participation in and support of AusPREP Online this summer!!!
We hope you enjoyed the AusPREP Online experience and learning with us. We had fun bringing this content to you and meeting each week during virtual office hours. For those we didn't connect with online, we hope you had a good summer.
AusPREP Online 2020 Newsletters // AusPREP Online 2020 Boletines
We sent out weekly newsletters with updates on the virtual summer program held in 2020, including information about the weekly lesson modules, introducing the instructor of the week, features resources to extend learning and enrichment beyond AusPREP Online. Access the newsletters here.
Featured Resources
We are happy to connect participants to high-quality STEM resources available from outside sources that will extend learning and enrichment throughout the year.
Access the list of resources here.
Prior Year Participants
To request an official transcript, please fill out the request form here.
---
Career Awareness Speakers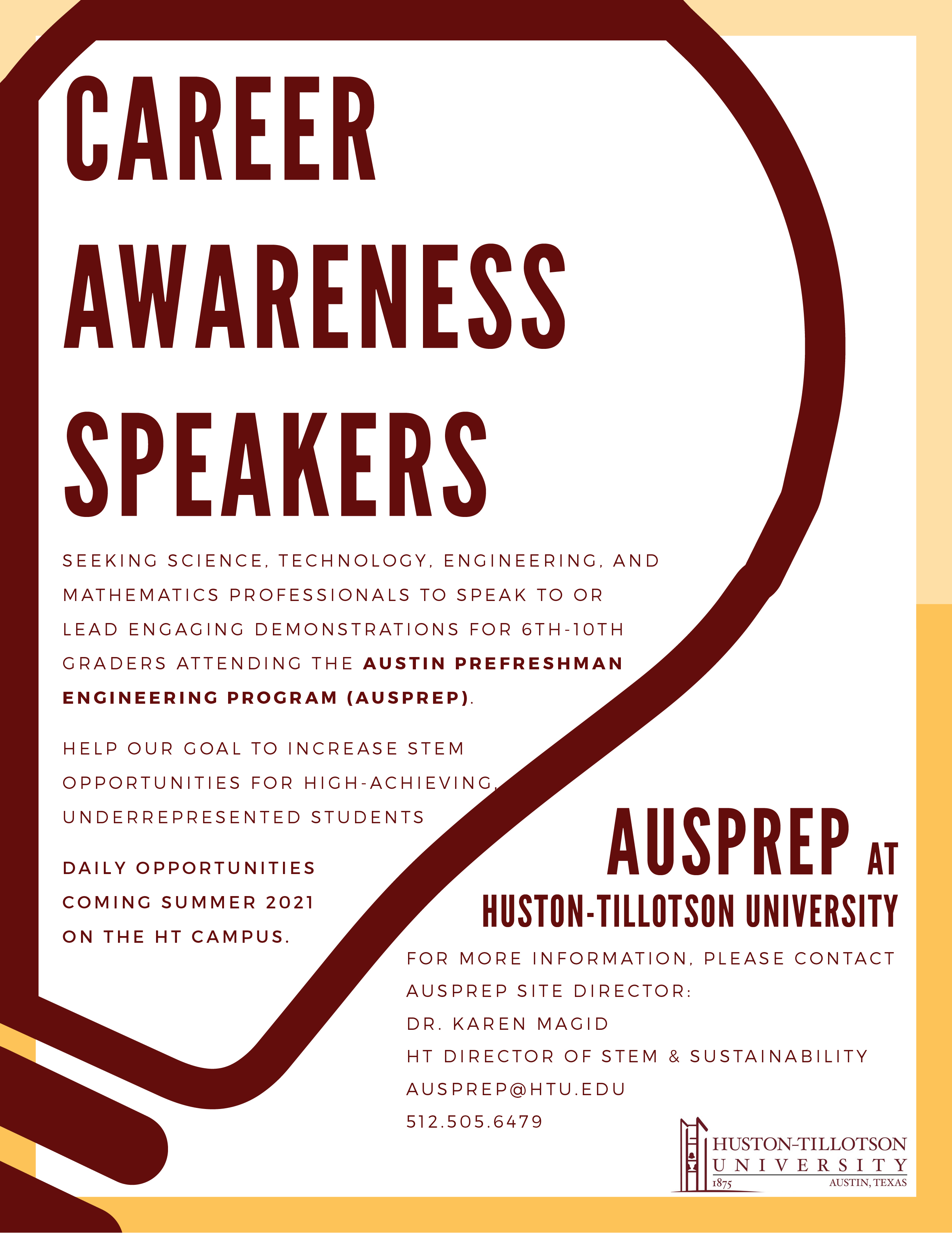 We are always seeking STEM professionals to bring their perspective to students for our weekly virtual Career Awareness sessions. Career Awareness speakers speak with or lead engaging demonstrations for 6th-10th gradeers attending AusPREP, which is a program working to increase opportunities in the STEM fields for high-achieving, under-represented students by building their skills in math and engineering concepts during this summer program.
Daily Career Awareness sessions happen from 10:30-11:30 am on campus while AusPREP is in session. Please reach out to the program director, Dr. Karen Magid, HT Director of STEM and Sustainability to discuss.
---
About Austin Pre-freshman Engineering Program (AusPREP)
Austin Pre-freshman Engineering Program (AusPREP) at Huston-Tillotson University is one of the Texas Pre-freshman Engineering Programs (TexPREP) located on college campuses in Texas. PREP was founded to identify high achieving middle and high school students with the potential and interest in becoming scientists and engineers and to reinforce them in the pursuit of these fields. TexPREP began in 1979 at the University of Texas at San Antonio under the leadership of Dr. Manuel Berriozabal and has been recognized nationally for preparing students for college engineering and science studies.
AusPREP will not discriminate on the basis of race, creed, sex, color, age, handicap, or national origin in selecting students for participation nor in the administration of this project. AusPREP strongly encourages women and students from minority groups, who have been traditionally underrepresented in science and engineering, to apply for participation. Middle school students who are currently in grades sixth, seventh, or eighth are encouraged to apply for PREP year one. Students currently in the fifth grade are encouraged to apply for the Pre-Algebra Institute.