AusPREP: Austin Pre-freshman Engineering Program

AusPREP Summer 2023 Program
2023 Summer Update
We are working on finalizing our program schedule for summer 2023. Check back for information soon! We aim to open the application in mid-February.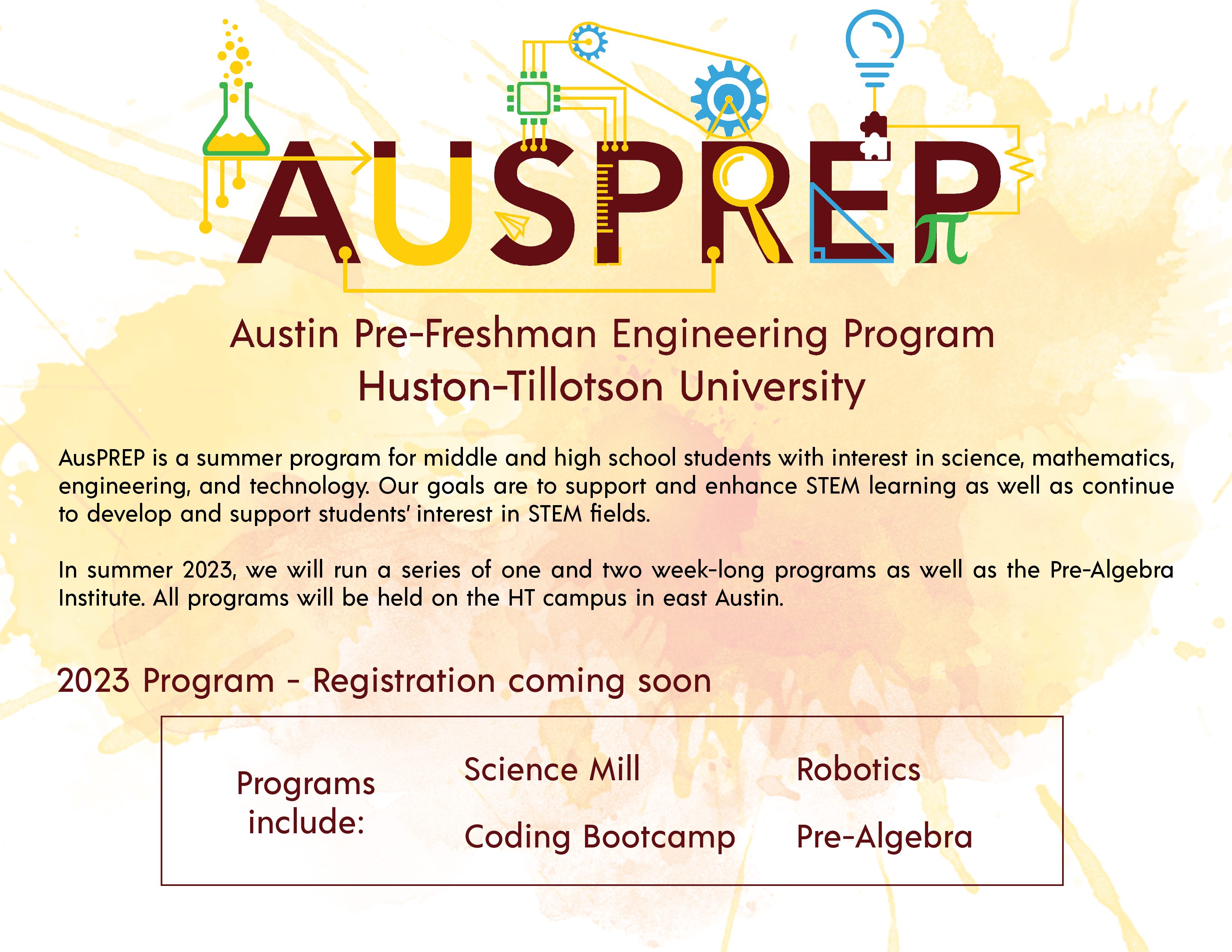 ---
Prior Year Information

Thank you for your participation in and support of AusPREP online in 2020 and 2021!!!
We hope you enjoyed the AusPREP Online experience and learning with us. We had fun bringing this content to you and meeting each week during virtual office hours. For those we didn't connect with online, we hope you had a good summer.
AusPREP Online 2020 Newsletters // AusPREP Online 2020 Boletines
We sent out weekly newsletters with updates on the virtual summer program held in 2020, including information about the weekly lesson modules, introducing the instructor of the week, features resources to extend learning and enrichment beyond AusPREP Online. Access the newsletters here.
Featured Resources
We are happy to connect participants to high-quality STEM resources available from outside sources that will extend learning and enrichment throughout the year.
Access the list of resources here.
---
About Austin Pre-freshman Engineering Program (AusPREP)
Austin Pre-freshman Engineering Program (AusPREP) at Huston-Tillotson University is one of the Texas Pre-freshman Engineering Programs (TexPREP) located on college campuses in Texas. PREP was founded to identify high achieving middle and high school students with the potential and interest in becoming scientists and engineers and to reinforce them in the pursuit of these fields. TexPREP began in 1979 at the University of Texas at San Antonio under the leadership of Dr. Manuel Berriozabal and has been recognized nationally for preparing students for college engineering and science studies.
AusPREP will not discriminate on the basis of race, creed, sex, color, age, handicap, or national origin in selecting students for participation nor in the administration of this project. AusPREP strongly encourages women and students from minority groups, who have been traditionally underrepresented in science and engineering, to apply for participation. Middle school students who are currently in grades sixth, seventh, or eighth are encouraged to apply for PREP year one. Students currently in the fifth grade are encouraged to apply for the Pre-Algebra Institute.