Center for Academic Innovation and Transformation
Go2Knowledge: PD Platform
INTRODUCING
Huston-Tillotson's NEW
Professional Development Platform for Faculty, Staff & Administrators: Go2Knowledge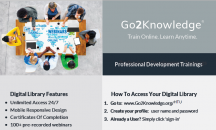 Huston-Tillotson University has partnered with Innovative Educators to provide our members access to more than 100 professional development training courses, as well as access to unlimited live webinars.
We teamed up with Innovative Educators due to their expertise in providing online training for educators and the breadth of programming available for faculty, administrators, and staff. More so, the live webinars cover the most pressing topics in higher education.
As a result of our partnership, this valuable resource is available at no cost to each trainer. All Huston-Tillotson members will have access to the Education Live Webinars upon registration.
Members must complete the initial registration using their university email and follow the instructions included in the confirmation email to use the free online webinars and training courses.
A helpful Step-by-Step Guide is attached for assistance in creating your Huston-Tillotson Go2Knowledge account.
Expert Speakers & Timely Topics
Research Driven in Evidence-based Practices
Participate in Real Time
Excellent topics and training materials and resources for all Faculty, Staff and Administrators
Increase Professional Development independently, or as a group
Perfect source for departmental meetings and committee discussions
Receive recording and resources within 7 business days if you are unable to attend the live event
Certificate of Completion awarded upon mastered training session or workshop
Utilization Reports facilitated by the CAIT Director for monthly reporting