Center for Academic Excellence
Center for Academic Excellence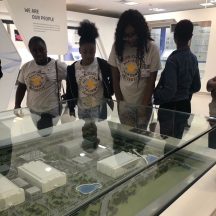 About the CAE
The Center for Academic Excellence helps create and sustain a clear, coherent and engaging academic environment for first-time Freshman, as well as assisting all students through to graduation.
The primary strategy is to achieve desired student success using an intrusive academic advising model, tutoring, Freshmen experience activities (to include but not limited to FYE course), orientation activities and the use of fully functioning Math Lab with companion Writers Studio that provide supplemental instructional support to students.
"The CAE ", will work collaboratively with Enrollment Management. Office of Institutional Planning, Research, and Assessment (OIPRA), Assistant Provost, and Business Office to achieve desired results.
Services
CAE Online Tutoring 
HTU students will still have access to Academic Tutoring as well as Academic Skills Workshops, provided by CAE Advisors! 
CAE tutors are a few of your favorite tutors who are available to continue to assist you via the Zoom Platform!  Please complete and submit the attached link to contact The CAE for assistance in Math, English, and other courses.




CAE Online Tutoring Form

The Writers' Studio is available to assist via the Zoom Platform. Please complete and submit a form to the attached link to contact the Writers' Studio for assistance at any stage of any writing project.
Writers' Studio Online Tutoring Form

Please look into "Smarthinking" which also provides online tutoring as well. Please access through "Canvas" for more information!
Advising
Students are assigned a faculty or professional staff member to function as your advisor based on your major field of study.  Most Freshmen and students who have not declared a major are advised at the Center for Academic Excellence. All advisors are trained to work with students, regardless of potential academic majors.
CAE Advisors are available via the Zoom Platform! Please complete and submit the attached link to contact The CAE for Advising.
CAE Online Advising Form
Questions about the Advising Process
Advising FAQ
Other information 
Your success is important to us. If all else fails, please don't hesitate to call directly at 512.505.3094 or email at cae@htu.edu.
Information regarding training will be coming soon.