Recognizing and Celebrating Huston-Tillotson University's Graduating Class of 2022!
Wednesday May, 04 2022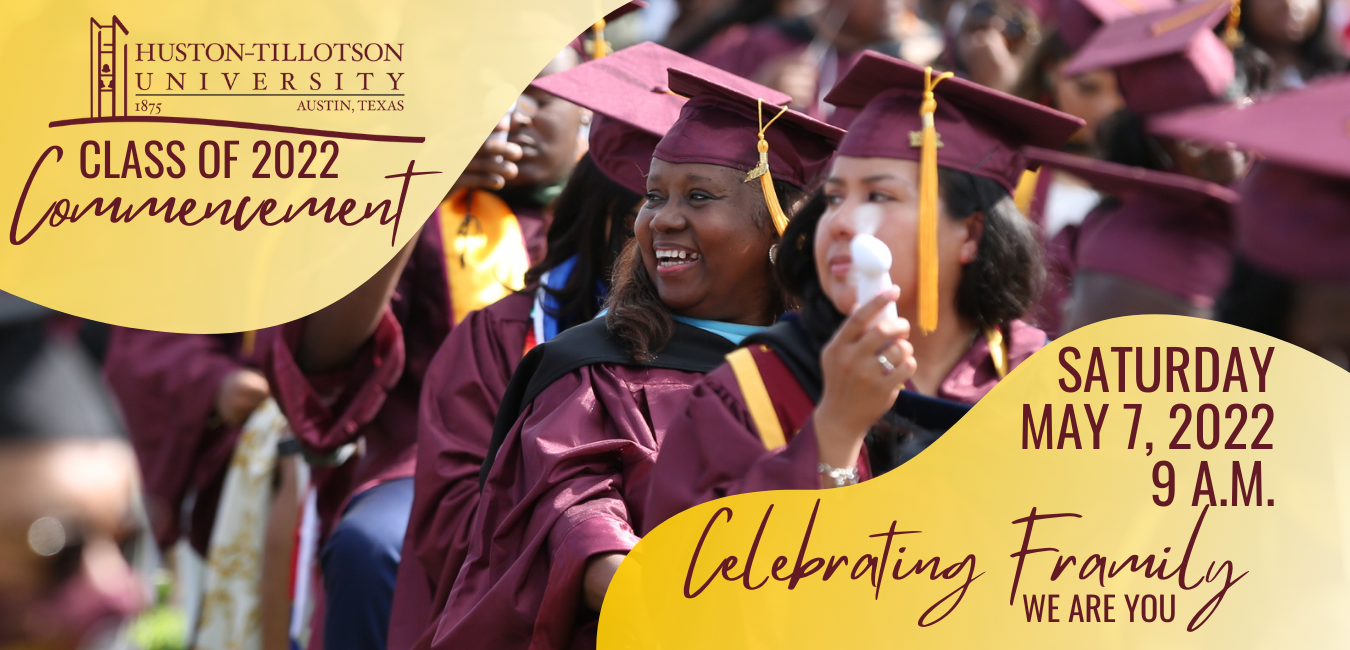 AUSTIN, Texas – Huston-Tillotson University (HT) will host its 2022 Commencement Convocation this Saturday, May 7, 2022 at 9 a.m. The ceremony will be held on the historic campus, located at 900 Chicon Street. Congresswoman Alma S. Adams, Ph.D., of the 12th Congressional District of North Carolina will deliver the commencement address.
Congresswoman Adams was instrumental in facilitating H.R. 5363, the Fostering Undergraduate Talent by Unlocking Resources for Education (FUTURE) Act, that provided funding totaling $255 million a year for all Minority-Serving Institutions, including $85 million for HBCUs to include Huston-Tillotson University. She was the 100th woman elected to the 113th Congress.  Congresswoman Adams graduated from North Carolina A&T State University in 1968 and received her master's degree in Art Education in 1972. She earned her Ph.D. in Art Education and Multicultural Education from The Ohio State University in Columbus, Ohio, in 1981.
"Recognizing and celebrating our 2022 graduates and HT's 50th year Class of 1972 with a commencement speaker, whom is an HBCU graduate and an ardent, relentless champion of our HBCUs is powerful, meaningful, and an extraordinary testament to the hard work and the heart work that we do at Austin's oldest institution of higher learning and only HBCU," said President and CEO Colette Pierce Burnette, Ed.D.
This year, master's, bachelor's, and associate degrees will be conferred for 224 graduates, comprising one of the largest graduating classes with business administration, psychology, and kinesiology as the top three majors.
Graduate Tamera Brown is receiving her bachelor's degree in Business Administration. Brown, a student in Huston-Tillotson University's Adult Degree Program credits her participation in HT's Upward Bound program as a high school senior to ultimately paving the way for her 2022 graduation "HT has always been my world…it was not an easy journey, but my HT colleagues were the support system that I needed. They stood with me, held my hand, and wiped my tears along the way."
Mac "Justin" Reyes will also receive his bachelor's degree in Kinesiology on Saturday. Following in his siblings' footsteps, Reyes is the third member of his family to complete a degree at HT (his brother Joshua Reyes graduated in 2012 and is the HT Men's Head Soccer Coach; and his sister Judith Reyes graduated in 2021). "I look up to my older brother Joshua. He has always taught me to be humble in everything that I do. Completing my degree is continuing my family's legacy of obtaining a college education. My youngest brother (Jommar Reyes) is now following in my footsteps and will graduate in 2023."
Tieranni Brim is a graduating W.E.B. DuBois Honors Scholar receiving her bachelor's degree in Psychology. She is finishing her four years at HT with a 4.0 GPA. "These past four years at HT have been extremely life changing, and have taught me the meaning of community. Being a DuBois Scholar has allowed for me to excel academically, while working for the Center for Academic Excellence has transformed me into a leader."
Commencement Convocation occurs in conjunction with Huston-Tillotson University's Honors Convocation and Reunion Weekend 2022 activities. Honors Convocation which is a recognition of students who have earned high academic honors and contributed in unique ways to the University is scheduled on Friday, May 6 at 10 a.m. at Greater Mt. Zion Church, located at 4301 Tannehill Ln., Austin, Texas.
The Honors Convocation speaker is Dr. DeVry Anderson who serves as the St. David's South Austin Medical Center Chief Medical Officer and a member of the Huston-Tillotson University Board of Trustees. Reunion Weekend activities begin on Thursday, May 5 with a golf tournament at the Morris Williams course, in addition to events scheduled at the reunion weekend headquarter Holiday Inn Midtown hotel that continue through Saturday. Registration and packet information are online at https://www.htiaa.net/reunion-weekend-2022. In addition to the ceremony for the 2022 graduates, HT's 50th year Class of 1972 will be honored at the graduation program and throughout the weekend festivities in addition to members of classes ending in 2s and 7s.
For more information about Reunion Weekend 2022, Honors, or Commencement Convocations, call 512.505.3073 or visit www.htu.edu.
The University will continue to follow the Centers for Disease Control and Prevention's guidance for continued safety such as face coverings, hand sanitizing, and social distance. Event parking is available on Chalmers Avenue.
About Huston-Tillotson University
Huston-Tillotson University, the oldest institution of learning in Austin, Texas, has roots dating back to 1875. HT is an independent, church-related, historically black, four-year liberal arts institution located on a 23-acre tree-lined campus near downtown in East Austin. Huston-Tillotson University's mission is to nurture a legacy of leadership and excellence in education, connecting knowledge, power, passion, and values. The University offers associate and master's degrees in addition to Bachelor of Arts and Bachelor of Science degrees in more than 19 areas of study.
Huston-Tillotson University is accredited by the Southern Association of Colleges and Schools Commission on Colleges (SACSCOC) to award associate, baccalaureate and masters degrees. Questions about the accreditation of Huston-Tillotson University may be directed in writing to the Southern Association of Colleges and Schools Commission on Colleges at 1866 Southern Lane, Decatur, GA 30033-4097, by calling (404) 679-4500, or by using information available on SACSCOC's website (www.sacscoc.org).
#HTisIDEAL