GTECH Invests in HT Students With $38K Furniture Donation
Tuesday Oct, 07 2014
(AUSTIN, Texas) 10.7.14 — Huston-Tillotson University School of Business and Technology's recently earned prestigious "accreditation" title from the Accreditation Council for Business Schools and Programs (ACBSP) captured the attention of GTECH Corporation.  As a result, GTECH orchestrated a furniture upgrade.
HT's new Dean of the School of Business and Technology, Dr. Adrian Price, announced that the partnership with GTECH to showcase the state-of-the-art furniture and teaching tools, valued at $38,000, will enhance classroom instruction. "This furniture upgrade is one of many enhancements as we continue elevating HT's School of Business and Technology to world-class status," said Price.
Student leaders from the HT chapter of the international business fraternity, Phi Beta Lambda, along with President and Chief Executive Officer President Larry L. Earvin, Ph.D,; Board of Trustees member Cal Varner; and special guest Texas Lottery Commissioner J. Winston Krause officially unveiled the furnishings.
"Huston-Tillotson University is pleased to partner with GTECH in this collaborative initiative to provide a state-of-the-art learning environment for our students in business and computer science," said Huston-Tillotson President Dr. Larry L. Earvin. "It serves as the springboard for future opportunities for HT students to serve as a resource for GTECH."
GTECH, headquartered in Providence, Rhode Island, is a leading commercial operator and provider of technology in regulated worldwide gaming markets. GTECH operates the Texas Lottery, and is making this sizeable donation of brand new Steelcase classroom desks and white boards to provide an engaging learning environment, enhance comfort for students attending Austin's very first institution of higher learning. This donation represents GTECH's ongoing commitment to enhancing education in the state of Texas.
Huston-Tillotson University, Austin's first institution of higher education, offers Bachelor of Arts and Bachelor of Science degrees in 20 areas of study. The historically black university is affiliated with The United Methodist Church and the United Church of Christ.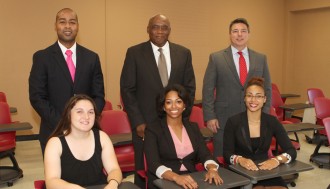 Pictured back row left to right are Huston-Tillotson University Dean of the School of Business and Technology Dr. Adrian Price, HT Board of Trustee Mr.  Cal Varner, GTECH Account Development Manager Joseph Lapinski, HT's Phi Beta Lambda business leaders Joannie Adams, Georgia Aplon, and Amber Green.