Careers
Huston-Tillotson University has a variety of job opportunities available for recent graduates and seasoned professionals.  We encourage alumni to post career opportunities at their companies on our site as well. 
Share Career Opportunities
If you would like to share career opportunities with other HT alumni and friends, LEARN MORE  about HT's Career and Graduate Development tools. Click here for instructions on how to post a job offering. 
 

Meet HT Graduate Korey Greathouse, Class of 2004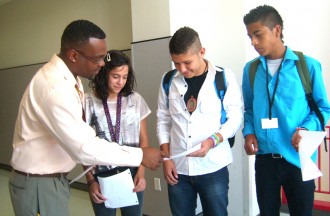 The year after graduating from Huston-Tillotson in 2004, I gained employment with the Del-Valle Independent School District, working as a high school English teacher.
In this position I have been afforded the opportunity to work with students in both the advanced placement and special education programs, as well as teach those students in the general population. On a daily basis I am involved in curriculum and lesson planning, instructional differentiation, and classroom management. After a few years of working on the 10th grade team, I decided to branch out and begin work on creating an English elective course.  For this course, I developed a curriculum that allows students to focus on minority literature: specifically, Latin American literature in the fall in correspondence with Diez y Seis de Septiembre celebrations, Dia de los Muertos, and Hispanic History Month, and African American literature in the spring semester in alignment with the birthday of Dr. Martin Luther King Jr. and Black History Month with reference to the upcoming Juneteenth celebration in the summer.
The foundation of my planning was inspired and in many ways mirrored the Latin American, African American, and Caribbean literature course work I completed as an undergraduate student at HT.  This curriculum was reviewed by our administration and added to our district's high school course catalog.
Outside of my role as an English teacher, I also continue to sponsor the African American Student Union (AASU) and Step Team. This after school organization has a mission to promote knowledge of African American history and culture on the Del Valle High School campus, recognize the importance of education beyond high school, and serve as positive role models in our academic and extra-curricular activities.  In order to fulfill this mission, the AASU hosts school-wide contests based on African American history and step performances for various on and off campus events.  Students within the organization also conduct research on prominent African American figures/events and historically black colleges and universities.
I've only been in the education field for a short time, but my experiences have only been fueled by my studies and experiences in the Huston-Tillotson English Department and those professors within.  With this I hope to continue to grow in my career and aspire to use these tools to help educate and motivate others.
 Pictured are Greathouse (left) with DVISD students.