Seven Jewels of Success from Dr. Robert F. Smith
Saturday May, 10 2014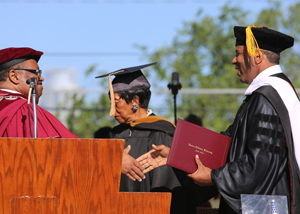 (AUSTIN, Texas) 5.16.14 — African-American billionaire asset manager Robert F. Smith inspired Huston-Tillotson University's 2014 graduating class with seven jewels of success at the recent conferring of degrees during Mother's Day weekend. Smith is Founder, Chairman and Chief Executive Officer (CEO) of Vista Equity Partners LLC, as well as an entrepreneur, corporate executive, owner of several patents, and founder of Project Realize.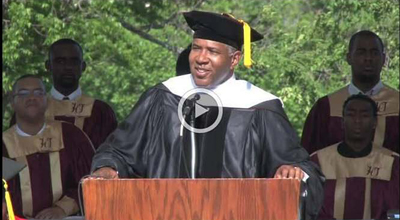 Smith shared insights into his business successes with advice based on his faith and upbringing.  His seven jewels are: 1) Dream big; 2) solve challenging problems with elegant solutions; 3) be a student of history but don't be bound by it; 4) follow your instincts; 5) Give people something that they can believe in; 6) you are enough; and 7) liberate the human spirit. The many first generation graduates were encouraged to believe in their abilities and take the knowledge imparted by faculty to garner the "joys of figuring things" while accepting the blessings provided by HT.  He shared lessons learned from history as a means of gaining knowledge from "leaders who took time to understand the world, behavior of people, the sentiments of the times, and strategies for success."   He further emphasized that graduates should capture their thoughts and inner voice in a journal and take risks. "One of the greatest things about being an American, is the opportunity to take risks."
Huston-Tillotson University President and Chief Executive Officer Larry L. Earvin, Ph.D., presented the honorary doctor of humane letters degree to Smith for his lifelong contributions and philanthropic efforts. Vista Equity Partners LLC, with an extensive software company portfolio, currently manages equity capital commitments of approximately
$7.7 billion and is listed among the top private equity firms in the world. Smith founded Project Realize– termed "Free Market Philanthropy"– in order to combine the best elements of the American free enterprise system with the core American ideals of giving back and lifting others up.
In addition, Marian Lavon Jackson Marshall received the honorary doctor of humane letters degree for her HT career and community accomplishments.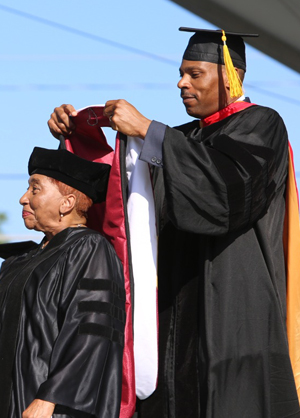 Commencement Convocation also showcased HT's graduating W.E.B. DuBois Honors Scholars: Chasity N. Hattley, Business Administration, Georgetown, Texas; Terrell N. McAfee, Mathematics, Beaumont, Texas; Michel'l McClinton, Criminal Justice, Dallas, Texas; Courtney Pool, Business Administration, Bastrop, Texas; Aaron Sampson, Computer Science, Cedar Creek, Texas; Montoya L. Stredic, Psychology, Houston, Texas; Yohannis Job, Business Administration, Scarborough, Tabago; and Hassan Sidibeh, Mathematics; Banjul, Africa.  The DuBois Scholars and students on the University's Dean's List and Honor Roll were recognized for their academic accomplishments during the traditional Honors Day Convocation held the day before the Commencement Convocation.  Top ranking seniors received accolades: Devin G. Giles, Austin, Texas, Business Administration; Megan E. Gonzalez, Hutto, Texas, and Isom B. Kelly, Little Rock, Arkansas; Chemistry; Bradley S. Jones, New Braunfels, Texas, and Charles M. Wright, Jr., Austin, Texas, Communication; Diane A. Armstrong and Ofelia Ugarte, Austin, Texas, Criminal Justice; Annalee Arredondo, Cedar Park, Texas, and Michael Ortiz, Austin, Texas, Education; Nicole B. Cowan, Austin, Texas, and Brandon D. Williams, Flatonia, Texas; Andrew C. Dinmore, Austin, Texas, Mathematics; Torian E. Grant, Houston, Texas, Music; Ronnie W. Willis; Sandy, Texas, Psychology; Katriana L. Munguia, Kyle, Texas, and MeShay McKinney, Austin, Texas, Sociology.  Job, Sampson, and McAfee  also earned top senior honors. Honors Convocation speaker William "Teddy" McDaniel, III encouraged the honor students to set high expectations, maintain high ethics and morals, and strive for excellence.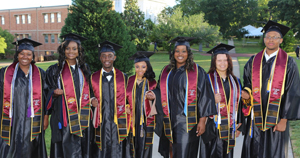 Thousands of alumni, families, and friends converged on the HT campus for Reunion Weekend 2014 and the early morning outdoor graduation ceremony under the hot Texas sun with the City of Austin skyline as a backdrop.  Members of the Class of 1964, celebrating their 50th anniversary, served as a reminder of African American advances since the 1964  riots, protests, and sit-ins. The Class of 2014 and 1964 was able to reminisce and rejoice. Afterward, a "Party with a Purpose" in celebration of HT's launch of the Tom Joyner Foundation School of the Month Campaign drew graduates, families, friends, HT administrators, and faculty for photographs and selfies with the speaker.
Huston-Tillotson University, Austin's oldest institution of higher education, is comprised of 72 percent African Americans, 18 percent Hispanic, and 4 percent international students with graduates representing The Republic of Conga, Guyana, Liberia, Nigeria, Panama, Trinidad and Tobago, and Zimbabwe.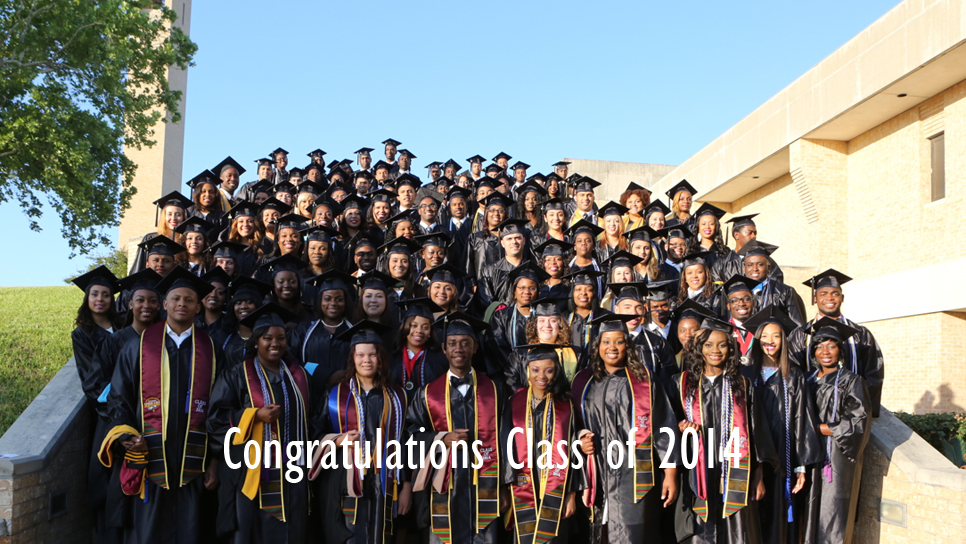 Pictured is the Erin Banks family celebrating her and fellow classmates.