HT Officials Express Grief at the Passing of
Dr. William Astor Kirk
Monday Aug, 15 2011
(AUSTIN, Texas) 8.15.11 — Huston-Tillotson University officials express grief at the passing of Dr.  William Astor Kirk, former professor of government, who died on Friday, August 12, 2011. Kirk, a frequent Central Texas visitor, had returned to Austin in May 2011 as the special guest of honor at the University's graduation reception for the Class of 2011 and Class of 1961.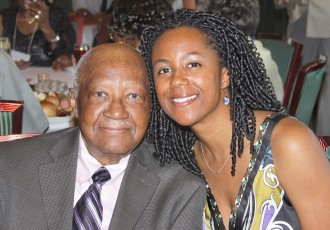 "We were deeply saddened to hear the news of Dr. Kirk's passing," said Huston-Tillotson President Larry L. Earvin. "His brilliance and tenacity are two qualities that students spoke of highly."
Kirk joined the HT faculty in 1947 after obtaining his master's in political science from Howard University, Washington, D.C. that same year.  Before his retirement from the HT in 1961, he had earned a doctorate in public administration, public law, and economics from the University of Texas at Austin; and studied at the London School of Economics and Political Science, London, England. He was HT's first Fulbright Scholar.  The Fulbright Scholar program, named after former Senator J. William Fulbright and established by Congress in 1946, is the largest and one of the most prestigious international faculty exchange programs.  
Kirk served as Regional Director of the United States Office of Economic Opportunity (later renamed Community Services Administration) in addition to positions as an adjunct professor at several institutions. As president of Organization Management Services Corporation (OMSC), Kirk served as interim chief executive officer for the General Board of Church and Society of The United Methodist Church, the Family Crisis Center of Prince George's County, Maryland, the Hotline and Suicide Prevention Center of Prince George's County, Maryland, and Pennsylvania Pocono's Maryland Corporation for Enterprise Development to name a few.       
He was the author of several books, including the national award winning "Ending Institutional Discrimination Within United Methodism (2010).  He also authored "The Politics of Ending Church Discrimination" (2010); "One Life: Three Professional Careers—My Civil Rights Story" (2008); and "Desegregation of the Methodist Church Polity: Reform Movements that Ended Racial Segregation."
Arrangements will be held in his current home of Suitland, Maryland. The viewing is scheduled for Thursday, August 18, 2011 – 6:00 p.m. to 9 p.m., Cedar Hill Funeral Home, 4111 Pennsylvania Avenue.  The funeral is scheduled on Friday, August 19, 2011 at 10 a.m. at the same location.  A memorial service will be held on Friday as well at 3 p.m. at Foundry United Methodist Church, 1500 16th Street NW, Washington, D.C.  For more information, contact the funeral home at 301.817.0120.
Pictured are Dr. William Astor Kirk and granddaughter at the HT Reunion Weekend Class of 2011 and Class of 1961 reception held in May 2011.