Huston-Tillotson University Receives Grant from Bank of America to Support Local Minority Entrepreneurship
Wednesday Dec, 07 2022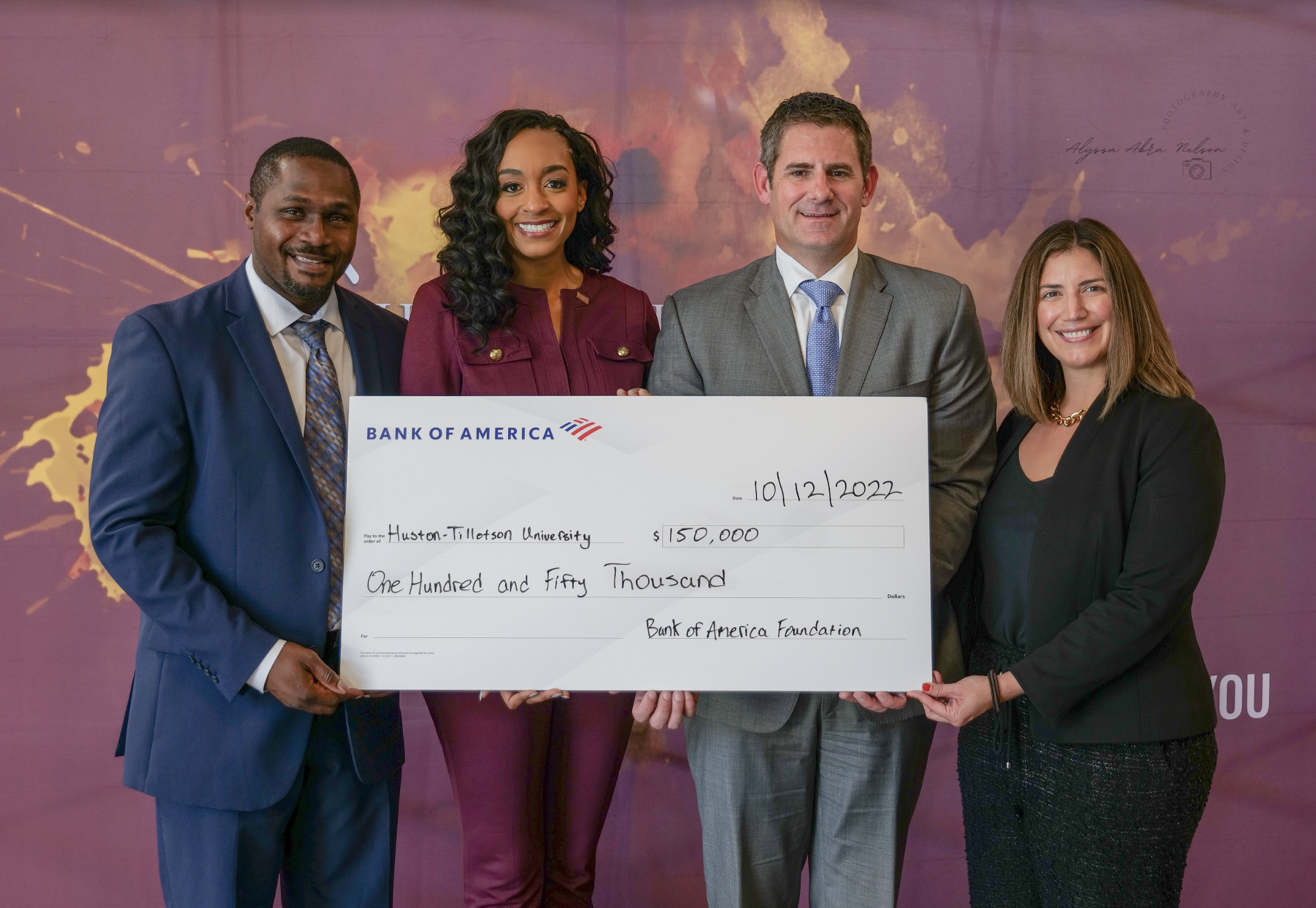 AUSTIN, Texas – Huston-Tillotson University (HT) is announcing it has received a $150,000 grant from Bank of America for its Center for Entrepreneurship & Innovation (CEI) Training Program. CEI's Training Program will provide high quality business and economic development assistance to existing small businesses, as well as nascent and future entrepreneurs in the Austin area. This is the third gift given to HT by Bank of America over the past three years. In 2020, the University received a grant from the bank for $100,000, which was used to help establish the Center, and the bank has provided additional grant funding of nearly $600,00 to Huston-Tillotson as part of its long-standing relationship.
"We are most appreciative to Bank of America for supporting our mission of helping minorities become business owners," said HT President Melva K. Williams. "Although African Americans account for nearly 13% of this country's population, only about 2.5% own their own businesses," she added.
In addition to funding the hiring of quality trainers, the grant will help the Center purchase equipment that will be used to launch a virtual venture capital lab in the space. "The funds provided by Bank of America will enable the university to execute our vision of providing a platform for both current and aspiring entrepreneurs of East Austin to bring their entrepreneurial dreams to reality," said Dr. Rohan Thompson, Dean of HT's School of Business and Technology (SBT). "Thank you to Bank of America for always being a strong partner of Huston-Tillotson University and paving the way for other organizations to make contributions to allow us to change the lives of many."
"One of Austin's most unique characteristics is the prominence of its small business and entrepreneur community, which was hard hit during the pandemic. When you add the effects of gentrification from people and larger employers relocating to Austin, increased costs of rent, property taxes, supplies, and a labor shortage into the historically most economically underserved area in Austin, it's clear that we must provide educational support and resources to eliminate roadblocks to professional growth in our minority communities," said David Bader, President of Bank of America Austin. "Our partnership with Huston-Tillotson is an example of how organizations across the private, public and nonprofit sector must continue working together to drive positive change in Austin – together, we will become a catalyst for workforce preparedness, entrepreneurship and economic mobility, creating a diverse pipeline of local talent to move our community and local economy forward."
Housed in the Center for Social Innovation (CSI) in East Austin, the CEI's mission is to increase the number of minority and women business owners in Texas with a primary focus on Austin and surrounding areas. It also offers incubator services and assists prospective entrepreneurs, both HT students and community members, with the launching of their new ventures through classroom instruction and experiential learning.
The long-standing partnership between Bank of America and Huston-Tillotson University is mutually beneficial for HT's students as well as the Austin economy.
Both the Center for Social Innovation (CSI) and Center for Entrepreneurship & Innovation (CEI) are components in the HT School of Business and Technology (SBT).
Prospective students and community members can learn more about HT's CSI and its programming here.
About Huston-Tillotson University
Huston-Tillotson University, the oldest institution of learning in Austin, Texas, has roots dating back to 1875. HT is an independent, church-related, historically black, four-year liberal arts institution located on a 23-acre tree-lined campus near downtown in East Austin. Huston-Tillotson University's mission is to nurture a legacy of leadership and excellence in education, connecting knowledge, power, passion, and values. The University offers associate and master's degrees in addition to Bachelor of Arts and Bachelor of Science degrees in more than 19 areas of study.
About Bank of America
Bank of America is one of the world's leading financial institutions, serving individual consumers, small and middle-market businesses and large corporations with a full range of banking, investing, asset management and other financial and risk management products and services. The company provides unmatched convenience in the United States, serving approximately 68 million consumer and small business clients with approximately 3,900 retail financial centers, approximately 16,000 ATMs and award-winning digital banking with approximately 56 million verified digital users. Bank of America is a global leader in wealth management, corporate and investment banking and trading across a broad range of asset classes, serving corporations, governments, institutions and individuals around the world. Bank of America offers industry-leading support to approximately 3 million small business households through a suite of innovative, easy-to-use online products and services. The company serves clients through operations across the United States, its territories and approximately 35 countries. Bank of America Corporation stock (NYSE: BAC) is listed on the New York Stock Exchange.
For more Bank of America news, including dividend announcements and other important information, register for email news alerts.
###