Black Austin Rally and March for Black Lives
Sunday Jun, 07 2020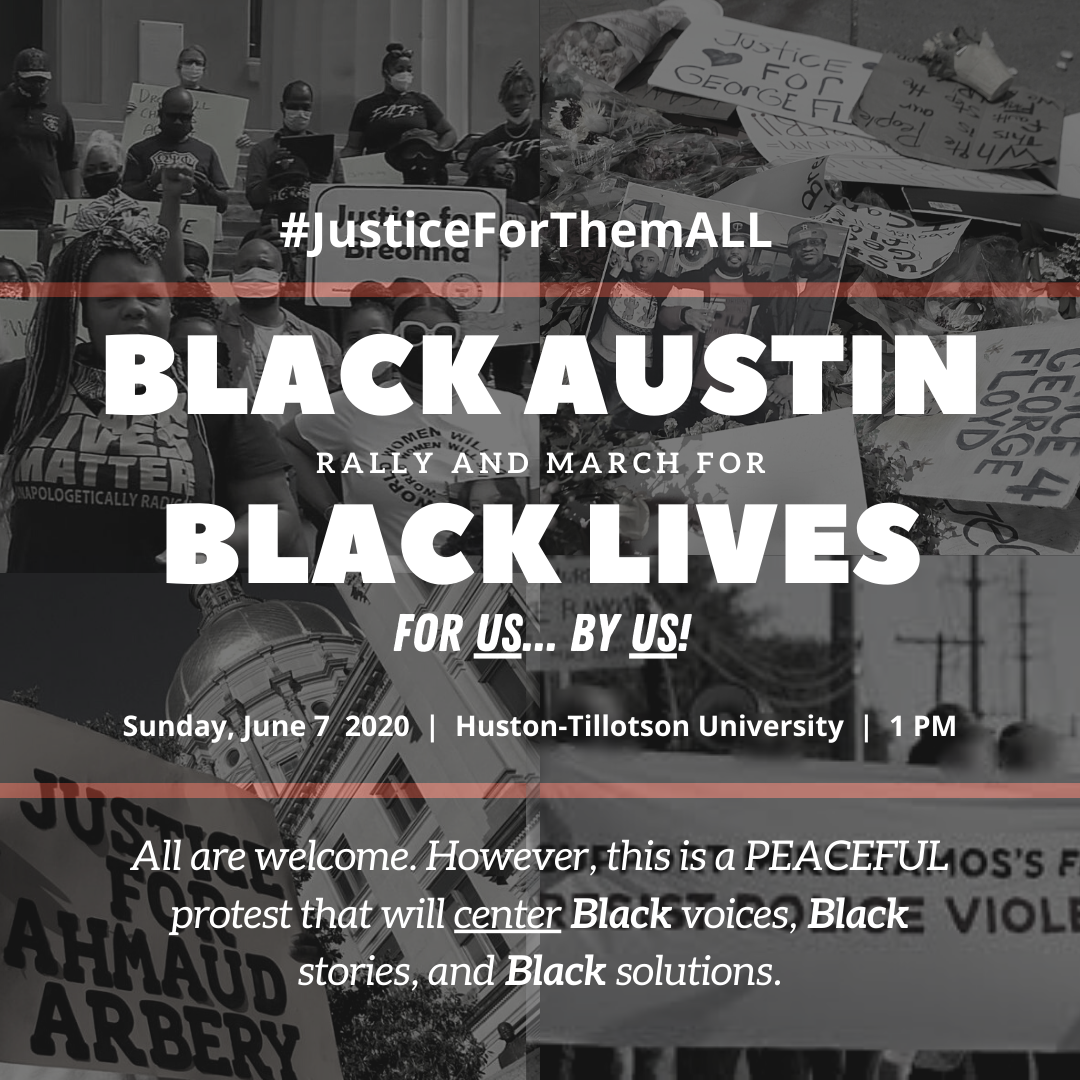 Huston-Tillotson University is pleased to host the Austin Justice Coalition march and rally and request that all entering the campus adhere to the face covering and hand sanitizer guidelines for your protection against COVID-19.  We ask that you bring your own hand sanitizer and face covering or pick up a mask when entering the campus. Vehicles traveling to the march and rally will be directed to the Chalmers Avenue, which is parallel to Chicon Street. Parameter street parking is also available.
FOR IMMEDIATE RELEASE:
CONTACT:
Chas Moore, chasmoore@austinjustice.org,
713.459.2333
BLACK AUSTIN FOR BLACK LIVES
March/ Rally for Black Lives and Freedom
WHAT:
Rally and March
WHO:
Austin Justice Coalition, So We Dream, Jump On It, Something At The Park, East Austin community members
WHEN:
Sunday, June 7, 2020 | 1:00 PM – 5:00 PM
WHERE:
Huston-Tillotson University, End: State Capitol (South Steps)
[AUSTIN, TEXAS] – Despite the current worldwide pandemic, there continues to be an attack on Black bodies in this country.
#JusticeForMikeRamos
#JusticeForGeorgeFloyd
#JusticeForBreonnaTaylor
#JusticeForAhmaudArbery
#JusticeForThemAll
We refuse to let distractors take this moment/ movement from US!
This Sunday, June 7 2020 we are gathering in the name of Black Austin, Black Lives Matter, and JUSTICE!
This is a peaceful protest that everyone is invited to, but we will be centering this moment around Black voices, Black stories, and most importantly Black solutions in this time!
We encourage EVERYONE to come out and LISTEN to Black people and hear what WE have to say!
This peaceful protest is anticipated to be one of the largest demonstrations in State of Texas!
See Less
Facebook event: https://www.facebook.com/events/863539624166761/