HT's STEM Research Scholars Investigate Real-World Science
Monday Aug, 15 2016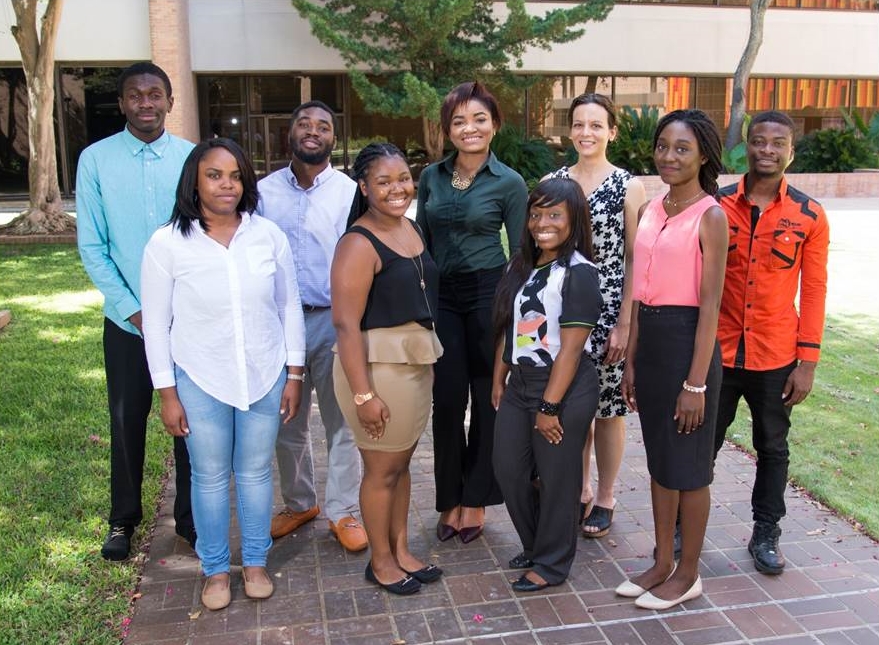 (AUSTIN, TX) 8.15.16 — Eleven Huston-Tillotson University students have completed independent research projects during the summer as part of the STEM Research Scholars Program.  The science, technology, engineering, and mathematics scholars in the program conduct hands-on research while they train with faculty mentors at HT and collaborating universities during the fall and spring semesters or over a 10-week long intensive summer internship. The STEM Research Scholars develop the skills they need for STEM careers and graduate study while tackling real-world questions.
Current Summer 2016 STEM Research Scholars and their research areas are as follows:  Aeris Broussard and K'Ashley Collins, studied investigative antibodies and bioprinting at the National Research Laboratory in Washington, D.C.; Jay'Dren Compton, Carshandra Hollins, and Tenaishia Morris developed a microbiome mapping protocol for HT; Anna Edem Etuk, Michael Esuruoso, BobManuel Johnson, and Anna-Barbara O'James studied prostate cancer and disparities at UT Health Science Center, San Antonio; Tamunobelebra Igoni researched air quality monitoring and solar production at HT and Texas State University; and Micah Lubin investigated protein diversity and genomics at the University of Texas at Austin.
Broussard, from Beaumont, TX, graduated from Ozen High School and is interested in a career in occupational therapy.  Collins is a transfer student who plans to pursue a career in pharmacy. Compton is a graduate of La Marque High School, and plans to join the Air Force with aspirations of attending dental school. Edem Etuk is a chemistry major from Napoli, Italy.  She plans to work in the pharmaceutical industry to gain experience before enrolling in medical school to become a pediatrician. Esuruso graduated from Nigeria's Greenlands Academy.  He plans to enter medical school to earn a dual Medicine and Public Health (MD/MPH) degree.  Hollins graduated from Everman Joe C. Bean High School in Fort Worth, Texas.  She currently serves as Miss HT, plans to complete her bachelor's degree in biology, continuing to earn a doctorate degree with aspirations of entering the teaching profession. Igoni graduated from Lao Russell Memorial High School in Port Harcourt, Nigeria. Johnson graduated from the Port Harcourt's Navy Secondary School. He plans to earn medical and doctoral degrees. Lubin graduated from Eunice High School in Eunice, Louisiana.  She plans to earn a doctorate degree before attending medical school. Morris attended Ronald Reagan College Preparatory High School in her hometown of Racine, Wisconsin. She is interested in a career as a pediatric physician. O'James graduated from Nigeria's Christ Ambassadors International College.  She plans to pursue a career in the medical field. 
The STEM Research Scholars program directed by HT Associate Professor of Biology Amanda Masino is supported by funding from the National Science Foundation, Office of Naval Research, Department of the Army, and Department of Education.
As a historically black institution located in Austin, Texas, Huston-Tillotson University's mission is to nurture a legacy of leadership and excellence in education, connecting knowledge, power, passion, and values. The University offers associate and master's degrees in addition to Bachelor of Arts and Bachelor of Science degrees in more than 19 areas of study.