Middle/High School Students Showcase Science/Math Projects at July 29 Program
Friday Jul, 29 2016
(AUSTIN, Tex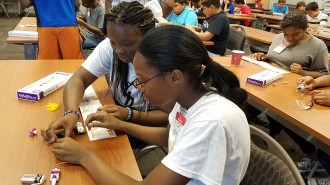 as) 7.25.16 —Approximately 110 students from Central Texas middle and high schools will showcase their mathematics and science applications learned during Huston-Tillotson University's Austin Pre-Freshman Engineering Program (AusPrEP).  Student accomplishments during the seven-week program will be recognized and highlighted at the closing ceremony on Friday, July 29, 2016, at 10 a.m. in King-Seabrook Chapel, 900 Chicon Street. 
The nationally recognized program, located on college and university campuses in Texas, was founded in 1979 at the University of Texas at San Antonio to identify high achieving minority middle and high school students with the potential and interest in becoming scientists and engineers.  Huston-Tillotson University has operated AusPrEP since 1990.
Parking available for families and guests on Chalmers Avenue.