Huston-Tillotson University Adds Psi Chi to its List of Honor Societies
Monday May, 23 2016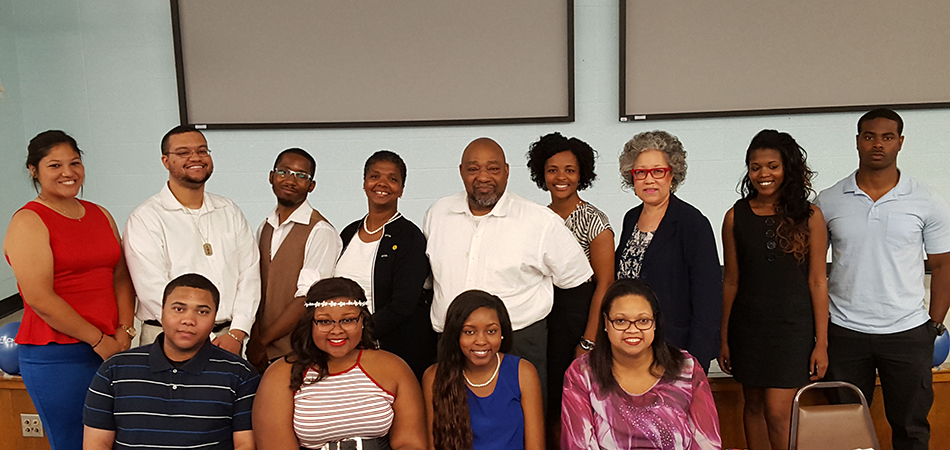 (AUSTIN, Texas) 5.23.16 — Psi Chi, the psychology international honor society, is proud to announce the addition of the Huston-Tillotson University Psi Chi Chapter.
Charter members Dominique T. Jones, Cubeian Price-Williams, Allen Wright, Monaye Turner, Erissa Burris, Cean Longstreet, Rachel Rodriguez, Angela Glover, and Kiara Johnson were installed last month.  HT's Dr. Debra L. Murphy, Professor of Psychology, and Dr. Andrea Holman, Assistant Professor of Psychology, are the faculty advisors.
"We are pleased to extend the benefits of this prestigious organization to our students, said HT President and Chief Executive Officer Colette Pierce Burnette. "The programs afforded to our students through the membership complement existing services and offerings for students seeking careers in the field."
Psi Chi was founded on September 4, 1929, during the Ninth International Congress of Psychology held at Yale University in New Haven, Connecticut. The Honor Society's stated purpose is to encourage, stimulate, and maintain excellence in scholarship, and to advance the science of psychology. Many of the Society's members have gone on to distinguished careers in psychology, including several presidents of the American Psychological Association (APA) and the American Psychological Society (APS), numerous national and international award winners, and various other renowned research psychologists, authors, professors, and practitioners.
Psi Chi is a member of the Association of College Honor Societies and is an affiliate of both the APA and APS. Psi Chi has grown over the past 86 years into one of the largest and most successful honor societies in the world with over 1,180 chapters located at college and university campuses throughout the United States as well as in Canada, Ireland, New Zealand, Barbados, Egypt, the U.S. Virgin Islands, Turkey, and Puerto Rico. These chapters not only recognize academic achievement by granting membership in the Society, but also sponsor programs and activities which augment and enhance the regular curriculum, offer an outlet for service to the campus and the community at large, and provide practical experience and fellowship through affiliation with the chapter. The international organization bestows several regional and Society research awards, sponsors diverse programs at regional and national psychological association conventions (including lectures, workshops, panel discussions, and information exchanges), and publishes the Psi Chi Journal of Psychological Research (formerly the Psi Chi Journal of Undergraduate Research). In addition, Psi Chi's Society service projects illustrate the Society's commitment to its mission of "student excellence, reflected in scholarly and professional growth within psychology and the ability to impact society positively."
As a historically black institution located in Austin, Texas, Huston-Tillotson University's mission is to nurture a legacy of leadership and excellence in education, connecting knowledge, power, passion, and values. The University offers associate and master's degrees in addition to Bachelor of Arts and Bachelor of Science degrees in more than 19 areas of study.
Pictured with Psi Chi members are (back row, fourth from left) HT President and Chief Executive Officer Colette Pierce Burnette; William Lawson, Director of Community Health Programs and Professor Huston-Tillotson University; Andrea Holman,  Assistant Professor, Psychology; and Debra L. Murphy, Professor of Psychology.