Memorabilia from Tillotson Graduate Housed at the African American Museum
Thursday Mar, 24 2016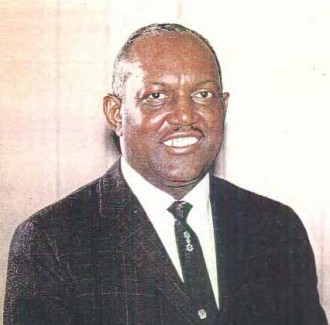 Family of Tillotson College Graduate Donates Historic Collection and Memorabilia to the
Smithsonian National Museum of African American History and Culture
 Onie B. Granville recognized as the founder of the first 
African American-owned and operated bank in the West
(AUSTIN, Texas) 3.24.16  —  Onie B. Granville's family archives documenting his legacy as the first African American to own and operate a bank in the West are now housed at the Smithsonian National Museum of African American History and Culture.  He graduated from Tillotson College, now Huston-Tillotson University, in the summer of 1942 with a Bachelor of Arts degree in education and a minor in physical education.
Onie Granville was one of the most prominent African American businessmen of his time. He founded Granville and Granville Realty in 1949 in Los Angeles with his brother and partner, Edward V. Granville. Onie served as president of the all African-American Consolidated Realty Board.  In addition, he founded Quality Escrow Company in Los Angeles, which opened in 1961, and was managed by his sister, Bernice Malbrue. In July of 1963, he was appointed to the panel of State Inheritance Tax Appraiser for Los Angeles County by then- comptroller Alan Cranston (Cranston later became Senator). Onie co-organized the Merchants Title Company in Los Angeles in 1963. Also in 1963, he worked on the California Fair Housing Act (Rumford Act), with Governor Pat Brown, Sr. on legislation that would allow African Americans equal purchasing power. In 1964, he founded and opened the Bank of Finance, which was the first African American-owned and operated state chartered bank west of Kansas City.
The collection was donated by Natalie Finney Mallard in memory of her uncle.  "As keepers of his records, we are pleased to share this family history with the rest of the world," Mallard said.  "Now, not only African Americans but others can see his accomplishments to cherish as a source of pride."  
Onie was co-founder and organizer of the Freedom Bank of Finance in Portland, Oregon in 1969, which was the first African American-owned and operated state chartered bank in Oregon. Onie also founded the Southern California Minority Capital Corporation in 1971, a publicly held small business investment company. In August of 1977, he co-founded and served as director of the Pacific Coast Regional Job Creation Corporation, which is still in existence today, operating as Pacific Coast Regional Small Business Development Corporation. Onie was appointed Building and Safety Commissioner for the city of Los Angeles by Mayor Tom Bradley, and co- founded and served as Assistant Director of the West Adams Community Hospital in Los Angeles in 1970. He founded and organized Inglewood Federal Savings and Loan Association, 1979.
Mallard donated a 1964 cornerstone plaque, identifying founders of the Bank of Finance, two 1964 cancelled checks from Bank of Finance, a 1998 City of Los Angeles tribute certificate acknowledging Onie B. Granville (1998), and other items.
The inaugural opening of the nation's only museum devoted exclusively to the documentation of African American life, art, history, and culture is scheduled on September 24, 2016. For more information, visit http://nmaahc.si.edu/.
Onie passed on September 21, 1998, at the age of 81.
As a historically black institution located in Austin, Texas, Huston-Tillotson University's mission is to nurture a legacy of leadership and excellence in education, connecting knowledge, power, passion, and values. The University offers associate and master's degrees in addition to Bachelor of Arts and Bachelor of Science degrees in more than 19 areas of study.
Pictured is the Bank of Finance.