Colette Pierce Burnette Installed as HT's Sixth President
Thursday Nov, 12 2015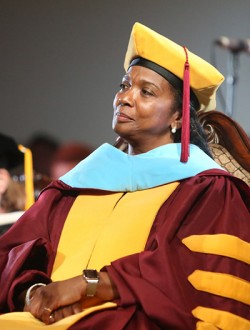 (AUSTIN, Texas) 11.12.15 — "Wheels Up" Huston-Tillotson University were the words conveyed by President and Chief Executive Officer Colette Pierce Burnette during a Saturday investiture service.  The Huston-Tillotson University Board of Trustees announced Pierce Burnette as the institution's sixth President and Chief Executive Officer, effective July 1, 2015.  Pierce Burnette becomes the first female president of the merged Huston-Tillotson University and only the second female president in the institutions' 140-year history. Pierce Burnette, a United States Air Force retired Lieutenant Colonel military spouse, shared the airplane hyperbole with the crowd gathered in King-Seabrook Chapel as a way to express that Huston-Tillotson University is about to "take off." 
With Texas Senator Kirk Watson to her right, City of Austin Mayor Steve Adler on the left, representatives from the higher education community, The United Methodist Church, the United Church of Christ, as well as faculty, staff, and students who witnessed the historical ceremony, Pierce Burnette delivered a keynote speech during the investiture that addressed the institution's challenges while sharing the vision. "The challenges may seem daunting, but they are not insurmountable. This is a noble cause," Pierce Burnette said.
Referencing Huston-Tillotson University as the "intellectual heartbeat of East Austin," Pierce Burnette shared the vision of the institution with goals to ensure financial stability, grow the traditional enrollment, raise funds, as well as build friendships. "We are not a charitable institution; we are a wise investment," said Pierce Burnette, referencing the 1023 students matriculating at HT. A few students shared their road to HT that includes personal loss, injuries, and homelessness during a video presentation at the Inauguration Gala held on Saturday. The Gala also highlighted faculty and staff with 20 or more years of service that Pierce Burnette referred to as the "jewels" of the institution. "I was able to get through all of my troubles and triumphs with the faculty and students helping me along the way, said student Communication major Whitney Killingham. "They kept the faith inside me to stay strong and to remember the whole reason I came here was to graduate."
Pierce Burnette is an experienced leader in higher education with a deep commitment to student success. In 2012, Pierce Burnette served as interim President at Pierce College in Puyallup, Washington, leading the college within a district environment and working collaboratively with executive leadership to serve more than 30,000 students each year. Pierce Burnette had an extensive career at Central State University in Wilberforce, Ohio, from 1999 – 2012 that scaled to Vice President for Administration and Chief Financial Officer, providing financial, analytical, physical plant, auxiliary services, capital construction, and human resources leadership to achieve mission-based goals. In addition, at Central State University Pierce Burnette served as Vice President for Information Technology and Chief Information Officer.
Her educational accomplishments include earning a Master of Science Degree in Administration with honors from Georgia College in Milledgeville in 1983 after completing a Bachelor of Science Degree in Industrial and Systems Engineering from Ohio State University in Columbus in 1980. In 2003, Pierce Burnette was accepted and completed the Harvard Graduate School's Education Management Development Program. Pierce Burnette recently completed an Ed.D. in Higher Education Administration at the University of Pennsylvania.
The 11th street beautification between Chicon Street and Chalmers Avenue, Step Afrika performance, musical concert, investiture, gala, and worship service held affirmations of the President's choice to guide HT from this point forward.
Rousing HT concert choir performances included some of the president's favorite selections and appearances by pianist Jenny Cruz, vocalist Donnie Ray Albert, and composer Roland Carter.  Carter directed the HT concert choir with his arrangement of "Lift Every Voice and Sing" that ended with perfect pitch high notes by the choir that left the audience applauding and cheering.
"HT is a jewel in the violet crown of Austin and the great state of Texas," Pierce Burnette concluded.
           ###
Discover HT