Austin Mayor Steve Adler Praises HT Students for Their Global Conscienceness
Wednesday Sep, 30 2015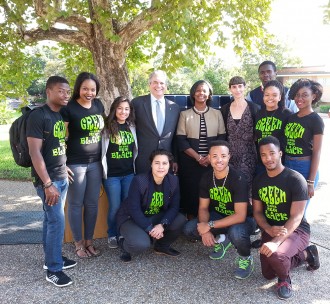 Huston-Tillotson University Installs 736 Solar Panels to Support Sustainability Efforts
HT is the first private historically black university to power usable electricity from solar panels
AUSTIN, TX 9.30.15 —  Three Huston-Tillotson University buildings— Allen-Frazier Residence Hall, Beard-Burrowes Residence Hall, and Downs-Jones Library—will function with a combined 736  sunpower 327-watt solar photovoltaic panels, turning light energy into electricity.  The installation makes HT the first private historically black institution in the nation to capture renewable energy from one-fourth of its campus buildings.  
"This green initiative not only supports our sustainability efforts but is a model for the campus and broader community of the University's commitment to reducing its carbon footprint," said President and Chief Executive Officer Colette Pierce Burnette.
The campus community will be able to view energy production through a web-based tracking application. According to installation figures for similarly sized systems, the clean energy generated will prevent 262.2 tons of carbon dioxide (CO2) from being released into the atmosphere each year the array is in operation. This annual carbon offset has a climate impact equivalent to 10,488 trees absorbing CO2 for one year, removing 31.8 cars off the road, or preventing the burning of 27,030 gallons of gasoline.
The research that initiated this project was done by our Environmental Defense Fund Climate Corps Fellow of which HT participates. For the last two years, HT has been awarded fellows via this program and they perform research and analysis that provide the University with best practices and propose projects with financial returns in the form of energy savings.
In addition, for the past two years, Second Nature, a national nonprofit that works to proactively build a sustainable and positive global future by working with leadership networks in higher education, announced Huston-Tillotson University among the finalist for its annual Climate Leadership Award. The award is a national competition among higher education institutions that are signatories of the American College & University Presidents' Climate Commitment (ACUPCC), a signature program of Second Nature. Twelve four-year institutions, including HT, and seven two-year institutions were named finalists.
HT enhanced its sustainability efforts by renovating the Dickey-Lawless (D-L) Science Building and other campus buildings. Improvements to D-L included retrofitting and upgrading the laboratories, incorporating energy efficient lighting with sensors, replacing age-old infrastructures, and upgrading entire heating, ventilating, and air conditioning (HVAC) systems throughout the campus to support carbon footprint reduction.
HT's student organization Green is the New Black® (GITNB), formed in 2013, continues to promote sustainability through campus engagement and community outreach. In addition to local honors, such as being named among the 2014 "Best of Austin" by the Austin Chronicle, student delegates will be attending the United Nations' Conference of Parties (COP) 21 Climate Convention in Paris, France, this December 2015. The GITNB delegation is part of a 19-Historically Black Colleges and Universities (HBCU) Climate Consortium organized through the Deep South Center for Environmental Justice at Dillard University.
GITNB students have also participated in efforts to win two Home Depot Retool Your School grants for green campus improvements. In 2014, GITNB used the award to convert the Jackson-Moody patio into an outdoor study lounge with sustainable furnishings. As a 2015 grand prize winner, the campus will add additional energy-efficiency upgrades to buildings including occupancy sensors, low-power exit signs, and efficient outdoor security lighting.
The Dumpster Project, an environmental education initiative based at HT, teaches sustainability through the challenge of transforming a 33-square foot dumpster into an environmentally healthy home. As the dumpster is gradually equipped with more and more of the amenities of home, students and community members are invited to investigate new perspectives on sustainability. Dumpster Project K-12 educational programs, campus engagement activities, and community-based outreach are designed to promote creative solutions to sustainability challenges.
HT added the Environmental Studies major in 2012 for students interested in sustainability issues such as environmental justice, global warming, conservation biology, renewable energy, air and water pollution, environmental law, and many other related topics. A primary focus of this field of study is how to reduce the effects of human activities on our planet through development of more sustainable lifestyles.
The newly created Center for Sustainability and Environmental Justice hosted the second annual Building Green Justice Forum at HT.  The theme for the day-long environmental justice conference was "Cultivating Food Justice." The forum brings together a diverse array of speakers and facilitators for presentations, critical discussion, and workshops investigating the causes, impacts, and solutions to issues of food inequality.
Pictured above are HT President Colette Pierce Burnette (center)  with City of Austin Mayor Steve Adler (left), HT's Green is the New Black™ students, and Karen Magid, Director of Sustainability during the solar panel unveiling.