HT Celebrating Hispanic Heritage Month
Monday Sep, 21 2015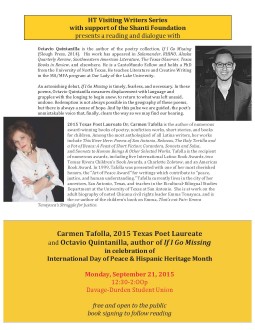 Huston-Tillotson University Celebrates International Day of Peace and Hispanic Heritage Month
 (AUSTIN, Texas) 9.14.15 — Texas Poet Laureate Carmen Tafolla and author Octavio Quintanilla will dialogue with students as part of the Huston-Tillotson University Hispanic Heritage Month celebration.  The community is invited to attend the book signing, reading, and conversation on Monday, Sept. 21, 2015, from 12:30 p.m. to 2 p.m. on the campus in the Davage-Durden Student Union. 
Tafolla is the author of numerous award-winning books of poetry, nonfiction works, short stories, and books for children.  Quintanilla is a CantoMundo Fellow whose works have appeared in many publications. He is the author of  "If I Go Missing,"  
Hispanic Heritage Month is a celebration from September to October of the richness of the country through the heritage and culture of the Hispanic and Latino Americans.  International Day of Peace is celebrated worldwide on Sept. 21st to foster peace.
The HT Visiting Writers Series is presented with support from the Shanti Foundation for Peace through Intercultural Understanding.  The program is free and open to the public.