HT Alumnus Michael Robertson and Worley Barker at the Top of the Game
Tuesday May, 26 2015
Michael Robertson (pictured above left), a 1987 HT graduate and head Texas Southern University baseball coach, guided the team to their first Southwestern Athletic Conference (SWAC) championship. The Tigers scored a perfect 10-0 victory against Southern University during tournament play last week in New Orleans, Louisiana.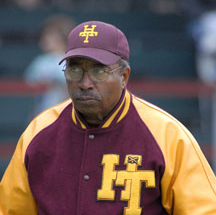 Robertson was recruited by HT Head Baseball Coach Alvin Moore (left). "He was a dedicated baseball player who was serious about the game and his academics. I figured he would coach (someday)," said Moore.
Robertson became the TSU head coach in 2008 en route to capturing his first TSU head coach conference title and the third for the Tiger baseball program. He earned a master's degree and enjoyed a coaching career at Prairie View A&M University that also won two SWAC titles in 2006 and 2007 and was named Black College Baseball national champions in 2006 under his leadership.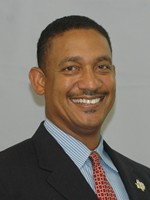 Moore also coached TSU women's softball coach Worley Barker (right) who earned his bachelor's degree in business administration with honors from HT in 1986. The softball team captured back-to-back conference titles and their fourth consecutive Western Division crown before losing their final game of the season. "Robertson and Worley were among the first group of players that I recruited when I started coaching at HT," Moore said.