HT to Host Inaugural CTX Signing Day
Friday May, 01 2015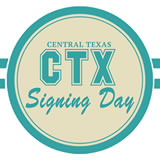 (AUSTIN, Texas) 4.20.15 — Nearly 450 Central Texas seniors from eight area school districts will converge en masse at Huston-Tillotson University during the inaugural CTX Signing Day, a statewide, grass-roots movement focused on creating a college-going culture in Texas. The invitation only event, also supported by TG and the Austin Community College District, and co-sponsored by Austin College Access Network and YouthLaunch, will be held Friday, May 1, 2015, from 9 a.m. to 11:30 a.m. in the Mary E. Branch Gymnasium, on the HT campus located at 900 Chicon Street.
Led by Austin Mayor Steve Adler, the students will make a commitment pledge to complete a postsecondary credential. Then—amid much fanfare—they will approach the stage and sign commitments to enroll with representatives from their chosen colleges and universities. Structured like a large pep rally, students will be seated with fellow students from across the city/region who will be attending the same institution in the fall. Fueled by college representatives, alumni, and volunteers, these students will get the opportunity to establish their school spirit and create their own college community before the fall.
"What better way to highlight higher education than to bring young people together to meet with area colleges and universities at one location for a massive signing and send off," said HT President and Chief Executive Officer, Larry Earvin, Ph.D. "We are pleased to host this community-wide event in collaboration with local higher education and City of Austin representatives in order to rally support around obtaining an undergraduate degree."
Representatives from Concordia University, St. Edward's University, Southwestern University, Texas A&M University, Texas State University, The University of Texas at Austin, Austin Community College, Generation TX, as well as HT, will be on site to recognize students for the postsecondary plans, encourage and remind students that it is time to make a college decision, support the best match and fit for each student, influence younger students as they prepare for college, as well as wrap up the school year with a celebration.
CTX Signing Day coincides with the National Decision Day, sponsored by the National College Advising Corps (NCAC) Decision Day that is held annually around the date that most seniors must inform a college of their plans to enroll. The goal of CTX Signing Day is to recognize and celebrate seniors for their postsecondary plans and encourage younger students and families to prepare early for college.
Central Texas has more than 136,000 students enrolled in a variety of colleges and universities. Inspired by the National Collegiate Athletic Association's (NCAA) National Signing Day, CTX Signing Day reinforces the imperative that excellence in the classroom should be given as much pomp and circumstance as excellence in athletics. Students from Austin, Bastrop, Del Valle, Elgin, Hays, Hutto, Round Rock, and San Marcos Independent School Districts will be attending, as well as students from area charter schools.
Additional community partners are as follows:  Austin Independent School District, Bank of America, City of Austin, College Forward, Con Mi Madre, Del Valle Independent School District, E3 Alliance, Generation TX, Greater Austin Black Chamber of Commerce, Greater Austin Chamber of Commerce, Hispanic Scholarship Consortium, KLRU, Ready By 21, Office of Mayor Steve Adler, Social Media Dynamo, Teach for America Austin Alumni, Travaase, and Workforce Solutions-Capital Area.
Follow the activities online at the respective Twitter, Facebook, Tumblr, and Instagram sites: @CTXSigningDay; http://facebook.com/CTXSigningDay; http://ctxsigningday.tumblr.com/; https://instagram.com/ctxsigningday. 
As a historically black institution, Huston-Tillotson University's mission is to provide opportunities to a diverse population for academic achievement with an emphasis on academic excellence, spiritual and ethical development, civic engagement, and leadership in a nurturing environment. The University offers associate and master's degrees in addition to Bachelor of Arts and Bachelor of Science degrees in more than 20 areas of study.