Colette Pierce Burnette Named HT's Sixth President
Wednesday Apr, 08 2015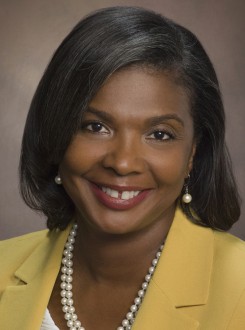 (AUSTIN, Texas) 4.1.15 — Huston-Tillotson University Board of Trustees today announced Colette Pierce Burnette as the institution's sixth President and Chief Executive Officer, effective July 1, 2015.  Pierce Burnette becomes the first female president of the merged Huston-Tillotson University and only the second female president in the institution's 140-year history.
Pierce Burnette is an experienced leader in higher education with a deep commitment to student success. In 2012, she served as interim President at Pierce College in Puyallup, Washington, leading the college within a district environment and working collaboratively with executive leadership to serve more than 30,000 students each year. Pierce Burnette had an extensive career at Central State University in Wilberforce, Ohio, from 1999 – 2012 that scaled to Vice President for Administration and Chief Financial Officer where she provided financial, analytical, physical plant, auxiliary services, capital construction, and human resources leadership to achieve mission-based goals. In addition, at Central State University Pierce Burnette served as Vice President for Information Technology and Chief Information Officer.
She earned her Master of Science Degree in Administration with honors from Georgia College in Milledgeville in 1983 after completing a Bachelor of Science Degree in Industrial and Systems Engineering from Ohio State University in Columbus in 1980. In 2003, Pierce Burnette was accepted and graduated from the Harvard Graduate School's Education Management Development Program. She is completing an Ed.D. in Higher Education Administration at the University of Pennsylvania slated for August 2015.
Pierce Burnette said, "I am deeply honored to serve as the sixth President of Huston-Tillotson University. When I stepped on the grounds of this campus and interacted with the distinguished faculty, administrators, alumnae, and bright and engaging students, I could see myself here. HT has a rich and remarkable history of preparing students for careers that enhance our society and world. The diverse student population, enhancement of STEM offerings, the future Community Health and Wellness Center, and this beautiful campus are just some of the reasons why I see Huston-Tillotson as a truly special place."
Larry L. Earvin, President and Chief Executive Officer, said "Colette Pierce Burnette brings a set of experiences that help ensure the continued advancement of Huston-Tillotson University."
The nationwide search for the replacement for Earvin, who announced his retirement 12 months ago, netted about 70 applications with Pierce Burnette as one of three finalists. The 18-member Search Committee, comprised of representatives from the HT Board of Trustees, faculty, staff, students, alumni, and community and business leaders, narrowed the field to a list of nine semi-finalists who were engaged in two days of interviews before the finalists were selected and approved by the Board of Trustees at its March 2015 meeting.
Albert Hawkins, Chair, HT Board of Trustees, said, "The leadership skills and abilities among the candidates were impressive.  However, Colette Pierce Burnette's vision, experience and determination solidified the decision and will compel the University to higher levels. I extend my thanks to everyone involved in this process during the past few months as we prepare for the next phase of Huston-Tillotson."
S he is the mother of two children Daarel II, a journalist in Memphis, Tennessee, and Daana, a public relations professional in New York, New York. She is married to Dr. Daarel Burnette, a proficient administrator and consultant in higher education finance and fiscal leadership. She is affiliated with many organizations and holds membership in Delta Sigma Theta Sorority, Inc. 
Huston-Tillotson is a historically black institution with a heritage in Austin that dates back to 1875.  Earvin informed the HT board last year that he would conclude his tenure as President at the end of his current contract, effective June 30, 2015. He has served the University as its fifth president since July 1, 2000.  During this time, Earvin had an enormous impact on the school, raising it from a College to a University in 2005, doubling enrollment from 500 to 1,031 students, and more than doubling the school's endowment from $5 Million to more than $11.5 million.