Congratulations Class of 2015
Saturday May, 09 2015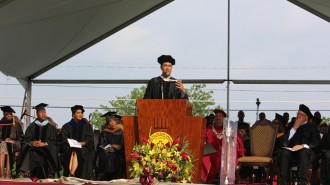 Huston-Tillotson University's 2015 graduation held May 9, 2015, was one for the history books in four areas. 1) The 156 graduates represented the largest graduating class, including 13 W.E.B. DuBois Honors Scholars; 2) Sixteen students enrolled in the Adult Degree Program (ADP) completed their degree requirements to be among the first from the program to graduate; 3)  HT awarded its first associate degrees to 17 students enrolled in the ADP program; and  4) Dr. Larry L. Earvin presided over his last HT commencement convocation as president and chief executive officer.
HT Board of Trustees Chair Albert Hawkins presented Earvin with proclamations and acknowledgments from Texas Governor Greg Abbott, Congressman Lloyd Doggett, the House of Representatives by Dawnna Dukes, and City of Austin's Mayor Steve Adler before a standing ovation from graduates, faculty, staff, and friends. Earvin, who announced his retirement effective June 30, 2015, was praised for his many HT accomplishments and service to the community. Earvin's culminating legacy includes the Adult Degree Program with nearly 250 non-traditional students enrolled in courses one night a week to earn the bachelor's degree in business administration, criminal justice, education, or psychology. In addition, he implemented the associate degree also for students enrolled in the program. 
Commencement Convocation speaker,  Congressman Will Hurd, elected to the 114th Congress in 2015, representing the 23rd District, who had just flown in from the Middle East, rendered the keynote address before a crowd of 2,100 that settled in between May showers under sunny skies and windy conditions. Reflecting on his recent journey and the advice he has followed all of his life, Hurd shared the importance of his undercover work as an officer in the Central Intelligence Agency (CIA) in the Middle East and South Asia for nearly a decade, collecting intelligence that influenced the National Security agenda to rid the world of terrorist groups. "Do something meaningful and hard" was his stellar advice for the graduates.
DuBois graduates are:  Patrick Agenonga, Queniqua Luckey, Abuchi Obiegbu, Jamal McClellan, Jabu Mbara, Rufaro Mukahadzi, Tochukwu Joshua Nwozor, Simone Sawyer, Binta Sidibeh, Rae-Ann Spears, Shanequiwa Sledge, Ashley Simbanegavi, and Lydia Urbina.               
ADP bachelor's degree graduates are:  Moranda L. Anderson, Shawn L. Cuffee, Barry E. Hall, Gaye D. Hill, Keisha M. Jones, Rebecca B. Mueller, America R. Aguilar, Tabitha E. Martinez, Bridgetta S. Smith, Ronald F. Winters, Kimberly D. Woody, Ernestina Balandran, Harry Q. Brooks, Bakari L.Jefferson, Anthony R. Miller, and Dereck L. R. Williams. The Associate of Arts in Liberal Arts graduates are: Tesha M. Alexander, Samiyah L. Bailey, Toni M. Bazzle, Abeni S. Brooks, Ashley M. Clark, Frances A. Clark, LaToya T. Conley, Jamone S. Fields, Evelyn R. Greene, Alicia Gutierrez, Kenya B. Helm, Toures D. Houston, Christopher M.  Mendez, Erica L. Pace, Anthony L. Riley, Allen J. White, and Ashley M. Zapata-Rodriguez.       
Commencement Convocation occurred in conjunction with HT's Honors Convocation and Reunion Weekend 2015 activities. Natalie Cofield, President and Chief Executive Officer for the Greater Austin Black Chamber of Commerce in Austin, Texas, gave the high ranking students advice on "how to be."  She lifted key elements such as "be in it for the win, be about a winning team, be of the world, and be true to oneself." Honorees Obiegbu, computer science; Stephanie M. Frausto and Sybil K. Hay, English; and Angela E. Skaggs and Ashlea M. Tolbert  were acknowledged for completing their studies with the perfect 4.0 grade point average.     
In addition to the ceremony for the 2015 graduates and honorees, during the Commencement program, HT's 50th year Class of 1965, dressed in their gold robes, led the graduating class in celebration of their career accomplishments since graduating.
Tears were spotted throughout the weekend in celebration and in sadness as many conceded to Earvin's 15 years of service.
 
Read more about the HT W.E.B. DuBois Honors Scholars
W.E.B. DUBOIS SCHOLARS—SENIOR CANDIDATES FOR MAY 2015 GRADUATION
Prepared by J. Sumler-Edmond & A. Caviness
1. Patrick Agenonga is an international student, majoring in Computer Science. He is a member of the International Student Association on campus as well as a member of the National Society of Black Engineers.  This summer he will intern at TCEQ here in Austin, and in the fall Patrick will begin graduate study for a master's degree in software engineering at the University of Texas-Dallas.
2. Queniqua Luckey is a computer science major from Fort Worth.  She is a member of Golden Key and HT's Pre-Alumni Association.  During the fall of 2014, Queniqua represented HT at the HBCU Computer Innovation Conference in Silicon Valley, California.  She plans to use her knowledge of computer science in a national corporation like VISA or Web-Sense.
3. Abuchi Obiegbu is a computer science major from Nigeria.  He enjoyed representing HT at the HBCU Computer Innovation Conference in California during the fall semester of 2014.  He is a member of the National Association of Black Accountants and the Golden Key Society.  He served as the vice president and later as the president of the HT chapter of the National Association of Black Engineers.  Abuchi will work this summer for either IBM or Google and then enter graduate school in the fall.
4. Jamal McClellan is a business administration major from Fort Worth.  He has participated in HT's Student Government Associate throughout his four years of undergraduate matriculation. Soon after graduation, Jamal will travel to Japan where he will live and work with his older brother. He looks forward to learning to speak and to write Japanese at one of the many language schools in the country.
5. Jabu Mbara was the first student from the Kingdom of Lesotho (in Southern Africa) to enroll in HT.  His major is computer science.  He has worked as a peer learning consultant, a resident assistant, and he was sophomore class president. During his senior year, Jabu was voted the Independent Texas Solo Artist of the Year. He is a singer.
6. Rufaro Mukahadzi arrived at HT from her home nation of Zimbabwe.  She is a business administration major, concentrating in accounting. While at HT, Rufaro was the SGA vice president during her junior year.  She was also an HT Ambassador, a resident advisor, and a math tutor.  Rufaro enjoyed working with the Pre- Alumni Association, Toastmasters International, and as a Peer-Writing Consultant.  Upon her graduation, she will enter the University of Texas-Austin in the MPA Program—Masters of Professional Accounting.
7. Joshua (Tochukwu J.) Nwozor is a Business Administration major from Nigeria.  His campus memberships have included Toastmasters International Association.  He was also the president of the National Association of Black Accountants, and the treasurer of the Pre-Alumni Council.  This summer, he will intern at the Ernst & Young Accounting Firm, and in the fall he will launch his graduate study in pursuit of a MBA and CPA certification in the city of Boston.
8. Simone Sawyer is a criminal justice major from Austin.  She is an HT athlete and participant in our team track and field events.  She is a member of Alpha Kappa Alpha Sorority, Inc and has served as a peer learning consultant.  In conjunction with her major, Simone interned at the Gardner Betts Juvenile Detention Center in Travis County.  Simone will work as a juvenile probation officer before commencing her career with Child Protection Services.
9. Binta Sidibeh is a biology-pre-med major.  She was born in the USA, but grew up in the Gambia, West Africa.    She has been very active in the pre-med club, the Golden Key Society and the Avid Program.  Last summer, Binta spent several weeks working in a hospital in Peru as part of her biology curriculum. She will spend the summer following graduation working and preparing for the MCAT exam for medical school.   
10. Rae-Ann Spears is a business administration major with a concentration in accounting. She joined Alpha Kappa Alpha Sorority, Inc. and also participated as an HT Ambassador.  She was an active member of Toastmaster's International and the Pre-Alumni Council.  She is a member of the National Association of Black Accountants and has been the recipient of many awards and scholarships from that group. She has a job offer from the accounting firm of Deloitte.  She also plans to pursue her MBA.
 11. Shanequiwa Sledge is from Fort Worth.  Her major is psychology.  Her HT activities include working as a resident assistant and mentoring at Sims Elementary School.  Shanequiwa enjoyed being the SGA elections chair, a member of the Psychology club, as well as an HT Ambassador and a member of Pre-Alumni Council.  She has been accepted by Mary-Hardin Baylor University to pursue her license in the University's marriage and family therapy graduate program.
12. Ashley Simbanegavi is a business administration major from Zimbabwe.  He has worked in the HT computer labs and he has been an active member of the International Students Association.    He interned at Wal-Mart where he tested his management skills training.  Ashley completed his undergraduate degree requirements in the summer of 2014.
13. Lydia Urbina came to HT from her home city of El Paso. Her major is Kinesiology. She has played the second-base and third-base positions for the HT softball team all four years.  She was accepted into the HT Education Preparation Program and completed her student teaching at East Memorial High School this spring.  Lydia has been accepted for graduate study at the University of Wisconsin—La Cross in the area of Adapted Physical Education (Physical Education for children with disabilities).  She will move to Wisconsin this June to begin her course work.