HT Elevates Its Sustainability Efforts with a Solar Recharging Station
Monday Oct, 27 2014
(AUSTIN, Texas) 10.27.14 — Huston-Tillotson University's award-winning student organization Green is the New Black® enhanced its sustainability efforts by securing a solar recharging station for campuswide use.  The SolarPump™, obtained through a partnership with Sol Design Lab, allows the University community to experience the future of renewable energy while charging popular student items as laptops, cell phones, iPods, or any device using a standard electric plug.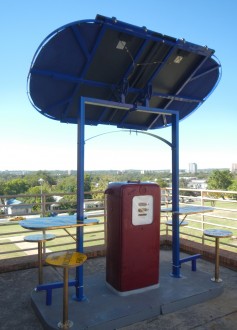 Designed in 2011 by Sol Design Lab personnel with solar wiring by Maverick Solar, the SolarPump™ was created to help re-imagine the future of carbon-free cities, using the reclaimed body of a 1950s gas pump retrofitted with solar panels to harness solar energy.  The unit was created with recycled scrap metal, uses two 175-watt solar panels, contains a 1100-watt inverter, outputs 110 volts to a standard outlet, and has a digital read out panel to show solar energy stored in the batteries and electricity used while charging electronic devices.
Green is the New Black® members worked in collaboration with The Dumpster Project, HT's leading education and research sustainability project, to secure the unit stationed at the entrance of the Dickey-Lawless Science Building after discovering similar concepts at outdoor events and on other college campuses.
Huston-Tillotson University project partners include The Dumpster Project, Sol Design Lab, SXSW, Lighthouse Solar, and Exceltech.
Discover HT.