Green Justice Summitt
Thursday Sep, 25 2014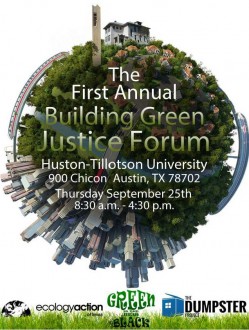 Huston-Tillotson University to Host Its First Annual Building Green Justice Forum
(AUSTIN, Texas) 9.22.14 — Students, community leaders, teachers, and environmental activists are invited to Huston-Tillotson University's (HT) first Building Green Justice Forum, scheduled Thursday, September 25, 2014, from 8:30 a.m. to 4:30 p.m. on the campus at 900 Chicon Street. The forum is designed for those interested in combining collaborative efforts in order to empower and embrace environmental equality in the East Austin community.
The forum will consist of a community organizational panel, including representatives from Austin Youth Riverwatch, Cooperation Texas, Foundation Communities, and the Texas Campaign for the Environment; presentations and critical discussions from the Indigenous Cultures Institute's Dr. Tane Ward; and workshops on consensus building, as well as online community environmental information available via the Environmental Protection Agency (EPA).
During the past five years, HT has enhanced its Science, Technology, Engineering, and Mathematics (STEM) offerings with the goal of encouraging more minorities to enter those fields. 
"Hosting this forum will provide an opportunity to not only showcase the University's sustainability efforts but will ensure that environmental consciousness remains a campus topic of conversation and action," said HT President and CEO Larry L. Earvin, Ph.D. 
Huston-Tillotson University was the first institution of higher education in Central Texas to go tobacco-free and the first Historically Black College or University (HBCU) in Texas to go tobacco-free as well.  In addition, the recently approved Environmental Studies major offers a degree program for students interested in sustainability issues such as environmental justice, global warming, conservation biology, renewable energy, air and water pollution, environmental law, and many other related topics. Also, HT's student organization Green is the New Black® captured first place in the nationwide Ford Historically Black Colleges and Universities (HBCU) Community Challenge and was named among the 2014 "Best of Austin" by the Austin Chronicle.  The students composed a presentation around the theme titled, "Building Sustainable Communities" that captured an educational program to address issues of sustainability in Black and Hispanic communities.  HT's students introduced the challenge of transforming a 33-square foot dumpster into a fully functioning home complete with running water, toilet, shower, bed, and solar-generated electricity. Since the project launch, the dumpster is now equipped with a false floor 'basement' that stores cooking equipment, bedding and clothing, an improved roof, solar lighting, bug repellant systems, and an online weather data station. 
In addition, HT was recognized by the National Wildlife Federation for its sustainability efforts and commitment to creating a campus community that focuses on recycling, energy conservation, and waste reduction. Recently, HT was named a finalist in the 2014 Second Nature Climate Leadership Awards (CLA).  The annual competition is held among United States colleges and universities that are signatories of the American College & University Presidents' Climate Commitment (ACUPCC). The awards program is sponsored by Second Nature, a national nonprofit that seeks to create a sustainable society by transforming higher education, and Planet Forward, an organization that engages innovators and publishes compelling ideas for some of society's biggest challenges.
Supporters contributing to HT's sustainability efforts include Johnson Controls, Texas Disposal Systems, Treehouse Green Building Supply, and Whole Earth Provision.
The forum, organized by Green is the New Black®, the Dumpster Project, and Ecology Action of Texas is free with online registration at http://goo.gl/LR2jTZ.
Huston-Tillotson University, Austin's first institution of higher education, offers Bachelor of Arts and Bachelor of Science degrees in 20 areas of study. The historically black university is affiliated with The United Methodist Church and the United Church of Christ.