Sanchez Commits to Huston-Tillotson Rams
Monday Jun, 09 2014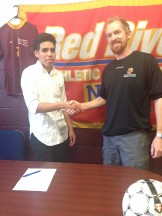 Austin Local, Celso Sanchez, became the latest player to commit to HT Men's Soccer, signing with a young and talented HT squad, on June 6th. 
Coach Ferguson commented, "Celso is a young man that we have seen play a couple of times locally and also at two tryouts during the spring season. He has a number of good attributes that we liked as soon as we saw him, he was physically strong, good with both feet and had a great willingness to get up and down the field, despite being in the comeback phase following a serious knee injury".
Sanchez is another young man who checks the important boxes of being a good person, good student and good player; the three non-negotiables required of anyone committing to the HT Men's Soccer program, as the Rams coaching staff build the foundation for a winning culture, on and off the field.