Odubonojo, Vera & Dorantes Sign
Friday May, 09 2014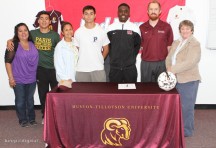 Ebun Odubonojo, Gabrial Vera & Ricardo Dorantes become the latest additions to the Huston-Tillotson Men's Soccer Roster for the Fall 2014 Season in April. 
Odubonojo and Vera join from Hill College and Coach Davenport, while Dorantes joins from Paris Jr College, and all three guys bring some much needed experience to what will be a very young squad in the coming Fall Season.
Briefly evaluating the new recruits, Coach Ferguson noted, "Ebun, from London, England,  is a big strong forward who can hold the ball up well, but also use his pace to get in behind and this dual threat is a real handful for opposing players and coaches to deal with. Gabe, originally, from Paris, TX, came very highly recommended from his coach at Hill College as a good technical player, with a great engine, and terrific leadership; we are excited to get him in to pre-season and evaluate him further to determine his best role within our system. Ricardo, also a native of Paris, TX, has very similar attributes to Gabe with a very good desire to get forward from the midfield. Ricardo is another player who Coach Reyes and I are intrigued about because we think he could do various jobs for us, and that versatility will likely help him, and us, as we build up this program".