Jesus Zacarias Signs with Huston-Tillotson University Men's Soccer
Friday May, 02 2014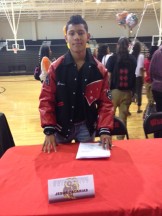 Jesus Zacarias, a left back with San Antonio United and a Varsity player at Wagner High School in San Antonio, became the first player to officially sign his letter of intent with the Huston-Tillotson Men's Soccer Team for the Fall 2014 Season.
Coach Ferguson commented, "Jesus is the first of many in the next month and is a great addition to our squad, with experience playing at a high level with his SA United club team at the state and regional tournaments, and good technical ability. We will need to strengthen him physically, in his first year, and he knows that but there is no reason why he can't contribute significantly as a HT Men's Soccer player for the next four years".
SA United Director of Coaching, Jay Sparrow, recommended Jesus to Huston-Tillotson University and commented, "I think it is a great fit, Rob asked from the beginning for three simple things, 'Good People, Good Students, and Good Players'; Jesus was a easy recommendation because he will work hard and succeed".