Women's Basketball Team Ends Season as RRAC Champions
Thursday Jun, 05 2014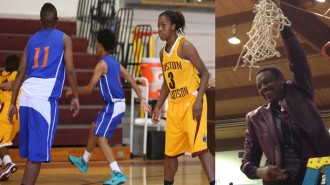 The NAIA Women's National Basketball Championships in Frankfort, KY, had the HT Lady Rams playing No. 2 ranked Freed-Hardeman (32-1, (Henderson, TN).  Students gathered to cheer the Rams who fell 85-51 to end the season with a conference title.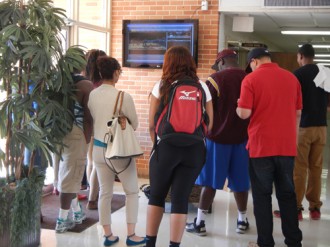 Huston-Tillotson Clinches First RRAC Women's Hoops Tournament Title
Sat, Mar. 8, 2014 at 4:10 PM – [Women's Basketball]
Huston-Tillotson head coach Maurice Callis cuts the net following the Lady Rams' first RRAC tournament championship.
MARSHALL, Texas — Playing in its first RRAC Women's Basketball Tournament final, fifth-seeded Huston-Tillotson completed an improbable run with a 67-64 victory over Langston on Saturday at East Texas Baptist University. With HT leading, Langston's Lynette Holmes banked in a shot with nine seconds left to cut the deficit to one at 65-64, but Ariel Callis sank two free throws for the Lady Rams with seven seconds remaining to provide the final score. Chaquitta Thrower secured the win by blocking a final three-point attempt by Langston's Alanna Lee with time running out.
HT built a 26-6 first-half lead on the strength of a defensive effort that limited Langston to 3-of-20 on field goal attempts in the first 30 minutes. With 3:51 before intermission, Shillalie Jones got Langston moving with a three-point play at that point followed by a basket from Holmes as the Lady Lions closed to within 30-18 at the half. The Lady Lions' 31-10 run extended into the second half where Holmes gave them the lead, 37-36, with 14:18 left to play.
RRAC Women's Basketball Tournament Results
Despite surrendering a 20-point lead, the Lady Rams werre able to recover and regained the lead for good after Ariel Callis connected on a three-pointer with 4:46 in regulation to tie the game at 58-58. Trazhazia Webb scored the next four points with a pair of free throws and a layup to build a 62-58 edge. Webb, who scored a team-high 19 points, added two more free throws down the stretch to set the stage for the final moments of the game. Callis finished with 15 points and 12 rebounds, and Shaniqua Thomas chipped in 14 points.
It's the first RRAC women's basketball title for HT, coming in its 16th year in the league. The Lady Rams, 15-14 on the season, defeated fourth-seeded Jarvis Christian in the first round and top-seeded Our Lady of the Lake in the semifinals. They earned an automatic berth in the NAIA Division I Women's Basketball National Championship along with regular season champion OLLU.
 Langston was led by Holmes with 28 points and Alex Adekunle, who finished with 17 points after fouling out with 6:26 to play. The Lady Lions are 20-12 overall this season.