Graduate Sammy Mudede Featured in the Statesman
Friday May, 10 2013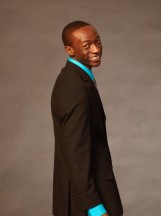 Read more about graduate Sammy T. Mudede in Sunday's Austin American-Statesman (6.9.13).  Mudede graduated summa cum laude with a Bachelor of Science degree in computer science.
Commencement Speaker Marc H. Morial Received HT's Honorary Degree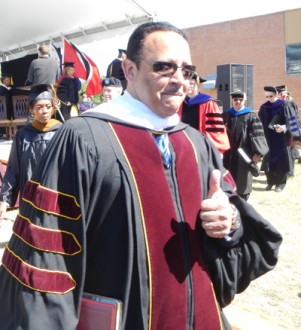 (AUSTIN, Texas) 5.10.13 — Entrepreneur, lawyer, professor, legislator, former New Orleans Mayor, and current National Urban League President Marc H. Morial has one more accolade to add to his list of accomplishments.  He received Huston-Tillotson University's honorary Doctor of Laws degree during the Commencement Convocation held on Saturday, May 4.
Morial, also the speaker for the graduation ceremony, encouraged the Class of 2013 to nurture the three seeds of choice, courage, and compassion. Referencing Huston-Tillotson's Class of 1963, also in attendance to celebrate their 50-year anniversary, Morial with his bold, direct style shared history lessons with the crowd of more than 2,000 in attendance.  He talked about the courage of President Barack Obama and baseball great Jackie Robinson.  He reflected upon Obama's choice to set his sights on the presidency of the United States when others thought the odds were against him.  He echoed Robinson's courage as the first black athlete to play Major League Baseball as he was drafted by the Brooklyn Dodgers.  The legacy that Robinson created is a legacy that runs through HT when he was an instructor and basketball coach at HT's predecessor institution Samuel Huston before returning to HT in 1972 to serve on the Board of Trustees.
The record low crisp, cool temperature lasted a few hours before the sun broke through to warm the audience during the outdoor ceremony. Morial ended his 13-minute speech with remarks about compassion and the abiding commitment to serve those in need.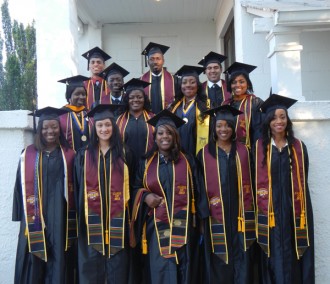 Of note from the Class of 2013, is the graduation of HT's largest class of W.E.B. DuBois Honor Scholars.  The  William Edward Burghardt DuBois Honors Program was launched during the 2003-04 academic year. Named for the African American sociologist, historian, writer, civil rights advocate, and intellectual of the 20th Century, the program attracts academically gifted students whose high school accomplishments indicate their intellectual ability, level of motivation, and leadership potential. Graduates, majors, and home locations are as follows:  Biology, Dikibujiri Diri, Nigeria; Business Administration, Jamenequa W. Ben, Houston; Kwanna Green-Smith, Fort Worth; and Tyra Danielle Williams, Dallas; Communication, Micah Johnson, Mesquite; Computer Science, Jarrett Lindsey, Houston; Sammy Mudede, Zimbabwe; and Stefan Spears, Trinidad and Tobago; Education, Mariah Brown, Stacey Brunswick, and Destiny Roundtree, all from Fort Worth; Mathematics, Pamela E. Carias, Houston; and Mercedes Wheatfall, Fort Worth.  Mudede, who also graduated with highest honors, has been accepted into the recognized Carnegie Mellon University in Pittsburgh, Pennsylvania, to earn the master's degree in computer science.  He will return to the Boston Scientific Corporation in St. Paul, Minnesota for a second summer as a software engineer intern before moving on to graduate school.
Commencement Convocation culminated a weekend of activities that included Reunion Weekend 2013 and Honor's Convocation.  Students who earned high academic honors and placement on the Dean's List and Honor Roll were recognized at the annual Honor's Day Convocation.  Top ranking seniors and the majors who were honored are as follows:
Biology, Dikibujiri I. Diri and Lisa R. Kelley; Business Administration, Jamenequa W. Ben and Billy D. Howard; Chemistry and Biology, Valerie M. Talbert-Dorsey; Communication, Micah D. Johnson; Computer Information Systems, Aisha Z. Henderson and Ross A. Kelley; Computer Science, Jarrett L. Lindsey and Sammy T. Mudede; Computer Science and Mathematics, Stefan F. M. Spears; Criminal Justice, Phillip Michael Canty; Education, Destiny G. Roundtree and Sandra H. Staes; English, Sonya G. Reyes and Brittnee C. Pettie; History, Joseph C. Wright; Kinesiology, Faron E. Bradley and Erica S. Cray; Mathematics, Pamela E. Carias and Ernest P. Valdez; Music, Chrisdon M. McGhee; Political Science, Veronica Numesubo and Nimi N. Kemuel; Psychology, Jasmin K. Massey and Benjamin D. Torres; and Sociology, Daniel V. Culpepper.
Terrence L. Brooks, who earned his bachelor's degree in Business Administration from HT in 2008 was the Honors Convocation speaker.  Brooks is currently enrolled at the Dallas Theological Seminary, pursuing his master's degree in Theology. He challenged the honorees to think about what God wants them to do. "There are only two great days in your life:  The day you were born and the day you discover why," he concluded.