Dr. Bertha Sadler Means Named HT's Gala Honorary Chair
Tuesday Nov, 06 2012
(AUSTIN, Texas) 11.7.12 — Community leader, political activist, businesswoman, and alumna Bertha Sadler Means was named Huston-Tillotson University's Decennial President's Mankind Assisting Students Kindle Educational Dreams (MASKED) Gala honorary chair. The black-tie affair is scheduled for Saturday, March 2, 2013 at the Sheraton Austin Hotel at the Capitol.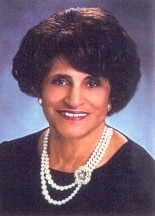 Means, a 1945 graduate of Tillotson College, a predecessor institution to Huston-Tillotson University, is a pioneer and accomplished HT graduated with deeply-rooted ties to the Austin community. She earned a master's degree in education from the University of Texas at Austin and enjoyed a long career in education before retiring from the Austin Independent School District (AISD).  Means was awarded the W. Charles Akins African American Heritage Award in 2002 for her exemplary character, leadership, and community service.  She also served on the HT Board of Trustees from 2004 to 2008 and is the owner of Austin Cab Company.  The Bertha Sadler Means African American Resource Center located in the Anthony and Louise Viaer-Alumni Hall on the HT campus was named in her honor for her philanthropic support.  "HT is in my heart, and I have always contributed as much as possible," said Means who discovered the institution when she was recruited to play basketball.
"I'm confident that the community will join me in supporting not just the gala, but Austin's oldest institution of higher education," Means stated. "As someone who lived during a period of segregation and fought for educational access to anyone seeking a college degree, I can't think of a more worthy and just cause."
The MASKED gala has generated more than one million dollars for the University and featured up close and personal performances from artists such as Regina Belle, Will Downing, Johnny Gill, Jennifer Holliday, Kenny Lattimore, Najee, and Pieces of a Dream.  In addition, celebrity guest appearances from Earvin "Magic" Johnson, Judge Mablean Ephriam, and Emmanuel Lewis have headlined the University's signature event.
Huston-Tillotson University recently celebrated its 137-year anniversary, is experiencing its highest enrollment, and is in the final stages of campus renovations to the library and communication center.
For more information, or to discuss sponsorship opportunities, call 512.505.3073 or visit the gala section of the  Web site.