W.E.B. DuBois Lecture Features Noted Historian
Monday Feb, 13 2012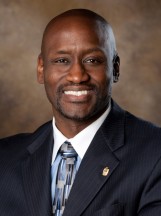 (AUSTIN, Texas) 2.13.12 — Noted historian and author, Dr. Charles Robinson, will be the featured speaker at Huston-Tillotson University's Ninth Annual W.E.B. DuBois Lecture, scheduled on Thursday, Feb. 23 at 2 p.m. on the campus in the Agard-Lovinggood Auditorium.  He will speak on the topic, "'The Dreaming of Dreams by Untwisted Souls': DuBois and the Transformative Power of Education." 
Robinson currently serves as Vice Provost for Diversity and previously served as Director of African and African-American Studies at the University of Arkansas at Fayetteville.  He holds the UA academic rank of professor of history and has taught a wide range of courses, including Southern History, Race Relations, African American Studies, Gender Studies, Sex and Sexuality in History, United States in the Late 19th Century, and Civil Rights and National Policy.
He is the recipient of numerous awards for his proficiency in the teaching arena.  In 2006, the Arkansas Student Alumni Board named Robinson their teacher of the year.  He is also the author of two books and numerous scholarly articles. In 2010 the University of Tennessee press published his work entitled, "Forsaking All Others: A Story of Interracial Love, Betrayal and Revenge in the 1880s South."  Robinson completed his undergraduate and graduate work at the University of Houston.  He earned the doctorate in 1997 after earning a master's degree in 1990 from Rice University.
The HT DuBois Honors Program offers gifted students unique opportunities to enrich their education at Huston-Tillotson University through specialized curricula, internships, workshops, and cultural events.
For more information, contact Dr. Janice Sumler-Edmond, HT's Professor of History, 512.505.3100. The program is free and open to the public.