Sanchez Named Defensive Player of the Week
Thursday Sep, 29 2011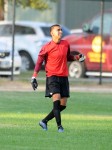 WACO, Texas 9.26.11 — Rafael Bustos of the University of St. Thomas (Texas) was selected as the Red River Athletic Conference Men's Soccer Offensive Player of the Week for Oct. 10-16, and Marcos Sanchez of Huston-Tillotson University (Texas) received the Defensive Player of the Week honor for the same dates.
Bustos, a senior forward from Houston, netted four goals in a 2-0 week for the Celts. He posted a pair of goals in a 5-1 win against the University of the Southwest (N.M.) then accounted for UST's only goals in a 2-1 victory over Texas Wesleyan University. The Celts climbed to 5-3 in conference play and 5-6-1 overall.
Sanchez, a sophomore goalkeeper from Houston, stopped 25 shots on goal to earn a pair of wins for the Rams. He delivered 16 saves in a 3-1 win over the University of Texas-Brownsville and recorded a shutout against Our Lady of the Lake University (Texas) to claim a 1-0 victory. HT ran its record to 8-0 in the RRAC, and the Rams are 12-2 on the season.
UTB's Orin Farrell, OLLU's Brandon Head, TWU's Ivan Kovacevic and HT's Frank Toscano were also nominated for this week's offensive award. OLLU's Nick Garza, TWU's Dejan Milosevic and UST's Jeuel Ventura were additional defensive nominees.
-RRAC-