We Run the Yard Competition
Saturday Feb, 09 2013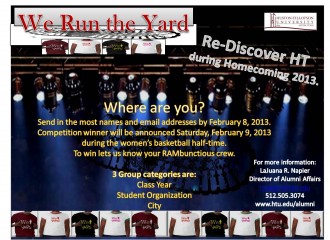 Be the group to Re-Discover the largest crew of RAMbunctious alumni during Homecoming 2013. 
Alumni Affairs wants to know where you are.
To win let us know where your friends are.
Send in the most names and email addresses by completing the website form before
February 8, 2013. Competition updates will be announced Saturday, February 9, 2013 at the Homecoming women's basketball half-time.
3 group categories are:
Class Year
Student Organization
City
 (i.e., Class of 1989, Class of 1965, SGA, Concert Choir, Alpha Kappa Alpha, Delta Sigma Theta, Dallas, Houston) 
WE RUN THE YARD
 winners receive:
Group promo on the University's Social Sites and Homecoming website page.

A "We Run the Yard " t-shirt

"We Run the Yard" special section at the 2014 Homecoming game (tickets not included)

2013 prime tailgating location

"We Run the Yard" banner

"We Run the Yard" plaque
For more information: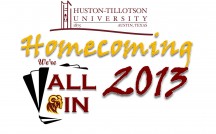 LaJuana R. Napier
Director of Alumni Affairs
lrnapier@htu.edu
512.505.3074
www.htu.edu/alumni