An Evening of Stars Scheduled on January 26th.
Wednesday Nov, 28 2012
The broadcast of UNCF An Evening of Stars® Presented by Target is scheduled for broadcast on Saturday, January 26 with an encore national presentation on BET January 27.  This is a great opportunity to help Huston-Tillotson University and other Historically Black Colleges and Universities and their students. Viewers of UNCF An Evening of Stars® will enjoy the musical stars and hear the stories of  "rising stars"—students getting their education thanks to UNCF. Every viewer is a potential supporter and investor in better futures for our next generation.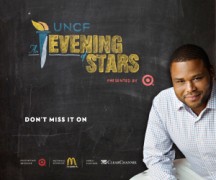 Follow An Evening of Stars (AEOS):
Facebook: http://www.facebook.com/UNCFAnEveningOfStars
Twitter: www.twitter.com/UNCF<http://www.twitter.com/UNCF>
YouTube: www.youtube.com/theUNCF<http://www.youtube.com/theUNCF>