Governance
Huston-Tillotson University is governed by a self-perpetuating Board of Trustees consisting of 28 distinguished local and national alumni, educators, entrepreneurs, church representatives, and community leaders. The Board of Trustees meets two times per year, and is responsible for the vision, mission, and governance of the University and the supervision of the President. The Chair of the Board of Trustees is Mr. Don W. Brown of Austin, Texas.
2010 Huston-Tillotson University Board of Trustees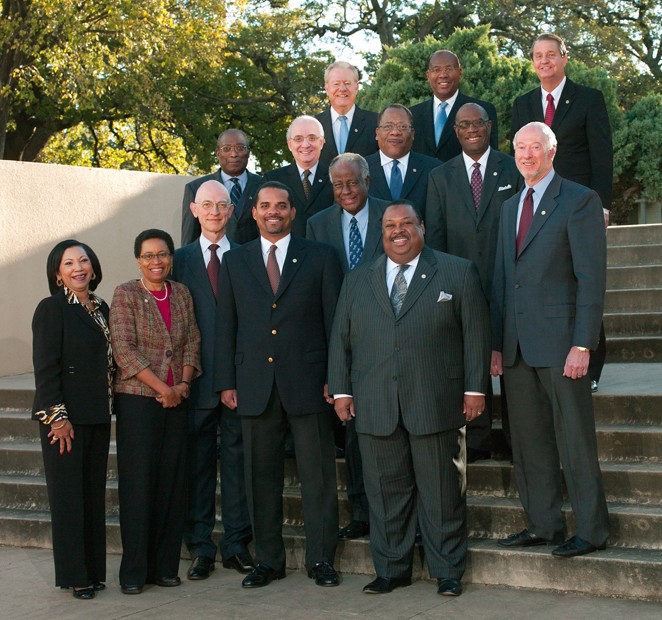 Row 1, left to right are: Mrs. Mary K. Ashford; Ms. Donna D. Carter; Mr. Derrick Evans; and Ex officio Dr. Larry L. Earvin (President and CEO)
Row 2, left to right are: Dr. Don W. Brown; Dr. James L. Hill; and Mr. A. Leon Thompson, Esq.
Row 3, left to right are: Mr. Donald J. Fleming, Esq.; Dr. C. Mark Melliar-Smith; Mr. Albert Hawkins; and Mr. John Scroggins
Row 4, left to right are: Mr. Donnie J. Williams; Mr. Trennis Jones; and Mr. Louis M. Henna, Jr.
Not pictured are: Mrs. Frances Holliday Alford; Bishop James E. Dorff; Ms. Delphia Y. Duckens, Esq.; Mr. Cedric E. Evans, Esq.; Dr. Terrence D. Grant-Malone; Dr. Zan W. Holmes, Jr.; Mr. J. Winston Krause; Mr. Paul J. Legris; Dr. Frank L. Morris; Mrs. Ruth C. Robinson; and Mr. Robert G. Stanton.