Health Services
Huston-Tillotson University Health Services is committed to providing quality health care that is accessible, timely, and customer service oriented with dignity. Student Health Services communicates with the student body in order to remain responsive to the changing health needs of students.
The Health Center serves all full-time students enrolled at the University. The Center is under the direction of a Licensed Vocational Nurse. Primary medical services include immunizations, vital signs interpretation, glucose testing, urinalysis, over-the-counter medications, drug testing, transportation for medical reasons (for appointments only), HIV counseling and testing, First Aid/CPR, ear irrigations, suture removals, vision screening, and health related programming.
St. David's Medical Center and University Medical Center Brackenridge have served as our primary care facilities for off-campus emergencies. The Primary Care Provider is Dr. Guadalupe Zamora, 2100 East 6th Street Austin, Texas 78702 512.482.0248.
MENINGITIS VACCINE REQUIRED MUST BE ADMINISTERED AT LEAST 10 DAYS BEFORE REGISTERING FOR CLASSES

Click here
Planning to enroll. Remember to bring the following:
A copy of your Bacterial Meningitis vaccine.  Please note this vaccine must be completed at least 10 days prior to the start of the semester. 
A copy of your immunization records.
A health form completed and signed by physician /or a complete copy of your physical for the current year.
Required insurance.  If you will be taking at least 12 hours – you are required to have insurance.  HT offers student insurance for a cost. 
If you have your own insurance, you will need to waive out on-line by midnight January 29, 2016 here.
Questions and Suggestions
Visiting Health Services can be an intimidating experience for anyone; whether it's to get medication for a cold or Flu, medical excuse for missed classes or a STD evaluation. So, students need to be prepared before you go. What questions do you need to ask? What information do you need to make sure you take home with you? If you need a prescription, what should you ask?
Confidentiality
Confidentiality is of primary concern. Records are released only on signature of student or court order. The nurse takes the position that, as the health director/provider, the nurse must maintain the same confidentiality that is expected from the physician.
The only time that confidentiality is broken would be if the student were a potential threat to himself or others. The Dean of Student Affairs and the Provost would be notified and appropriate steps taken for the student's protection.
Questions
Ask the medical person:
Will this medication cause drowsiness?
Often should I feel this specific symptom?
How will this medication interact with my current prescriptions?
How quickly should I expect relief from symptoms?
Suggestions
Be an advocate for your health and wellness needs.  Write down your list of questions before you visit with your health care provider.
Take medications as directed and follow treatment regimen given.
Medication
The Health Center dispenses over the counter medications and durable medical equipment at no additional charge to our students. Students who take prescription medications have an option to keep extra medical supplies and medications in the Health Center. 
Allergy Injections
Allergy injections are administered in cooperation with the student's allergist. The student must submit detailed instructions and the extract.
Health Insurance
The University requires health insurance for all full-time students (those enrolled for 12 or more credit hours) and offers a year-round insurance program for a nominal fee. Insurance information cards and instructions regarding supporting documents are available from the Student Health Center.
A student covered by parent's insurance must present a valid health insurance card at the time of registration. If a card is not presented, the student will be enrolled in the University's health plan or will be unable to complete registration.
Immunization Requirements
Immunizations are required in accordance with the Texas Department of Health Immunization Schedule as informed by the Advisory Committee on Immunization Practices' (ACIP) recommendations as adopted by the Texas Board of Health.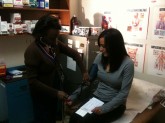 A student shall show acceptable evidence of vaccination prior to entry, attendance, or transfer to a private institution of higher education.
Provisional Enrollment
The law requires that students be fully vaccinated against the specified diseases. A student may be enrolled provisionally, if the student has as immunization record that indicates the student has received at least one dose of each specified age-appropriate vaccine. To remain enrolled, the student must complete the required subsequent doses in each vaccine series on schedule and provide acceptable evidence of vaccination to the University. A school nurse or administrator shall review the immunization status.
Exemptions
The law allows for physicians to write a statement stating that the vaccine(s) required would be medically harmful. Parents/guardians have the right to choose an exemption from immunization requirements for reasons of conscience, including a religious belief. 
On January 1, 2010, first-time students, including transfer students, who reside in or have applied for on-campus housing, must present proof of vaccination against bacterial meningitis.
Students enrolled in HT shall have the following:
One dose Diphtheria Tetanus (Td) required within the last ten years.
One dose Meningococcal Vaccine (MCV4)
Two dosages of Measles, Mumps, and Rubella (MMR)
Three doses of Hepatitis B vaccine are required.
Current TB Test
To ensure continued compliance in completing the required doses of vaccination, if at the end of the 30-day period a student has not received acceptable evidence of vaccination, the University shall exclude the student from attendance until the required dose is administered.
You can get free or low-cost immunizations in many doctor's offices or in a health department clinic. To locate clinics in your area or to learn more about vaccines, call 512.972.5520
Insurance Coverage Information
If you have coverage, you will need to receive a complete understanding of its exclusions and limitations regarding coverage in Texas, specifically Austin. If you carry an indemnity plan with your policy, no matter where a medical bill is generated, it will pay. Likewise, some policies cover medical emergencies in any city but not routine office visits. 
Your local insurance representative should be able to answer questions regarding coverage outside your area. It is very important that you have these facts before waiving the school insurance as Huston-Tillotson University assumes no responsibility for any medical expenses incurred by students.